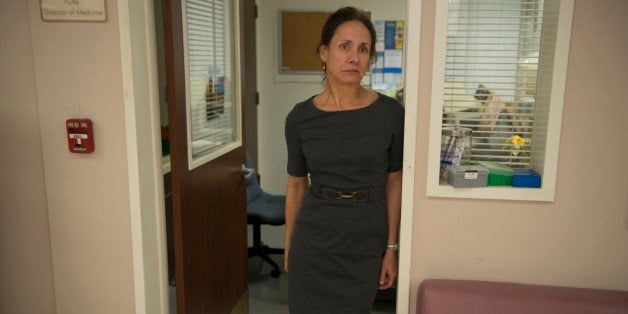 "Getting On" is the show Laurie Metcalf has been waiting for.
"I have my fingers crossed about this project so, so bad; so tightly because I just -- oh, God, it's like a dreamy dream come true project for me," Metcalf told The Huffington Post in a phone interview.
The dark HBO comedy stars Metcalf as Dr. Jenna James, the harried head of Billy Barnes Extended Care Unit of Mt. Palms Hospital in Long Beach, Calif. Dr. James, along with Nurse Dawn (Alex Borstein) and Nurse DiDi (Niecy Nash), care for the female patients -- who are "getting on" in their elderly years -- and battle the dysfunction to the best of their abilities. It's a darkly funny, quick-witted show with a heart -- there's nothing on TV like it today.
After nine years on "Roseanne," and a handful of other stabs at series regular TV, Metcalf has been doing theater work with the occasional guest spot. So why did she pick "Getting On" as her "return" to TV?
"Well, first of all, they asked me," she said with a laugh. "It's not like I was turning down stuff left and right. No, I've been doing a lot of theater lately, so I was sort of out of the mix." At her agents' behest, Metcalf watched some of the original BBC series "Getting On" is adapted from and she found it "absolutely terrific."
"Everything about it I loved. So, I really badly wanted to be in this and I went in and read, and ended up getting the part. I couldn't be happier, especially with the other two actresses that I'm working with. It's a real departure for all three of us in these roles, and yet I hope it works because we're all -- we're just doing stuff that's just different enough to make it unique," she said.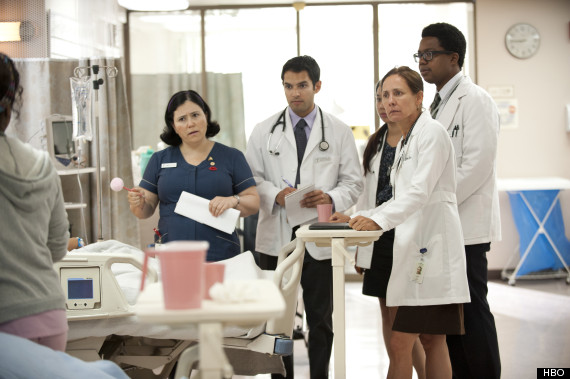 What's unique about "Getting On" -- aside from the writing and setting -- is how the show is put together. Viewers will notice the camera-work is very documentary-like and the actors appear without gobs of TV make-up and the ever-perfect lighting. "I mean, talk about dream come true. It's just terrific," Metcalf said.
"It was really freeing because I don't like to work with a camera, really, which is why I do a lot of theater," she said. "The camera was so unintrusive in this because it was like two hand-held cameras -- sometimes even three -- either hidden behind something or sort of wandering around. We got to just block it however we would stand around the hospital bed or at the nurse's station -- very naturally. They would adjust. And half the time you never knew what camera was on you or even if there was a camera on you. I found that very freeing because I get kind of stressed out."
With "Reno 911!" veteran Nash and "MADtv" and "Family Guy" star Borstein rounding out the cast, there was some improv on set, something Metcalf wasn't quite used to.
"I'm inhibited by it -- intimidated by it. So, mostly I stuck to the script. I guess my excuse was -- to myself -- 'I've got all this medical stuff that I have to say sometimes,'" she said. "But really I put a toe -- I had a little baby step into it when they would kind of force me to once in a while. I don't consider it a strength or anything it. Hey, listen, I love when it works because it looks spontaneous because it is and you can't capture that any other way. I would try and do it more often if I could."
Metcalf's uneasiness with improv can probably be attribute to her background. She began in theater -- she's been nominated for two Tonys -- and then transitioned to scripted comedy. Metcalf spent nine seasons as Jackie Harris, Roseanne Conner's sister, on the acclaimed "Roseanne." Metcalf won three Emmys for her work on the comedy, which just turned 25 years old. However, at the time she said she had no idea her show would be leaving such a legacy behind.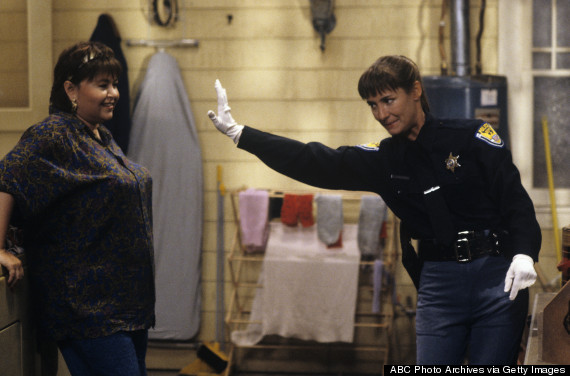 "I mean, you're just in this little bubble. You don't really think outside it when you're in it. It's so small, what you're doing. You forget the ramifications, that it has a bigger effect on people than you realize. This is with anything that's good, any artistic effort that's good. The reverberations can be way beyond what you ever think when you're in the mix, when you're just showing up and heading to your trailer -- you just tend to forget about it," she said. "I couldn't be more proud to have been involved. I've been so lucky, when I think about some of the projects I've been involved in. Now it's 'Getting On,' which I think is fantastic, the whole 'Roseanne' run, going on 40 years of Steppenwolf Theater -- I've been really lucky."
Metcalf is currently starring opposite Jeff Goldblum in "Domesticated" at Lincoln Center through January. After that, she's back to Los Angeles where another "Roseanne" reunion could be in the works on "The Big Bang Theory."
"I hope so. I hope that when I get back to LA that they'll throw me one. That's a fun set to be on," she said of "The Big Bang Theory." "Everybody there is really professional. It's a very tight group and I like the work ethic over there."
Could more "Getting On" also be in Metcalf's future? She sure hopes so.
"I hope its well-received. Not because selfishly I just want to make more of them because I loved it so much, but I really believe in it," she said. "I'm really behind what it's trying to show -- this world that gets shuttered up sometimes. Let alone in a hospital world, but for all of us."
"Getting On" premieres Sunday, Nov. 24 at 10 p.m. EST on HBO.
PHOTO GALLERY
'Getting On'
REAL LIFE. REAL NEWS. REAL VOICES.
Help us tell more of the stories that matter from voices that too often remain unheard.