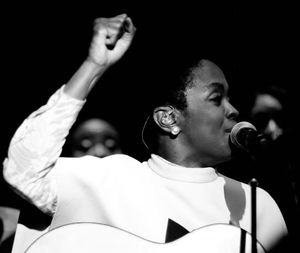 Columbia, S.C. is the place to be on New Year's Eve 2015 if you're a fan of singer/songwriter Lauryn Hill. After taking time from the world stage to raise her children and attend to personal and political affairs, Hill has embarked on a new international tour and will headline Columbia's New Year's Eve celebration.
The free New Year's Eve event will happen on Columbia's Main Street, with gates opening at 6:30 p.m. Festivities are set to begin around 7 p.m., with several family-friendly acts and shows. Hill will take the stage at 10:30 p.m. and perform until the stroke of midnight to ring in 2016.
Family-friendly activities include a WOW! carnival, as well as Main Street Ice--an ice skating rink located on Main Street in Boyd Plaza in front of the Columbia Museum of Air.
The free concert and New Year's Eve celebration is part of Columbia's revitalization efforts, not only from the recent devastating floods, but an overall revival of the capital city's Main Street. The effects can be seen in new commerce flocking into Columbia, as well as rejuvenation of established businesses.
Columbia hotels are preparing now for an influx of visitors into Columbia for the free New Year's Eve events with special rates and packages.