It turns out that three minutes with a rock star is enough to make the Los Angeles Unified School District forget its troubles -- and delay massive budget cuts.
Along with a consortium of teachers union reps and protesting parents, former Guns 'n' Roses and Velvet Revolver drummer Matt Sorum and award-winning actress and choreographer Debbie Allen took a stand against budget cuts that would gut the entire adult education department, get rid of after-school tutoring, and completely cut arts education from all elementary schools.
In the video above, Sorum walks up to the podium to a round of applause before telling schools superintendent John Deasy that an arts education at a Southern California public school is what laid the foundation for Sorum to become "a world-renowned rock 'n' roll sensation."
Sorum then addresses schools superintendent John Deasy, calling him a fellow "rock star" for changing students' lives. He also pledges the support of the nearby entertainment community to help save arts education before offering to work things out in a private meeting, "rock star to superintendent."
Deasy reacted the way any rock 'n' roll fan would -- AP reporter Christina Hoag tweeted that he "looked tickled" at the suggestion, while LA Weekly reporter Tessa Stuart described the superintendent as "swooning" and "starstruck."
Sorum's stand for arts education even got stars Juliette Lewis and Charlie Sheen to tweeting about the LAUSD board meeting. Lewis re-tweeted Sorum, saying "I know I'd be lost" without arts education in schools. Sheen tweeted, "we can all help... Matt can't do it alone! keep music in public schools!"
But it looks like he's trying to. Sorum has launched a campaign called Adopt The Arts to save arts education in Los Angeles Public Schools. An upcoming fundraising event in March will feature actress Jane Lynch as host, dinner by celebrity chef Kerry Simon and a performance by Sorum's band Magnificent Seven.
Thanks in part to Sorum's speech, the LAUSD board decided to hold off on a $6 billion budget plan that would result in thousands of layoffs and program guts. Instead, the vote has been delayed while the school district and teachers union pledged to work together to address the $557 million budget deficit without having to cut adult and arts education from the district.
The school board noted that state funding for the LAUSD has been cut by more than $3 billion in the past four years, reports ABC 7.
UPDATE: At the school board meeting on Tuesday, Matt Sorum pledged the support of the "biggest entertainment community in the world," but he admitted on Wednesday that it's easier said than done.
In a phone call to the Huffington Post, the rocker confessed, "I was a little stunned that more people in the entertainment business weren't down there yesterday" at the school board meeting. Still, he's not letting an initial setback get him down. So far, Sorum has reached out to musicians and actors through talent agencies CAA and WME, as well as fellow Guns 'n' Roses bandmates, for fundraising and awareness help.
But Sorum is also calling on all Angelenos to pitch in, not just the wealthy or well-connected. "So far, I've received checks written from people who don't even live in California -- $25,000 from a gentleman in Chicago," the artist said before challenging LA residents to start getting involved.
Sorum founded the organization Adopt The Arts 6 months ago after being inspired by his neighbor Abby Berman (now the President of Adopt The Arts) and her two children who attend Rosewood Avenue elementary school. "They won more over and they became my extended family," he explained, "and now the entire school district is my extended family."
More meetings between Adopt The Arts and the LAUSD school board are in the works, and Sorum hopes to offer Superintendent Deasy ways to help "streamline and modernize" arts education in elementary schools.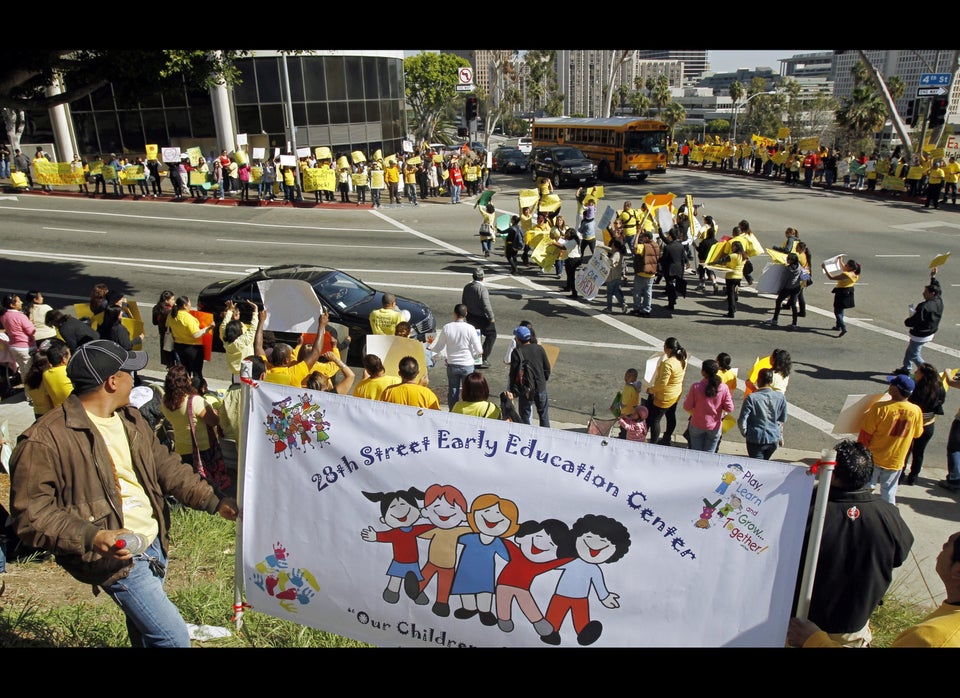 Related
Popular in the Community