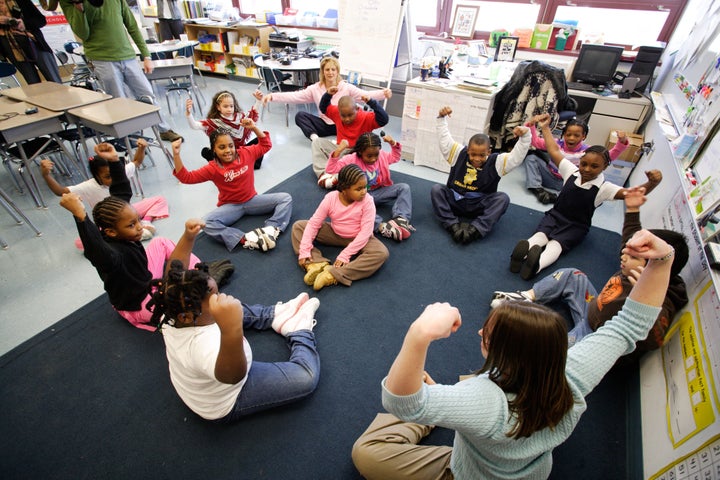 Triggered by a federal civil rights investigation, Los Angeles Unified has launched a network of programs designed to more quickly move English learners into mainstream academic classes and help close the achievement gap.
The strategies are detailed in the 150-page English-Learner Master Plan, which the district overhauled last year after a U.S. Department of Education probe determined that English learners and African-American students were being denied access to educational opportunities.
Through more rigorous instruction and increased support, officials say that English learners and students who struggle with standard English can acquire the language skills needed to tackle math, social studies, science and other courses required for graduation.
"Let me paint a picture," said Hilda Maldonado, director of LAUSD's Multilingual and Multicultural Education Department, which oversees its language-development programs.
"There's a kid with a backpack that holds the math and social studies and all of the other lessons they need to learn. There's also an English learner who has two backpacks -- one with all of the academics, the other that contains the skills of learning a new language.
"This is the duality of the challenges these kids face," Maldonado said. "The content and language compete at the same level."
The nation's second-largest school system, Los Angeles Unified has more English learners than any other district -- about one-third of its 600,000 students. Spanish is spoken by 94 percent of English learners, with dozens of other languages spoken by small percentages of youngsters.
The district's programs for English learners mandate daily language-development instruction -- 45 minutes to an hour for elementary students and one to three periods for secondary students.
Within those parameters, there are programs to accommodate the range of student experiences and the levels of proficiency.
There is remedial instruction for newcomers for instance, and support programs for students with more advanced skills. Dual-immersion programs teach language fluency and academic proficiency in both English and the target language for students who want a cross-cultural education.
Under the district's previous bilingual education programs, 38 percent of English learners tested early advanced or better in their English skills in 2011-12. At the same time, about 15 percent of English learners were reclassified as proficient, opening the door to more academic options.
However, nearly 40 percent of English learners failed to achieve proficiency after five years of instruction. Getting these kids reclassified as proficient is a key goal of the master plan.
And even after students are deemed proficient, the district will be tracking their academic progress to ensure they remain on track.
"Reclassification isn't the end of your career -- go forth and speak English," Maldonado said. "We're going to be monitoring them and stepping in if we see there are problems."
The new programs come at a critical time for English learners in Los Angeles Unified, which has ratcheted up its graduation requirements so that all high school students must pass a slate of college-prep courses in order to get a diploma.
Additionally, a more rigorous curriculum known as the Common Core will take effect in 2014, impacting lessons at every grade level.
"I think the rigor of the master plan is the most important element," said school board member Nury Martinez, who recalled struggling as an English learner during her childhood in Pacoima.
"We want to make these kids feel capable of learning English and not segregating them," she said. "It has nothing to do with their intelligence or their ability to retain the information. It just takes a little longer with us."
barbara.jones@dailynews.com
twitter.com/LADNSchools ___
(c)2012 the Daily News (Los Angeles)
Distributed by MCT Information Services
REAL LIFE. REAL NEWS. REAL VOICES.
Help us tell more of the stories that matter from voices that too often remain unheard.
BEFORE YOU GO