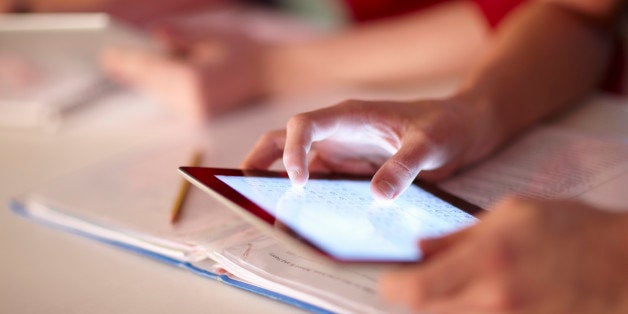 Los Angeles Unified moved forward Tuesday with the second phase of its plan to equip students with iPads, but added a pilot test of laptops -- a signal that the district's ambitious technology project may extend beyond tablet computers.
The plan, approved by a 6-1 vote, was the hybrid of a detailed resolution by east San Fernando Valley board member Monica Ratliff and a request by Superintendent John Deasy to take the next step in eventually equipping all 600,000 students with some type of device.
In the end, it was Deasy himself who merged his plan with Ratliff's and addressed the various board members' visions and concerns about the troubled first phase of the rollout and where the district should go from here.
"I was glad I was able to reach a compromise with board member Ratliff and continue to advance the opportunities for students," Deasy said after the 21/2-hour discussion.
Ratliff's proposal addressed security breaches and other issues raised by schools participating in the first phase, which got under way this fall at 47 schools. She wanted to get all of the problems worked out and a detailed analysis made before proceeding with Phase 2 -- a process she estimated would take until next summer.
She also wanted to buy laptops -- not iPads -- for some high schools to determine whether those devices would better fit the instructional needs of those students.
But Deasy persuaded her and the other board members to allow him to push ahead with Phase 2, which involves the purchase of iPads for 35 schools, plus every teacher and administrator -- a total of about 70,000 devices.
Each elementary school will also get a mobile cart holding a number of iPads, so students can participate in field tests scheduled in March of the online assessments aligned to the new math and English standards taking effect next fall.
The district will also buy iPad keyboards for the middle and high schools participating in Phase 1. That purchase had been delayed when the first contract was awarded because officials were convinced they could get a better deal if they waited.
At the insistence of board member Steve Zimmer, officials also vowed to take a hard look at the contract before moving forward with the purchase of the iPads for Phase 2. He was convinced, he said, that LAUSD hadn't gotten the best deal when it agreed to pay $678 for each tablet, which comes pre-loaded with instructional software being developed by Pearson Education Inc.
Tuesday marked the first time that Deasy has actively participated in the discussion about iPads. He previously had been excluded because he owned about a dozen shares of Apple stock, but he since sold those.
With little discussion, the board approved that $30 million contract in June to buy iPads for kids and teachers at 47 schools. But the creation of a technology committee chaired by Ratliff -- and stubborn questions about security, cost, instructional materials and parental responsibility -- prompted a more thorough review as the board prepares to award contracts for the next phase of the project.
About 30,000 teachers and students at 47 schools received iPads this year, the first phase of the gradual rollout. Under a revised timeline announced in mid-October, 36 schools would be tapped for Phase 2, getting the tablets by April.
Phase 3 would see tablets distributed to 200 schools next fall, and 250 additional campuses in spring 2015. The remaining schools would get tablets in fall 2015. ___
(c)2013 the Daily News (Los Angeles)
Distributed by MCT Information Services
REAL LIFE. REAL NEWS. REAL VOICES.
Help us tell more of the stories that matter from voices that too often remain unheard.
BEFORE YOU GO
PHOTO GALLERY
Bizarre iPad Designs