 Having already agreed to pay $30 million to settle about 60 claims related to the Miramonte Elementary sex-abuse scandal, the Los Angeles Unified School District is launching a website today to detail its efforts to resolve about three dozen additional cases.
The website, www.miramontesettlements.com, set to go live at noon today, is aimed at providing "factual information" about the $17 million the district offered earlier this month to settle 40 claims filed by students who say they were molested by former teachers Mark Berndt and Martin Springer at Miramonte Elementary School.
The offer, which is set to expire on July 5, would pay each youngster about $425,000. That compares to the deal announced in March that will pay 61 other children about $470,000 each. Claims by about two dozen other students have not been part of the settlement talks.
A spokesman for Los Angeles Unified said the website shows how the proposed settlements could be invested to generate income and provide for the plaintiffs' future needs.
"We wanted to be sure there was a central clearinghouse for information about what the offers mean and how they would work," spokesman Sean Rossall said. "We wanted to provide the best factual information possible as the plaintiffs consider the offers. It's important not only for settling the Miramonte allegations but for protecting taxpayer resources."
The website will offer the information in both English and Spanish.
It's the latest salvo in what has become a public campaign by both the district's and the plaintiffs' attorneys to resolve claims stemming from the sex-abuse scandal that erupted in February 2012, when the arrests of the two teachers were announced.
The district called a news conference on June 5 to announce the $17 million proposal, which General Counsel David Holmquist called a "fair offer that will provide for the health and welfare of the students for the remainder of their lifetimes."
Attorneys Luis Carrillo, Brian Claypool and Vince Finaldi have held frequent news conferences outside of district headquarters where they've levied allegations of negligence against LAUSD officials.
They've scheduled another one for Wednesday to release a letter to Superintendent John Deasy and school board President Monica Garcia demanding "sweeping policy changes ... to protect the safety of all children," according to a statement.
"How can we talk money until they've disclosed documents showing what they knew, when they knew it and what changes they've made to make sure it doesn't happen again," Finaldi said today.
The attorneys have previously said the $17 million settlement offer would not cover the costs of providing mental health therapy to their clients or the emotional pain and suffering caused by the alleged abuse.
Berndt, 62, has pleaded not guilty to charges of committing lewd acts against 23 children. He's accused of blindfolding students and leading them in a bizarre "tasting game" in which he fed them spoonfuls of his semen and semen-tainted cookies.
Springer, 51, has been ordered to stand trial on charges of committing lewd acts against three students at Miramonte. He has pleaded not guilty. ___
(c)2013 the Daily News (Los Angeles)
Distributed by MCT Information Services
Before You Go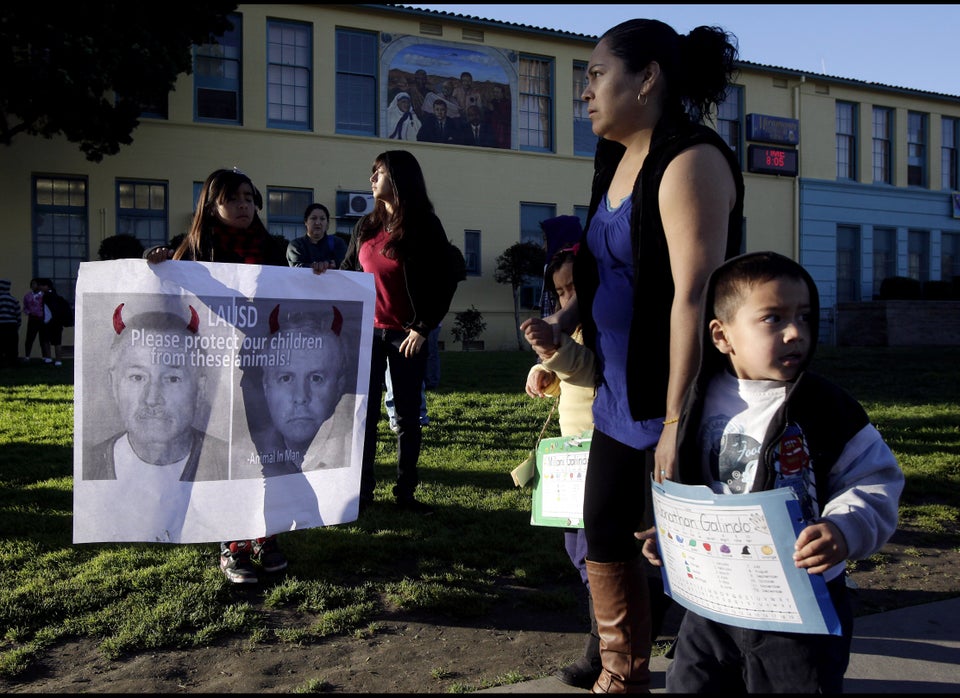 Mark Berndt's Alleged Lewd Acts Rock Miramonte School
Popular in the Community