 With millions in Proposition 30 dollars trickling in and more revenue promised under Gov. Jerry Brown's school-funding plan, Los Angeles Unified board members are jump-starting the debate over the best way to rebuild a school district devastated by five years of budget cuts.
Two resolutions will be introduced during a special meeting Tuesday, laying out conflicting strategies for how to serve a district where 80 percent of students live in poverty and nearly 30 percent are learning English. Both plans look ahead to 2014-15, when the new national curriculum and statewide testing system are slated to take effect.
"This is our first opportunity to talk about investment and not stabilization," said board member Steve Zimmer, whose district includes Hollywood, the Westside and parts of the San Fernando Valley. "What is exciting is to be able to implement the transformative reforms that are now the new reality of LAUSD in an environment that we can truly invest in them."
Zimmer and colleagues Bennett Kayser and Richard Vladovic have co-sponsored a resolution seeking a long-range plan to hire more teachers, counselors, librarians, custodians and support staff. They want to use revenue expected from a voter-approved sales-tax hike to shrink class size to levels last seen in 2007-08 -- before the state financial crisis led to $5.2 billion in cuts.
Back in 2008, classes averaged 19 students for every teacher. Most schools had full-time nurses and librarians, counselors had reasonable caseloads, and maintenance workers kept schools clean and the grounds groomed. Today, primary grades may have two dozen kids in a class, while upwards of 30 kids may be crowded into classrooms in middle and high schools. Nurses rotate among schools and counselors and janitors are considered a luxury.
But Zimmer doesn't want to turn back the clock to a time when LAUSD's graduation rate was a dismal 46 percent (it's now about 66 percent) and a management audit blasted the administration for a "pervasive" lack of accountability.
"This is a discussion about how we restore public education as we knew it, but that doesn't mean restoring the status quo," Zimmer said. "We're talking about a return to staffing levels, not about a return to the world views and attitudes of 2008. We're talking about a transformed district that has undergone permanent change."
Zimmer sees the smaller class size as just one element of a comprehensive plan that includes supporting English-learners and preparing students for a college or career. He hopes to stem an exodus to independent charter schools by improving the quality of an LAUSD education, but said that would require a huge commitment from the administration. The district's enrollment was nearly 700,000 in 2007-08, and by 2014-15 is expected to be about 530,000.
"Class size matters, but it's not the only thing," he said. "It's a good place to start, though, and it's the job of the board to start the conversation."
Board member Tamar Galatzan is also concerned about school funding, but is focusing on the so-called Local Control Funding Formula, part of the state budget being debated by the Legislature. While various alternatives have been introduced, Brown's version would give districts a base of about $6,800 per student; a bonus for every foster child, English-learner or youngster from a low-income family; and extra money for high concentrations of disadvantaged students.
Galatzan worries that schools in middle-class areas, like those in her West San Fernando Valley district, might not receive enough money under the governor's formula to adequately serve their students.
"Every school has a staffing baseline that they need to survive and thrive, and that needs to be addressed," Galatzan said. "The reality is that there are different ways that money can be spent. Within LAUSD, there are 'winner' schools and 'loser' schools. I want to do everything I can to make sure there's a funding floor below which no school can go."
Galatzan broached the issue of the LCFF during a budget workshop last month for local residents and principals, where she asked for their wish list of what they'd need to operate. She said she's received thoughtful analyses from administrators explaining their need for an assistant principal to oversee special-education programs, an English-learner coordinator and a physical-education coach.
Because of the individual needs of each school, she's not convinced the class-size reduction plan proposed by her three colleagues is the best way to go.
"That every single school in the district has been hurt by the funding crisis and needs additional resources goes without saying. But tying staffing levels to an arbitrary calendar year might not be the best use of additional revenue," she said. "I haven't had one principal come to me and say, 'I want what I had back in 2007'."
Galatzan's resolution also seeks to require that bonus money received for low-income students or English-learners be allocated to the child's school and used to pay for services provided there.
"Every school in the district -- every school -- has a fairly sizable number of kids who live below the poverty line and who need additional services," she said. "It shouldn't just be some schools that are able to offer those services."
barbara.jones@dailynews.com
@LADNschools on Twitter ___
(c)2013 the Daily News (Los Angeles)
Distributed by MCT Information Services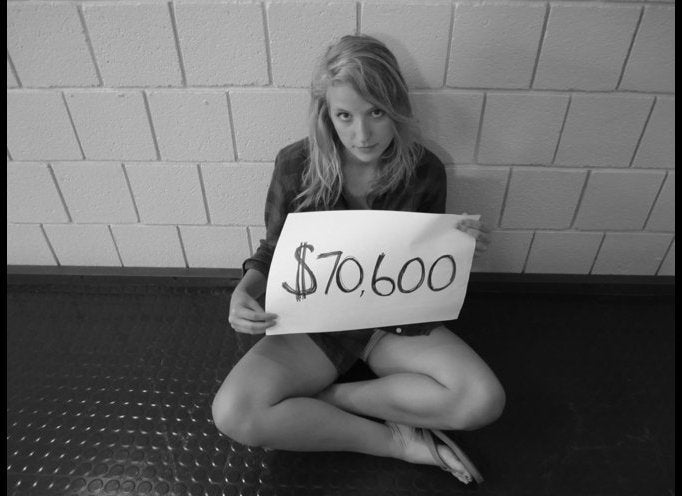 Majoring In Debt
Popular in the Community