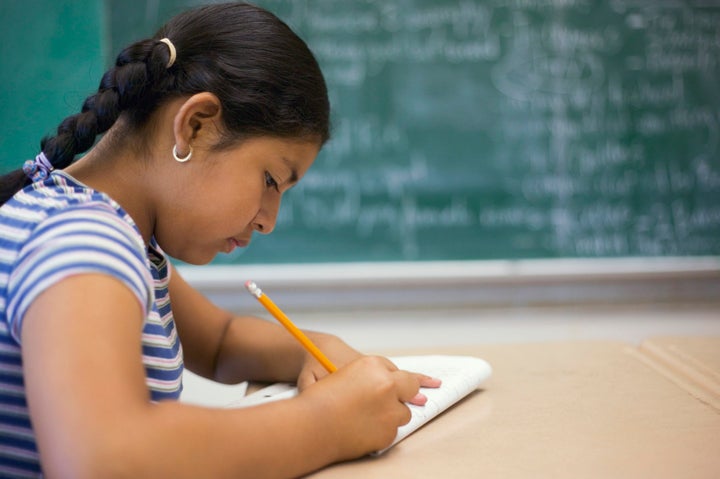 Dear LAUSD School Board Members, Superintendent Deasy, Secretary Duncan, and President Obama,
We all want to provide the educational opportunities for children and our communities. Please help me receive clarity on the following:

Instead of sending Title I, II, and III money to school sites, as is intended under these programs, LAUSD senior management has chosen to keep this money at central district offices in order to fund unproven, costly initiatives such as the Teaching and Learning Initiative, commonly known as the Value-Added Teacher Evaluation model.

Due to a lack of transparency (the dust hasn't yet settled), it's not even clear yet how much will be spent centrally on these unproven programs, but it appears to be well over $175 million.
I am in no way questioning the integrity of LAUSD senior district management. Perhaps cutting these programs so we can hire more consultants was a mere oversight.
Isn't this decision a clear violation of the 2011 Voluntary Resolution Agreement between LAUSD and the U.S. Department of Education's Office of Civil Rights? If not a clear violation, and I think it very well may be, at the very least, does it not violate the spirit of the agreement?
LAUSD's English learners and African-American students disproportionally suffer when money is spent at LAUSD's central administrative offices rather than at schools in our most under-served communities. Schools with well-funded PTAs that have deep pockets will be okay, but schools that can not provide these essential supports will continue to go without libraries, nurses, and counselors, among other services.
Is this really what we want for our communities? When children in affluent communities have all the best supports as they grow and learn, and children in our most economically depressed neighborhoods aren't afforded the same opportunities -- we can not even begin to approach using words to describe such an injustice.
I've taught in schools in our most under-served communities, and I've taught in schools where children have every kind of support service at their disposal, and the difference in opportunities provided is unconscionable.
It is simply disingenuous at best to suggest that we can bridge the achievement gap by simply raising expectations. Yes, expectations should be high, for students, teachers, administrators, and parents, but such an argument diverts attention away from the vast inequality in services afforded students.
A school is not a spreadsheet. A school is not data we can examine on a page so that a six-figure consultant who doesn't even live or work in the neighborhood can make snap judgments about what the community most needs.

A school is a community where relationships form, and through these bonds, children, teachers, counselors, nurses, librarians, parents and administrators establish trust, and nurture, foster, and create an ever-changing, constantly growing, always tenuous environment where mistakes become opportunities, and the insurmountable becomes possible.
These relationships only form and grow when schools foster an environment where children who otherwise would drop-out have a reason to stay in school.
Children need libraries, nurses, counselors, arts programs, access to adult education opportunities, vocational classes, early childhood education, music, dance, band, and sports programs. For 20 years, leaders across the country have been saying that the first five years of life are vital to child development, yet right now, today, the LAUSD school board is poised to decimate early childhood education.
Instead of fostering and growing the above programs, LAUSD is proposing to cut all of the above programs, either entirely eliminating them or decimating their funding to roughly 10% of their previous levels.
They say they don't have the money, but they recently found private foundation money to hire a social media director at a cost of $93,000 per year.
The argument that they don't have money would make a little more sense if the district wasn't proposing to spend $175 million at central district offices rather than providing this money as intended under Title I, II, and III to students in our most underserved communities.
Please tell me this was simply an administrative error. I'll repeat the question once more:
Isn't the decision to spend Title I, II, and III money at LAUSD central district offices rather than at school sites in our most under-served communities a clear violation of the 2011 Voluntary Resolution Agreement between LAUSD and the U.S. Department of Education's Office of Civil Rights?

Support HuffPost
The Stakes Have Never Been Higher
Related
Popular in the Community