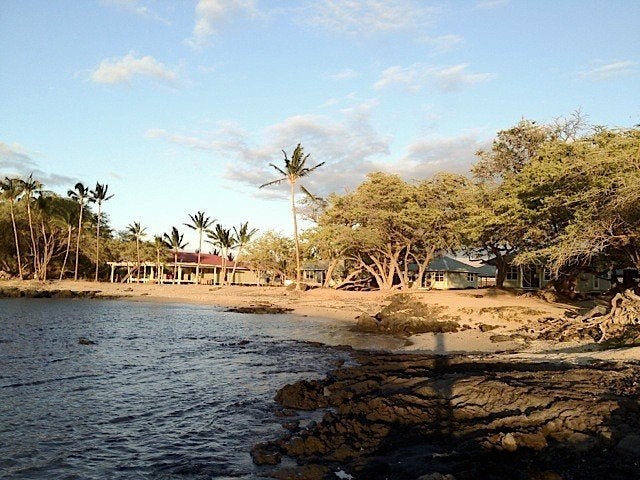 The first time I heard about Lava Lava Beach Club at Waikoloa Resort on the Kohala Coast of the Big Island, I was overjoyed and relieved at the same time. You see, I had been in mourning.
Several years ago, I joined the lucky and privileged (from Elvis Presley to Bill Gates and Steve Jobs) who'd gotten to experience a remarkable Hawaiian ambiance called Kona Village. (I wrote about it on The Huffington Post, October 26, 2009, if you wish to remember.) Time spent at the iconic Polynesian resort was life changing for most of us who went. Waking to the sound of temperate waves falling on the shoreline right outside your grass shack and then stumbling half-awake across your hale lanai onto the black lava and white sand beach, which was only mere steps from your bed, you stood pleasantly disoriented in the gentle tides, watching everything and pondering nothing. After one day, you were about as far away from any life you'd known as a vacation can take you. Kona Village was the master of this adventure, and had been since its inception in 1965.
Then, on March 11, 2011, a devastating earthquake hit Japan, destroying lives, homes, nuclear reactors and generating a treacherous tsunami that reached across the Pacific and slammed into Kona Village, which caused significant structural and property damage. The resort rescued its guests safely, but closed its doors immediately. Although Kona Village officials refused to answer my calls regarding the resort's future, by most reports, if it is to open again, it won't be the same experience as building codes have changed, there are insurance problems and the current owners have different plans. The old thatched-roof hales -- which are so unique with no phones, clocks, air conditioning, televisions and a "do not disturb" coconut for privacy -- must lose their laid-back vibe and move into the future.
But, fortunately, that's not the story I am here to tell. By some stroke of inconceivably good and timely luck, months before the 2011 tsunami struck the island, two talented and successful men, who have been business and romantic partners for 20 years, Scott Dodd and Eric von Platen Luder, began breaking ground for their small resort on the Kohala Coast in Waikoloa. Well-versed in the food and people-service industry for most of their adult lives, Scott and Eric knew what they would be taking on.
"Eric von Platen Luder is our George Clooney straight out of The Descendants," one Kona-Kohala Chamber of Commerce member told me about the former president of the Chamber of Commerce. Now head of the world-famous Huggo's restaurant as well as Huggo's on the Rocks, Eric took over the running of his family's popular waterfront restaurant from his parents, Hugo and Shirley, 30 years ago. But the position was hardly handed to him -- he began his work there as a bus boy during summer vacations when he was all of 11.
Hugo and Shirley founded Huggo's in 1969 as a casual gathering spot where the local fisherman could always depend on getting fresh fish, a huge salad and a great steak: "There was one dirt road that went around the entire island, and no stop signs," Texas-born Shirley remembers about the decidedly pioneering days of the Big Island. The lava flows, lying dormant in the moon-like fields surrounding the now-paved highway, and this remains the basic Kona Coast landscape today. Merchants, residents and locals have been the ones to bring in all the greenery.
Shirley's husband Hugo (add another "g" and you've got the restaurant Huggo's name http://huggos.com), is part-Hawaiian, making son Eric fourth-generation Chinese-Hawaiian, and all the more rich with culture to share in his numerous business ventures.
Scott, too, has spent most of his adult years in the food, catering and hotel business, including eight years at the Hyatt with his most recent stint at the Hyatt Regency in Maui. After meeting Eric on the Big Island and falling in love "instantly" 20 years ago, Scott started Paradise Gourmet Catering in 1998. A tough but much-adored boss who knows how to run a team of talented people, Scott has the rare gift of being able to inspire fresh ideas and creativity from the people who work for him:
"Scott is really easy to work for," says longtime Big Island hotel and restaurant hand, "Uncle Danny." "They're both kinda rare in that they're really nice guys. Things get done, but you feel like good people are making it happen. I clean all the hales everyday starting around noon at Lava Lava, and I feel good about it," Uncle Danny continues. "Scott and Eric know who I am, and that's important to me. I have worked at other places on this island where you never meet the guy whose name is on the restaurant."
As the past president of the Hawaii Island Humane Society Board of Directors, Scott also participates regularly in numerous charitable events, making sure the island's stray animals benefit from many of them. He has personally raised close to a million dollars for the new animal shelter in Kona. The hundreds of feral cats that congregate at the Kailua-Kona dump while you are trying to drop off your trash at closing time give credence to the urgency behind Scott's fundraising efforts.
In truth, there are few residents in West Hawaii who won't give a soft whistle of admiration at the mere mention of Eric and Scott's names. It's common knowledge they are the backbone of most local fundraising events from Wahine (woman) Fishing tournaments to AIDS and Children Advocacy benefits. They're simply relentless contributors to the community's countless organizations.
And yet, even after sharing so many Big Island adventures as a team -- all their years together, similar interests and people skills -- both men admit that creating Lava Lava has opened the door to an unexpected journey in their partnership:
"Eric and I worked pretty closely on the concept for Lava Lava Beach Club," Scott says of their two-years-in-the-making passage. "We really just looked at what was needed on the coast, what would appeal to residents and tourists alike, and then..." he continues with admirable frankness, "we created a place that we would like to go to ourselves."
Fortunately, their good taste hit the sweet spot for many of us famished for an authentic Hawaiian beachfront destination. Lava Lava (which literally means an article of daily clothing traditionally worn by Polynesians -- an example of which hangs in your hale and is yours to take home for free), is comprised of four small and fashionable, but simple cottages, only inches from the soft waves and palm-fringed beaches of Anaeho'omalu Bay. Known for its historical, royal fishponds, stunning sunsets and shallow bay waters, it's hard not to slip back in time to a simpler world of warm trade winds, fresh fruit and undulating surf. In fact, you just do.
Inside, the artwork is a colorful celebration of Hawaii's most popular water sports: surfing, fishing, stand-up paddle boarding and canoe-paddling. Local artist Mike Field's trendy yet vintage-looking prints highlight the intense use of color which is so common to Hawaiian creations.
Mike also designed Lava Lava's logo, and you can see the original artwork hanging in the dining room. Not surprisingly, photographs that depict the Big Island's many climate zones are bountiful, including the dazzling ones that filled our hale. Nick Selway, CJ Kale and Jim Russi brought the miracles of the sea and the spectacle of boiling lava onto our walls with a crazy surfing photograph showing both under and above the water at the same time, as well as pictures of Mauna Kea plus Kilauea's ever-emptying volcano.
For music makers, there's a full-size ukulele hanging on the wall, waiting for you to follow in the finger-steps of the many before you who had no idea what they were doing, but suddenly found themselves singing and strumming. My vacation partner worked out one of the tunes written for her Broadway show on a ukulele, wondered if that might be an interesting way to perform it onstage, nixed the idea and serenaded me with "Aloha Oe" instead.
Outdoors, attached to our fully stocked indoor bathroom, is an enclosed lava rock shower and garden featuring a single piece of bamboo out of which the most delicious water pours. This trumps any shower head I've ever tried, and ser iously challenged me not to waste too much time away from the seashore or way too much precious water. Beware.
"We were careful not to be trite with the typical Hawaiian things we chose," Scott explains, "so we were purposely more modern and contemporary." All the cottages offer a spacious king-size bed with luxurious linens and a down duvet. (If, like many guests, you get overly attached to the linens and duvet, Scott and Eric will help facilitate a way to have a set sent to your home.) Right in front of this bedroom-like sleeping area is a casual hanging out space, which includes a queen-size "punee" or "day bed." For families, this actually allows them a way to bring the kids along and still all bunk in one comfortable hale.
Though a large flat-screen television hangs in the sitting area, it's hard to imagine anyone being interested in hearing or seeing electronic images when the other option is listening to the surf lull you into the best sleep you've had in years.
Since Lava Lava's restaurant doesn't serve breakfast yet, the hale's full-sized kitchenette with a small breakfast table is yours to stock with store-bought items, make quick meals of your own or brew up fantastic Kona coffees and teas which are left free for your indulgence. Guests are also treated to a complimentary bottle of wine when they arrive.
And then there's all that fun stuff on the seashore!
"Like turtles galore in the bay," Eric happily tells me. "There's just such incredible snorkeling right outside your hale. You'll likely see manta ray, turtles and dozens of gorgeous fish. And if you're into historic ocean-side hikes," he continues enthusiastically, "there are many that lead to secluded beaches and fresh-water ponds just to the south of Lava Lava, along the ancient Hawaiian Ala Kahakai trail -- not to mention an incredible petroglyph field just a 20-minute hike around the point to the south of us.
"One of Lava Lava's biggest bonuses is our outdoor lawn space," Eric explains. "It accommodates up to 600 people for weddings, fundraisers and any kind of social gathering you could possibly ever want to host, from corporate events to weddings." And by now, most of these occasions have taken place with enormous success as all the letters and photographs on their website can attest.
"Toes-in-the-sand contemporary," is what Eric and Scott like to call their little resort. Set on 10 acres of exquisite beachfront property, Lava Lava also has a 120-seat open-air restaurant and bar that serves lunch and dinner.
Unlike other gourmet dining experiences, you can show up for dinner (perhaps their catch of the day marinated in pineapple salsa on herb jasmine rice with a green papaya salad -- typical of a menu that spotlights locally sourced ingredients incorporating Lava Lava's farm-to-beach philosophy) -- and you can be barefoot wearing shorts and a tank top. There's no required evening dress up, unless you desire to do so. Surprisingly well-blended tropical cocktails and live music from a small wooden stage in the sand add to the pleasurable shoreline vibe.
The "relaxed island" lunch and dinner menu is the result of a collaboration between Scott, Eric and Executive Chef Colin Stevens. Prior to moving to the Big Island, Colin lived and worked in Thailand, primarily Bangkok and Phuket. He has worked in numerous resorts, member clubs, fine dining restaurants and chains. Colin says his main concern is bringing more of a balance of flavors, which is typical in most Asian cuisine. He also wants to expose guests to the perfect balance that can be created between sweet and sour, as well as spicy and salty. Although it's not happening yet, Scott and Eric both hope that eventually Lava Lava Beach Club will offer breakfast. "It's about our kitchen size, making room for another meal," Scott explains.
And for those who want to focus their attention on the culture of Hawaii while indulging in Hawaiian cuisine, Scott hit on the idea of having his guests look at authentic books by Hawaiian authors from local books stores while they're eating and relaxing. "I just bought a new batch of books the other day," he tells me. "We are always trying to be different and unique in whatever we do, and so the book idea was a way for guests to end their meals with a whimsical twist." But, they also have a purpose beyond whimsy -- books from local Hawaiian book stores allow tourists yet another entry point into that enchanted and illusive phrase everyone loves to toss about: "Hawaiian culture." It also draws us all to the bookstores and authors who are so important to the island.
So for all you soulful travelers who are wondering if the spirit of aloha is still alive a well in the middle of the Pacific Ocean, after a terrible tsunami and some heartbreaking years that followed, it is. But, be warned -- Lava Lava Beach Club is a quiet place with only four cottages, so book in advance.
Lava Lava Beach Club
Support HuffPost
A No-B.S. Guide To Life
Related
Popular in the Community