When 2,000-degree lava oozes through a forest, it often reduces everything in its path to a fiery field of black rock.
Once the flow has passed, however, a person can sometimes find remnants of the life it just destroyed, like this burning red hole glowing ominously in the scorched earth: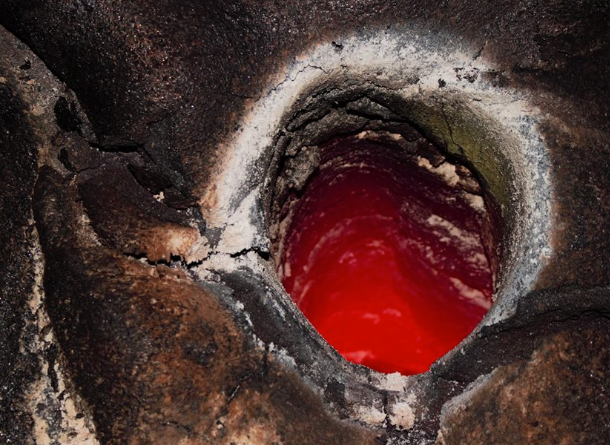 Singson hiked across seven miles of lava field to reach the edge of a burning forest, where he saw this natural phenomenon and several others like it.
"As I reached the outer perimeter of the tree line, I started to see these glowing hot holes in the lava which I was walking on," he told The Huffington Post.
"I immediately knew what it was as I've seen them before," he added, "but never in the stage that I was viewing it in ― glowing orange hot!"
One might assume that a tree would burst into flames immediately after lava hits it, but that is not the case. In fact, something much cooler happens, as evidenced in Singson's footage.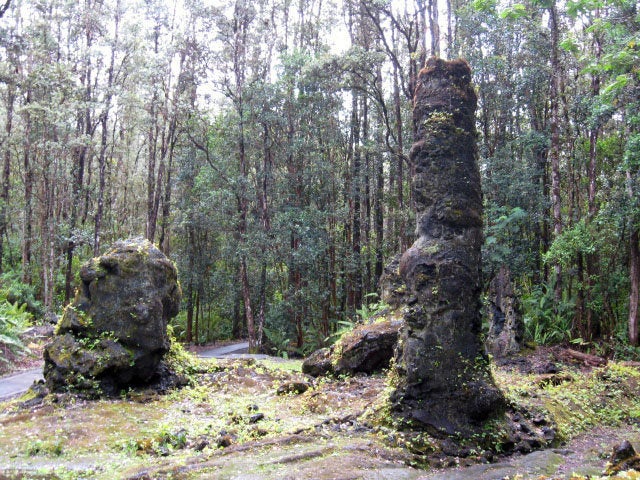 Standing lava tree molds created years ago can be found in Hawaii Volcanoes National Park. But Singson was able to capture rare footage of a tree as it was actively being fossilized.
"Death of an Ohia tree, in sequence," Singson wrote on Facebook along with his photos.
"In the distance, a crackling sound of a slow moving lava flow, it's only a matter of time before the inevitable occurs, the heat, the magma, the singe, the burn, then the fall from gracefully standing tall."
Although it's extremely dangerous to approach active lava, Singson hikes to the lava fields almost every weekend to see (and feel) Mother Nature's hot fury.
"I can actually see the orange glow of the lava beneath my steps as I navigate the heated terrain," Singson told HuffPost. "Yes! I know it sounds dangerous, and it is if you don't know what you're doing."
Singson was born in Hawaii, and says he has hiked through lava fields since the 1980s. In recent years, he's captured the internet's attention with his incredible footage, including an up-close view of lava as it poured into the ocean.
Hawaii county officials have established a viewing area where enthusiasts can legally watch the active flow, but some daredevils venture as close to the lava as they can get.
For Singson, that means coming within 10 feet of a burning forest.
"I knew this was a rare moment for me, this was the culmination of all my lava hikes and the countless hours I put in navigating Madame Pele's domain," he told HuffPost.
"I'm very grateful that I was able to witness and record all that took place within that little kipuka," he added, using the Hawaiian word for a place surrounded by lava.