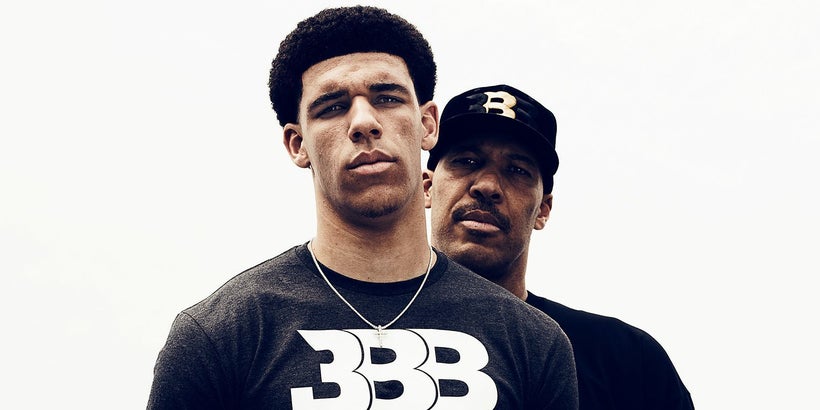 By Guest Blogger Dr. Melvin Williams
As Cleveland Cavaliers fans across the nation continue to lick their wounds following their devastating Game 5 loss to the Golden State Warriors in the NBA Finals, sports fans and news media have shifted their gaze and now eagerly await the 2017 NBA Draft, an annual event credited for launching the careers of the league's premier players. While the draft attracts a slew of selection rumors, and is undoubtedly unpredictable in outcome, no NBA draft prospect has gained more attention in the contemporary sports news cycle than Lonzo Ball.
During the 2016-2017 NCAA basketball season, the former University of California-Los Angeles (UCLA) point guard led the nation in assists, broke the university's record for most assists in a single season, and quickly positioned himself as a rising star and player to watch in the draft. Yet, Lonzo's athleticism has been immensely overshadowed by his father, former college basketball player, and retired football player turned fledgling marketing mogul, LaVar Ball.
Since last November, LaVar has secured a considerable amount of press coverage and sparked online fodder about his outlandish predictions about Lonzo's potential career in the NBA. During his son's freshman season alone at UCLA, LaVar made an inaccurate courtside prediction that the team would win a national championship. Later, LaVar proclaimed that Lonzo's career would surpass NBA champions Steph Curry and Magic Johnson, and most recently, in a capricious draft selection process, he shockingly declared that his son would only play for the Los Angeles Lakers.
LaVar's brash and often controversial statements continue to attract the attention of sports media, as the father of three stands ready to combat any and all sports critics or executives who question whether his antics could potentially negatively impact Lonzo's career (how can we forget about the epic Kristine Leahy roast?). After all, LaVar proudly promotes Big Baller Brand—the family's shoe and apparel company—and generates a level of publicity for Lonzo that typically costs branding companies millions.
Love him or hate him, LaVar Ball has mastered the art of engaging prominent media outlets and building an agenda for Lonzo's coverage in mainstream press. His marketing tactics have formally introduced a global audience to the entire Ball family in a way that, if successful, could position them as the NBA's version of the Kardashians. Still, LaVar's dream of building a billion-dollar empire with his sons faces a major challenge—Thursday's NBA Draft.
On one hand, Lonzo could be drafted to the Los Angeles Lakers, a feat that would culminate LaVar's marketing efforts to get him into the league. The victory could also position LaVar as a significant case study in Black fatherhood and sports marketing. On the other hand, if unsuccessful, both Lonzo and LaVar face an uncertain future. As stated by Lonzo to ESPN Magazine, sports fans do not want to "wear a loser's shoe," and LaVar's involvement in his career could turn off NBA executives who do not want to deal with "daddy drama."
The commentary surrounding LaVar's role as a father intrigues me as a culturist, particularly as I prepare to celebrate Father's Day with my own father, Melvin Williams. Unquestionably, LaVar is intentional in communicating his role as the patriarch of the Ball family as well as the mastermind behind Lonzo's success and a larger family empire, (which includes his sons LaMelo and LiAngelo Ball).
Magic Johnson is among those who have compared LaVar to Kardashian momager, Kris Jenner based on his actions. Sports media outlets continue to frame him as a crazy dad who is attempting to erase the remnants of mildly successful, professional sports career by placing his sons in the NBA. But what is more surprising is the fact that LaVar proudly embraces the title of a crazy dad. In an interview with Bleacher Report, he compared himself to the fathers of Michael Jackson and Venus and Serena Williams. LaVar stated, "I know we're on the right road because they say I'm crazy. Venus and Serena's dad: Crazy. Michael Jackson's dad: Crazy. Ball Brothers' dad: Crazy!"
Though some might dismiss the mentioning of these men as another tactless comparable offered by LaVar for deflection purposes, a deeper reading reveals the double standard Black fathers face in this country. As noted by Ronald L. Jackson II, Black fathers are frequently depicted and labeled as absent, controlling, violent/criminal, and incapable of showing affection toward their children in mass media. The advent of a Black male being happily married, middle-to-upper class, goal-driven, and competent is still relatively void from contemporary media representations despite the presence of "respectable race-men" such as former United States President Barack Obama.
Based on these racial politics, it should come as no shock that LaVar is represented in sports media as a maverick among its highly stereotypical constructions of Black male athletes and absentee fathers. Still, LaVar's tactics are not groundbreaking. In fact, LaVar represents a lineage of Black fathers (such as Joe Jackson, Matthew Knowles, and Richard Williams) who have personally trained their children for professional careers and assumed managerial roles. Mainstream media stereotyped those men too as controlling, crazy, and overbearing, drawing on historic racial tropes to criticize their roles as fathers.
But, what is really wrong with a Black father assuming an active role in the sports careers of his sons given the positive implications of parental involvement indicated by existing research? Further, what is problematic about a father using his prior knowledge of professional sports to enhance their careers?
In the case of LaVar Ball, his strategic use of sensational statements to build a media agenda for press coverage of his son Lonzo is indicative of a man who understands the larger system of professional sports. This system requires far more from players than sheer athleticism and entails engagement with mainstream media for branding, endorsement, and merchandising purposes. Moreover, this same system frequently exploits the popularity of Black athletes for marketing purposes and shortchanges them financially. Given the inequities facing Black athletes in professional sports, LaVar's strategy is entrepreneurial, unprecedented, and could produce multi-generational wealth for the Ball family, especially considering his recent decision to establish a sports agency called Big Baller Media Group.
No matter where you fall on either side of the issue, LaVar is to be commended as a Black father who has rigorously trained his three sons for careers in professional sports. In an interview with ESPN Magazine, LaVar shared his two-decade practice of instilling discipline in his sons through sports training, "food, swagger, and tough love." For Black boys and men, our fathers are often the first models of manhood that we encounter. As a result, we watch our fathers' actions, mannerisms, and more importantly, their career choices. As a teenager, I aspired to be a military man like my father and chased it relentlessly before discovering my passion for teaching in college.
For Lonzo, basketball represents not only a viable career option but also a passion that connects him to his father's legacy. In the case of Black fathers, succession is often a defining marker of a father-son legacy fulfilled. But still, larger questions remain. Will Lonzo rise to the occasion and assume his rightfully earned place in the NBA? Or will the Ball family's dreams of building a billion-dollar sports empire be crushed by LaVar's involvement?
Author Twitter Handle: @HipHopProf16
Author Brief Biography: Dr. Williams is an Assistant Professor and Coordinator of Graduate Studies for the Communications Specialist Master's Program at Alabama A&M University. As a communication scholar and culturist, he examines the intersections of race, gender, and sexuality in popular culture.
Calling all HuffPost superfans!
Sign up for membership to become a founding member and help shape HuffPost's next chapter
This post was published on the now-closed HuffPost Contributor platform. Contributors control their own work and posted freely to our site. If you need to flag this entry as abusive,
send us an email
.