Iowa, Indiana, Missouri, North Carolina. Over the past year, Patrick Haggerty ― frontman of Lavender Country, the first band to perform openly gay country music ― has been gallivanting across Trump country.
The band's most popular song, "Cryin' These Cocksucking Tears," might make those who voted for the new president-elect uncomfortable. It's a bluntly sung story about the pain of living as a gay man in America in the early 1970s. The song was first written and recorded in Seattle, Washington, where Haggerty lived at the time.
This doesn't dissuade Haggerty from spreading his message across America's landlocked states. In an interview with The Huffington Post, he said, "The progressive communities in the heartland are so welcoming, so loving, so tightly knit, so committed, so inspiring. It's really a delight to see that aspect of what's happening." He's alluding to the results of 2016's election, which blindsided many progressives, himself included.
Haggerty's happy to hear his music resonate with far-flung communities. In fact, he's thankful that people are listening to his decades-old album at all; he never expected his addition to the country canon to catch fire in his lifetime. Lavender Country's self-titled debut was the band's only release, garnering a following of mostly LGBTQ fans before fading into obscurity. Until, in 2014, a small record studio re-released it, and listeners were roiled by its clear, powerful message.
"We made it by ourselves, for ourselves, to ourselves. And it was a real community effort, but we weren't stupid. We knew that we had no chance"
Shortly after, filmmaker Dan Taberski sought out Haggerty as the subject of his short documentary, "These C*cksucking Tears," which received HuffPost's Social Impact Award at the Nitehawk Shorts Festival earlier this month. The film was also a Jury Award winner at SXSW and the Seattle International Film Festival.
"Of course, we knew what 'Lavender Country' was when we made it. How could we not know?" Haggerty explained to HuffPost. "We knew that gay country music had no chance of going anywhere, except in our small circle of gay liberationists. That's why we made the album. We made it by ourselves, for ourselves, to ourselves. And it was a real community effort, but we weren't stupid. We knew that we had no chance. For 40 years, my take on 'Lavender Country' was, 'Too bad. A lot of people die unsung. A lot of people do significant things and never get recognized. You're gonna be one of them. So what? Shed a tear and get moving.'"
Haggerty got married, had a family, and continued to engage with LGBTQ and anti-racism activism. His musical project resurfaced for a moment when it was preserved by the Country Music Hall of Fame, but still, listeners were sparse.
"It's a great reminder that as you go along through life, you plant these seeds, and you don't know when they're gonna come back," Taberski told HuffPost. He chalks Lavender Country's dormancy up to the specificity of the gay country genre. "I don't think, on the whole, country music is very appealing to the gay community. I think it's easier for the gay community to congeal around music you can dance to, music that's funny, that's ironic, and this isn't really."
Emphasizing the earnestness of his genre, Haggerty said, "the best country music is people singing their truths. And that's been the basis of country from the beginning. It's a simple, honest music structure that allows you to do that, and it's a structure that anybody can relate to, because of its simplicity."
And that's precisely why listeners seem drawn to it today, Haggerty says. It's not rock, it's not punk, it's not metal; it's a subversive message coming from a genre that, in the past, has been committed to upholding strongly held values rather than questioning them.
That said, Haggerty asserts that, regardless of the genre he worked in, the music industry was not prepared for openly gay lyrics in 1973. "There wasn't any type of music that was ready to embrace Lavender Country. Nobody wanted it, so what difference did it make? Rock 'n' roll, whatever else was going at the time, was not ready. It didn't matter what musical form I chose at the time, and I chose the one that I knew," he said.
That changed in 2014, when Haggerty was approached by independent record label Paradise of Bachelors about re-releasing his album. He marveled that the men who wanted to resurface his work were straight, white men with families ― when, decades earlier, straight, white men with families were exactly who censored his music on the radio.
"These straight white men, they don't identify as straight white men, they identify as humanists that are down for the struggle, and they want everybody to know that," Haggerty said. "That phenomenon is what moved Lavender Country out of the gay ghetto, into the mainstream."
Today, Haggerty's listenership goes beyond those who identify as LGBTQ, and those who live in rural areas, hoping to seek out information about their sexuality ― although, Taberski noted to HuffPost, those listeners still exist, too. But Haggerty is proud that his message has been extended to include the struggles of other groups.
"Immigrants and black people and trans people and people who are really struggling at the bottom can see themselves in the Lavender Country story, and they get it," he said. "And they know how to translate the issues into their own circumstances."
Taberski echoed, "I think people want to speak truth to power ― especially now ― and they don't want to say it nicely. And that's what Patrick is about. He's fearless."
Illustrating the joy he gleans from sharing his music with listeners from all backgrounds and sexual orientations, Haggerty cited an instance at one of his shows when a straight, white man approached him after a show, explaining, tearfully, that he was bullied as a kid, and that Lavender Country's empowering lyrics moved him.
"He was able to translate the gay experience that I had into his own emotional well of hurt, not because he was gay but just because he was bullied," Haggerty said. "It doesn't matter anymore who's gay and who's not at my concerts. Because there's a solidarity in the audience. The issue isn't whether you're gay or straight, but whether you're down for the struggle, whether you're ready to stand up and defend everyone's human rights."
"The issue isn't whether you're gay or straight, but whether you're down for the struggle, whether you're ready to stand up and defend everyone's human rights."
Haggerty attributes his own openness ― and his unabashed pursuit of equal rights ― to his father, a West Coast tenant farmer who allowed his son to wear dresses, a remarkable parenting choice for a man living in a small town in the 1950s.
"I had no comprehension of the powerful message that he bequeathed upon me until he was in his grave and I was a grown man, talking to other gay men about what their experiences were with their fathers. Like, oh, my God. I mean these men were saying 'father' and then they were telling me the rest of the sentence, and honey, I just couldn't put the subject and the predicate together in the same sentence. Your dad did what? It was so alien from my experience," Haggerty said.
"His influence left me so unscathed, and unscarred, and whole. It was just like a huge, huge, huge, exponentially huge advantage that I had over other gay men. Looking back on it, reflecting now about how it came to be that I wrote the world's first gay country album, it's like, I wrote the world's first gay country album because my dad said I could. That's why. My father said I could. Fundamentally, don't you think I owed him that? Thanks, dad! Here it is. Right? I was morally obligated to give him that gift.
And now, Haggerty hopes to share the same gift that was given to him ― the power of personal expression, sexual and otherwise ― with his listeners.
The Nitehawk Shorts Festival took place Nov. 9-13, 2016, at the cinema's location in Brooklyn, New York. Huffington Post Arts & Culture was the Media Sponsor for the festival and provided the inaugural Huffington Post Impact Award. The winner of that award is Dan Taberski's "These C*cksucking Tears," which you can watch above. To see more of our coverage of the Shorts Festival head here, here and here.
CORRECTION: An earlier version of the article said Lavender Country was inducted into the Country Music Hall of Fame. Actually, the album was added to the museum's collection of country music artifacts.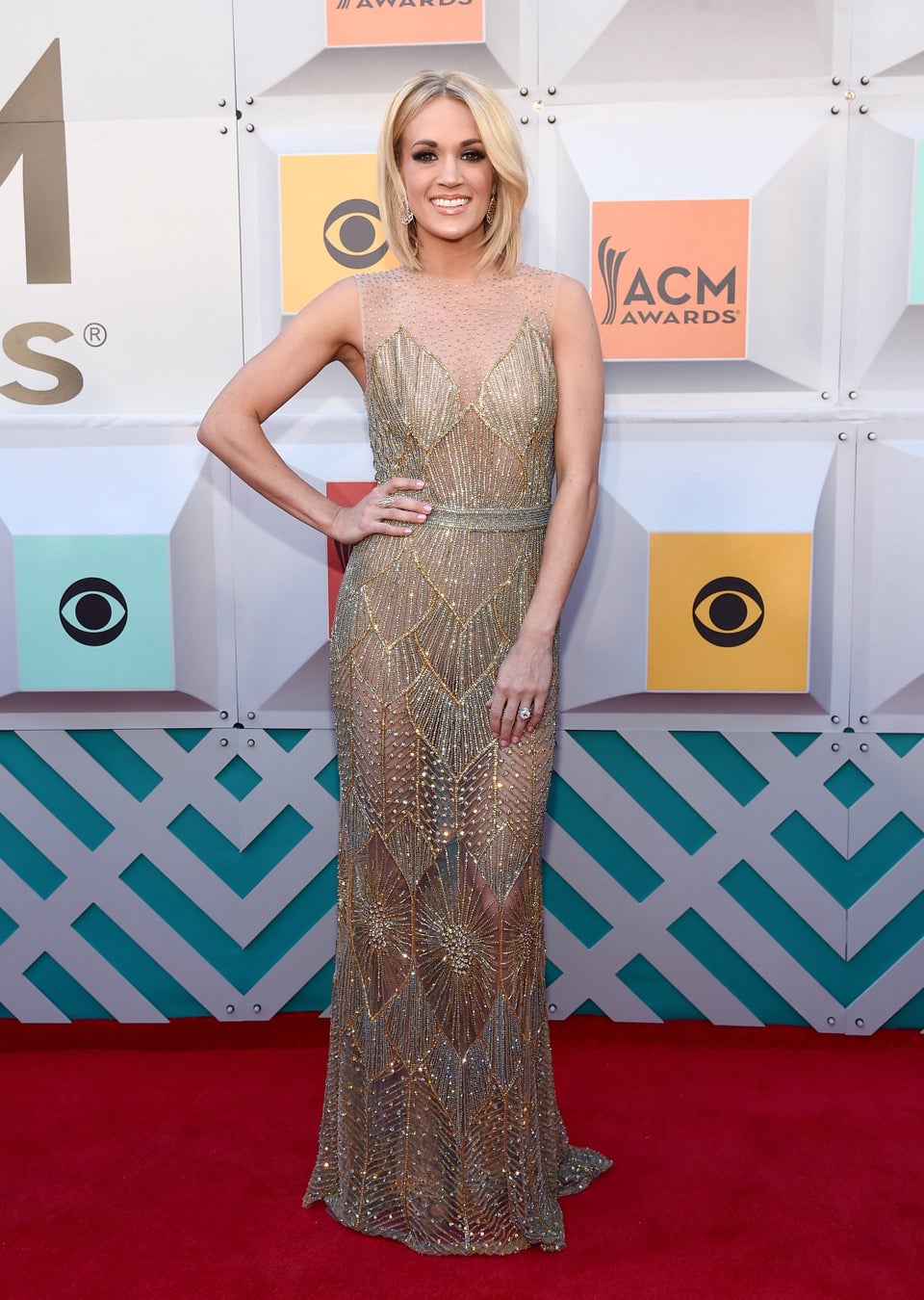 Academy of Country Music Awards 2016