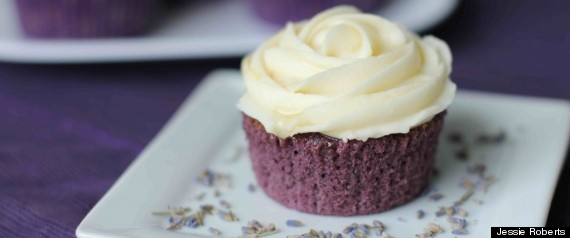 These cupcakes are inspired by my favorite little ice cream shop in the Wallingford area of Seattle: Molly Moon's. Their flavors are often unique, with options like Balsamic Strawberry and Earl Grey. I have personally explored their menu pretty thoroughly, but I always come back to their Honey Lavender flavor.
I was enjoying an enormous cone one afternoon, and suddenly had the idea of using these flavors in a cupcake. The next day I wandered into my local Whole Foods, not sure exactly how I would put this cupcake together. After discovering Organic Whole Lavender in their herbs and spices section, I decided to chop up the dried buds and use them in the cupcake portion. From there it only made sense to top these dainty cupcakes with honey-infused cream cheese frosting.
These cupcakes were a bit of a risk, but turned out so well! They are absolutely my favorite cupcake recipe so far. The lavender and honey go perfectly together - two gentle flavors.
Note: If you don't live near a Whole Foods, you can purchase culinary lavender on Amazon.
Lavender Cupcakes with Honey Frosting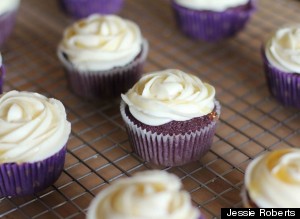 Ingredients
For the cupcakes:
1/2 cup (1 stick) butter, softened
1 cup sugar
2 eggs
2 teaspoons vanilla extract
About 1/2 teaspoon red and 1/2 teaspoon blue food coloring*
1 1/2 cups all-purpose flour
1/2 teaspoon baking powder
1/4 teaspoon salt
2 1/2 tablespoons dried lavender buds
2/3 cup cold milk
For the frosting:
1/2 cup (1 stick) unsalted butter, softened
8 ounces cream cheese, softened
4 cups powdered sugar
2 teaspoons vanilla extract
2 tablespoons honey, plus a little extra for drizzle
Directions
Preheat oven to 350 degrees F. Line muffin tins with cupcake liners.
In the bowl of an electric mixer, cream the softened butter and sugar together. Add the eggs one at a time, beating after each egg. Stir in the vanilla and food coloring.
In a separate bowl, stir together the flour, baking powder, and salt. Chop the dried lavender buds into fine, small pieces. Stir into the flour mixture.
Add the flour mixture to the butter mixture. Stir in the milk.
Scoop batter evenly into lined muffin tins. Bake for 18-24 minutes, or until a toothpick inserted into the center of a cupcake comes out clean. Let cupcakes cool in the tins for about 5 minutes, then remove to a wire rack to cool completely.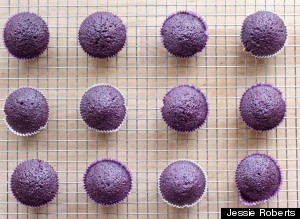 For the frosting:
In the large bowl of an electric mixer, beat the butter and cream cheese together. Add the powdered sugar 1 cup at a time, mixing on low, until the frosting is smooth and creamy. Beat in the vanilla extract and honey.
Scoop frosting into a piping bag fitted with a 1M tip. To create the flower, begin in the center of the cupcake's surface, and slowly swirl in wider circles. (It might be helpful to practice on a piece of parchment paper first, then you can just add the frosting back to the bowl.) You can also simply spread the cream cheese frosting over the top of the cupcakes with a knife.
Lightly drizzle a little honey on top of the frosting. Enjoy!
*Note: If you prefer a lighter color, just begin with 1/4 teaspoon of the red and blue and continue adding drops of each until you like the color. You can also use purple food coloring if you have it.
Related