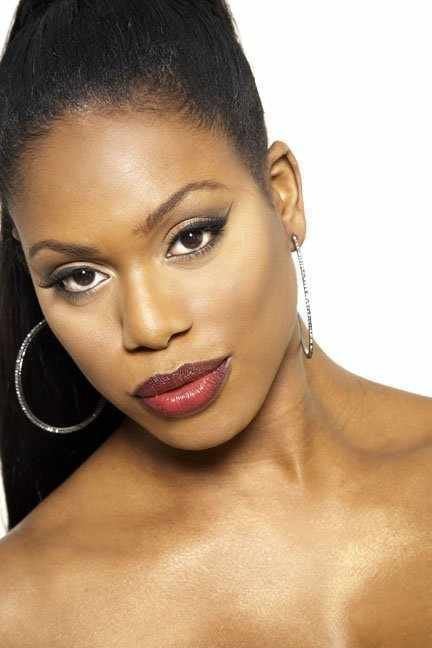 Being the first African-American transgender woman to produce and star in her own television show was something au courant to Laverne Cox. Even on the heels of making history by being the first black, transgender woman to appear on a reality television program, it was something to grapple with. In 2008, Cox starred in VH1's "I Want To Work for Diddy," which garnered her the starring role in the spin-off show,"TRANSform Me," which she also produced.
Cultural pioneers are typically showered with appreciation and accolades, but Cox received the opposite. The responses she received from peers and fellow members of the transgender community were discouraging and overwhelming, but Cox continued to prevail, pursuing her dreams as an actress.
Cox -- when it comes to her age she says only that she's "over 21" -- was featured in myriad films and television shows, such as "Law and Order: SVU" and has been highly praised for her role in the independent feature film, "Musical Chairs."
We caught up with a very hopeful and grateful Laverne to chat about her upcoming films, reality television, visibility, intersectionality and more.
The Huffington Post: Last year, you received critical acclaim for your role in "Musical Chairs." What was it like working on that project?
Laverne Cox: I'm super excited because it's nominated for a GLAAD Media Award. We're nominated for "Outstanding Film Limited Release." What was fun about "Musical Chairs" is that we got a lot of rehearsal time, especially for an independent film. We got about four weeks of rehearsal to learn how to ballroom dance in wheelchairs.
It was amazing. I loved the process. It really got me thinking differently about people with disabilities and the challenges that they face. It gave me a lot of gratitude for my life. I think about how challenging it's been being a black woman who is trans. It has been very challenging, but adding a disability to that is this whole other thing that I don't know if I could really do.
You've starred in two movies so far this year, "36 Saints" and "Grand Street." Can you tell me about those?
I'm not sure when they're going to be released, but one thing that I can talk about is "The Exhibitionists." It's already available for pre-order on Amazon. "The Exhibitionists" comes out on DVD on April 23. It's directed by Michael Melamedoff. It's a really quirky, interesting and edgy independent film.
I play Blithe Stargazer. The fun thing about it is it's a completely different role than I've ever played before and it wasn't written for a transwoman. It's written for a woman. Me being trans didn't matter. I'm really hopeful that that's where the rest of my career is going. I'm just happy to be working. I'm hopeful that more directors and producers will have the vision that Michael did- to say, 'she's just the best person for this part.'
So often I've heard from casting directors and agents in the past that if it's not called for a trans person they won't send a trans person in at all. It's a rough business. We're not fully there in the industry yet. It's really rough being a black actress, still.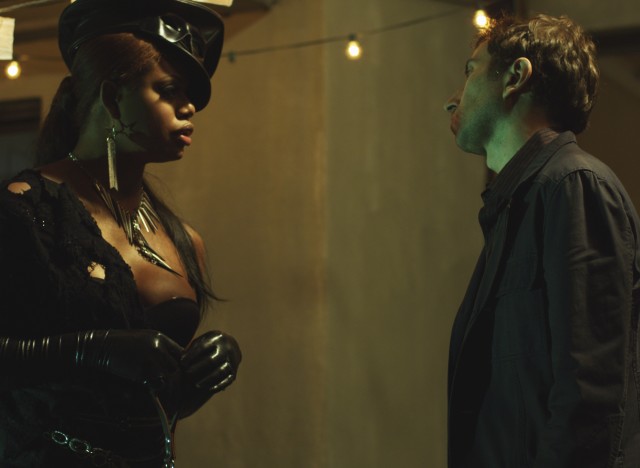 Many say that it's hard for black actresses in Hollywood.
I was watching the NAACP Awards on Friday and Kerry Washington got all of those awards. It's been over 35 years since a black woman has really starred in a primetime drama. It's been really hard.
Wow!
(Laughs) I'm still black. So there's another obstacle, but I'm really hopeful. I'm shooting a new project called "Orange Is The New Black." I'm super excited about it. I start shooting tomorrow. It's a Netflix original series. The scripts are amazing and the directors are amazing. The newly single Jodie Foster directed episode three. Andrew McCarthy is directing the episode that we're shooting right now. It's from the creators of "Weeds." It's a trans role. We'll be premiering in June.
Do you feel that being transgender has garnered you more roles?
The funny thing is that Jodie Foster said to me that I have quite a niche. I've been told by casting directors that there really aren't any roles for me. I've heard that for a very long time. About six years ago, I stopped thinking about being trans as a deficit and I started thinking about it as something that is a benefit for me. I love who I am and the second that I changed that thought process, my career changed.
Do I work more because I'm trans? No, I can't say that because there are a lot of actresses who work more than I do and make a lot more money than I do. The problem is that people aren't writing a lot of trans roles. So there are still not a lot of trans people on TV. There are not a lot of movies with trans characters. I do what I can. I've been trying to get a non-scripted show on TV for several years. It's really hard. A lot of networks are terrified of having trans people on TV.
My foray into reality TV was something that I never planned or really wanted to do. It was more political than anything. With " I Want To Work For Diddy" it was about the black community seeing someone like Diddy embrace someone like me. It also was about advancing my career and it got my face out there in a different way. I've worked it and done the best that I can. A lot of folks have been critical of me because I've done reality TV and that's fine. I'm trying to live my dream. I do think that I'm making the trans thing work for me. I'm embracing it because I have to.
In terms of being transgender and being on reality TV, it's great for visibility.
Sometimes I forget because I'm just living my life. When I did "I Want To Work For Diddy" countless numbers of trans women of color were writing me and telling me that they've never seen a black professional trans woman of color on TV before. And I would say, 'oh my God.' I had to think back and I thought, we're always hookers.
It was definitely groundbreaking.
It was just me being myself. I think there's something really powerful about that. America is a very diverse country. If people in media are really going to tell America's story, they're going to have to tell everybody's story and tell it in an unexpected way. It's really telling to me that reality TV is where you have seen the most real trans people. It has been the sort of really groundbreaking place. Things are starting to happen in the scripted world though, most definitely. Jamie Clayton on "Hung," "Gun Hill Road" and "Dirty Work."
What was it like for you being the first black trans woman on reality television?
It was five years ago at this point. It was one of the scariest things I've ever done in my life. To be really honest, after I wrapped I couldn't sleep. I was sleep deprived and really emotional. I wasn't sure how they were going to edit and make things look. I was worried about being eliminated. The elimination was awful. That chick said a lot of really awful things about me. I thought to myself, what have I done for the community.
There had never been any trans people for any race, black or whoever on reality TV at that point. I was just really nervous because I had no control about how I'd be represented. I knew that was a risk that I was taking. I was really stressed out. After about 24 hours of being on camera all the time, you have to just chill out, relax and be yourself. You can't be too protective of stuff. I was just really nervous about rather I'd represent well or not for my community.
A couple weeks before the show premiered, Perez Hilton broke that a trans person was going to be on "I Want To Work for Diddy" and the blogosphere sort of erupted. The black blogosphere was really, really rough on me. It was awful, but I wasn't surprised. It was just a lot of attention. I've been training my entire life and nothing can prepare you for that kind of attention. People were recognizing me on the street at the time. It was weird and it freaked me out.
I can imagine.
About a month or so after I got eliminated, I got a call from VH1 and they were interested in doing a spin-off with me. "TRANSform Me" was the show. Luckily, I'm the only person from that show who got his or her own show, which is amazing. I'm just grateful for the people that I was working with at the time. It worked out pretty well, but then it also presented other challenges.
When the trans community was really critical of "TRANSform Me" that's what I wasn't ready for. I was ready for the black community, but not for the trans community. Black folks are always coming for me, but trans people were coming really hard at me because of how campy "TRANSform Me" was. That was really hard. I feel blessed and really grateful, but the criticism sometimes can be really difficult (especially from your own people). Now in my perspective so many years later, there's just not really a lot of trans people on TV. So the one, two, three people on there, folks are going to be really critical of it. Actually, that's okay. I critically engage with work and some of it has made me stronger and made me re-think some of my work and choices.
I wrote a piece for Advocate.com and one commenter claiming to be a trans woman said that, "I wish Laverne Cox would just go away. You're not a trans woman and you'll never pass as a woman." It was really mean and I just remember sitting in my apartment reading that and just crying. I think what I realized, being in the public eye if you any insecurities and then someone attacks you, they're magnified. I've been working on myself a lot.
Social media and the internet can be a beast.
People always hate. I feel really good today because I like myself more than I ever have before in my entire life. So much of my journey has been about self-acceptance and self-love. For trans folks, even through transition, finding a way to still like myself the way I am right now. I think that's a really hard thing for me. I don't want to speak for others.
I'm really excited about "Orange Is The New Black." I'm also really nervous because there may be more tension again. I'm just trying to get myself ready, but at the same time I'm living my dream. I love what I do. I'm just hopeful and I want the industry and the culture to change around trans people on TV. We have so much more ground to cover.
Even just being an African-American, blacks are always pressured to represent.
Yeah. There are some trans folk who want to be the only one. I don't. I want there to be more of us because I don't represent the entire trans community and I don't want to. I represent myself. I want to be a strong empowering voice for my people, but the reality is that my experience is really different from a lot of other trans people.
How important is it for you to be visible and transparent?
I think about someone like Janet Mock and she's so transparent. She talks about her relationship and so many elements of her life. I think that's great and she inspires me so much. But I don't want to be quite that transparent. When I do talk about my personal experiences I am always interested in how they relate to something political. I'm interested in how the personal elevates political conversation. Visibility for me is a political thing more than anything.
I'm an artist first, but hopefully I can use that platform to advance some political justice for my people and for all people. I think it's all related. Equality for women and racial issues are all related to trans issues.

Another Huff Post blogger, Dr. Kortney Ryan Ziegler wrote a post about making race the centerpiece of trans issues in order to advance the community. How do you feel about that?
I remember that piece. There are a lot of people who have their personal vices about race. They're at these organizations, they don't understand what it means to be trans and they also have racial bias. It's really pervasive. On so many different fronts we see that black life isn't valued, whether you're trans or whatever. There's an inability for our country to have a really complex racial discussion, even with a black president. I think the race question in terms of LGBT issues and trans issues; it's really just about racism. How do we confront that as a culture, as LGBT people and as Americans in general?
Look at the trans unemployment rate. The trans unemployment rate is twice as high as the national average. If you're black and trans, it's four times that. The question of race as it relates to gender and the intersectionality of things is something that we need to have more discussions about. The National Black Justice Coalition and GLAAD tackles this. More organizations need to work together.
How do you personally deal with unlearning society's norms and reeducating yourself about the LGBT community?
My ideas are always evolving. I've read more and have been more politically engaged. We have to have space to evolve, but we have to be willing to have the conversations and know how to. Look at the "Stop and Frisk" march that happened last year that really integrated LGBT and black folks. Look at how the NAACP can begin to back that and how they're evolving. Obama has allegedly evolved and became pro-marriage equality. He can publicly say that now. So opinions can shift. We have to come together across political differences too and build coalitions even though we may not always agree on exactly everything.
Clarification at 4:36pm ET on February 12: Cox's answer regarding visibility and transparency was slightly altered to more clearly reflect her thoughts on the matters. Also, in an earlier version of this story, the release date for "The Exhibitionists" DVD was listed as April 24. This has been corrected to April 23.
Support HuffPost
Every Voice Matters
Popular in the Community