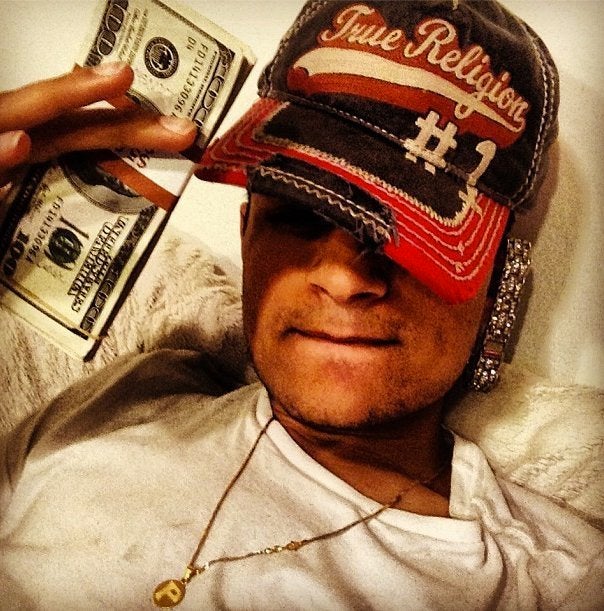 Looks like Tom Haverford's got some competition.
Allegedly a 17-year-old junior in high school from a wealthy San Francisco Bay Area family, "Lavish" (real name Param) is the owner of what might be the world's most outrageous Instagram account, @itslavishbitch.
The indulgent teen boasts more than 130,000 followers and it's not hard to see why: he's posted photos of himself taking private jets, lying on piles of money, filling his toilet bowl with Pellegrino sparkling water and purchasing nine iPhones at once.
In one photo, Lavish appears to tie $4000 in cash to a group of balloons and release it into the air.
Story continues after slideshow... (CAUTION: Slideshow contains strong language.)
PHOTO GALLERY
@itslavishbitch
Lavish frequently holds Instagram giveaways, allegedly awarding tens of thousands of dollars to the winning follower. He also has a habit of bad-mouthing celebrities and referring to the less fortunate as "peasants."
Is this kid for real? The Huffington Post caught up with Lavish to find out.
Lavish, are you really a teenager or is this a hoax? I'm 17 and a junior in high school.
Do you have any hobbies besides publishing photos of yourself on Instagram? School, tennis, golf, shopping, kicking it with friends, finding ways to blow money and yachting.
One of your photos shows you releasing $4,000 tied to balloons into the air. Did this actually happen? Did you retrieve the money? Yes, it did happen but only with $2,000. I attempted to fly $4,000 but the helium did not lift it due to the weight. So I flew off only $2,000 with ease. I let the money go in the atmosphere and watched it with my buddies.
There are several giveaways posted on your Instagram. Have you actually given this money to the winners? I have given all of them the money. The winners have posted the winnings.
How do you have all of this cash? It's my parents' money.
What do you want to be when you grow up? I want to be a CEO. I want to start my own company and make it big; my parents fully support the idea. My company will be on the technology side since that's where the money will be. I am very interested in computer science so I know a lot in the technology field. I want to be the boss of mysef and not have anybody else give me orders. I want to hold the power to impact something, and be looked up to as an icon.
Some of the commenters on your Instagram and YouTube pages have been critical of your posts. How do you respond to this? I don't give one damn to what a peasant thinks.
Calling all HuffPost superfans!
Sign up for membership to become a founding member and help shape HuffPost's next chapter
BEFORE YOU GO