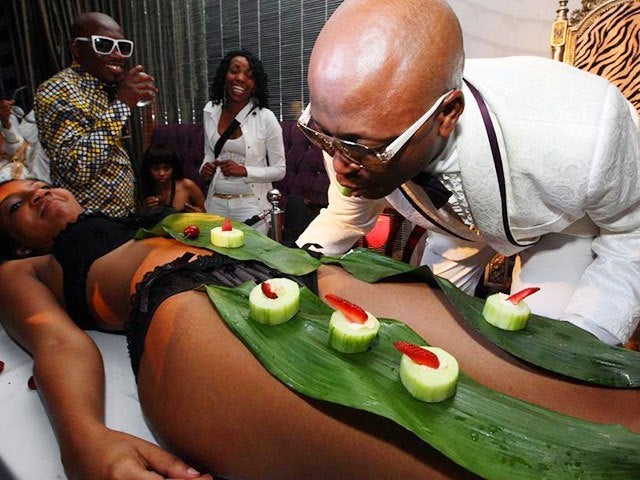 They show up in Mondo suits, Roberto Cavalli shoes, and zoom around in Ferraris, Maserattis, Rolls Royces and Bentleys; Louis Vuitton sunglasses sheltering them from ultra violet radiation and eye contact with ordinary mortals.
Naturally, they throw wild parties where Chivas Regal and Dom Perignon flow in equal measure. They are the new class of young, if not youthful, monied black South Africans.
Favoured by the Black Economic Empowerment (BEE) program put in place by the African National Congress (ANC) in 1994 to address economic injustices propagated by the white minority rule, these new breed of black bourgeoisie butt no eyelid when it comes to flaunting their new found wealth.
Popularly known as the "buppies" or simply the "BEE men", their spending sprees and sense of fun easily relegates what goes in the exclusive African party dens into kindergarten tea parties.
To the BEE men, most between the ages of 25 to 49 according to a study by the University of Cape Town, BMW is an acronym of "black man's wishes". Multimillion top-of-the-range sports utility vehicles are their new playthings. Welcome to the home of six dollar billionaires.
But with all these hedonism thriving against a backdrop of crippling poverty among millions of ordinary black South Africans, some observers and commentators have been quick to compare the situation to George Orwell's popular satirical novel Animal Farm.
"Literary-minded pessimists may cast the farm as South Africa," the Mail & Guardian, a mainstream South African paper wrote. "The tyrannical Mr. Jones as the apartheid government, the noble revolutionary as Nelson Mandela, the deposed and erased snowball as Thabo Mbeki, the scheming ruler Napoleon as Jacob Zuma and the garrulous zealot squealer as Julius Malema".
A study in November 2010 by the Unilever Institute of Strategic Marketing, an affiliate of the University of Cape Town, found that nearly 40 percent of the country's richest 10 percent are BEE men. The survey also established that one of the recipes for hitting big money in South Africa includes being young, entrepreneurial and some post secondary education.
Kenny Kunene, the flamboyant investor and owner of ZAR chain of nightclubs with outlets in South Africa and Zimbabwe, is one of the perfect embodiment of these loaded Africans with tons of first generation wealth at their disposal.
Born and bred in Kutlwanong Township in the Orange Free State the bible-quoting "Sushi King", as he is known because of his peculiar obsession with the Japanese delicacy, is a true rags-to-riches fairy tale character that many boys in the townships would die to emulate.
As a statement of his social status the glamour-loving Kunene is said to have thrown a party worth more than $49976 at one of his exclusive nightclubs in Sandton, the wealthiest suburb in Johannesburg, during his 40th birthday in 2010.
"The party was the definition of bling and debauchery and the guest list itself was a gold-digger's dream," the City Press, a local newspaper, reported. "According to the event organizer there were 66 bottles of Dom Perignon, 36 bottles of Cristal and 32 bottles of 18 year-old Chivas Regal. The alcohol alone cost around $39537".
As a sign of his deep rooted connections in the political class, among the 300 invited guests was former Economic Freedom Fighters (EFF) founder and leader Julius Malema and Zizi Kodwe, President Jacob Zuma's spokesman
The same publication went on to claim that the hedonistic tycoon who hosts a live bling bling show So What on ETV was served his favourite delicacy of rice and sushi on a young woman's naked belly during the nocturnal merrymaking.
Kunene's extravagance attracted the wrath of Congress of South African Trade Unions (COSATU) leader Zwelinzima Vavi, a man perceived by many as the rapidly emerging voice of ANC's disgruntled supporters.
"It is this spitting in the face of the poor and insulting their integrity that makes me sick," Vavi said. "I am told at one party sushi was served from the bodies of half-naked ladies. It is the sight of these parties, where the elite display their wealth, often secured by questionable methods, that turns my stomach".
But the combative Kunene, who served a six-year jail term from 1995 for being a partner in a fraudulent pyramid scheme, hit back at the trade unionist through a venomous open letter published in several South African newspapers.
"During the World Cup you were sitting in elite air-conditioned suites. What were you eating there? What were you drinking...we dint say you were spitting in the faces of the poor," Kunene taunted. "I want to correct your misapprehension that my party cost $49976. It cost more…the next time people are invited to my party, you can go hang or go to hell".
The irritated millionaire went on to question the morality of Vavi attending the $5 million wedding of another BEE billionaire Robert Gumede in Mpumalanga.
Jabulani Ngcobo is considered Durban's youngest multimillionaire at 31 years. Donning Roberto Cavalli shoes, Mondo jackets and Louis Vuitton sunglasses and cruising the streets of Durban with his BMW M3 Ngcobo is popularly called CashFlow by local residents after the stock markets company Cash Flow Pro that he established in 2009.
"There are two kinds of education in this world," he said during a radio interview. "There is academic education which is guaranteed that you will always work for someone else for the rest of your life, and there is financial education which guarantees you financial freedom".
Ngcobo's new money attracted the attention of the South African Police Commercial Crimes Unit who conducted an inquiry on the legality of his offshore investment companies.
Although the gap between the rich and the poor in the rainbow nation have grown immensely wide since the fall of apartheid in 1994, the composition of the top end tier has drastically acquired shades of black. But ownership of big business is still largely in the hands of white with only 4 percent blacks accounting for chief executive officers in Johannesburg Stock Exchange (JSE)-listed companies.
South African Revenue Service says that almost a million people in the country earns more than $2142 a month. A Unilever Institute of Strategic Marketing survey classified the country's wealthy people into three categories.
The "Drivers" that included people worth up to $130,000 50 percent of whom were blacks under the age of 35, the "High Flyers" with a net worth of up to $650,000 which contained the majority of the country's wealthy people and 33 percent being black and "Astronauts" who were the wealthiest group with members worth more than $976000 and 27 percent of them being black.
At the dawn of majority rule in 1994 there were hardly any blacks in the "Drivers" category, with the other two classes being exclusively white.
While most Afrikaner wealth is second generation dating back to 1948 when the Nationalist Party came to power and introduced apartheid, African wealth is first generation with a bulk of it in the hands of people who were born and bred in the squalor of the slums.
Take for instance Robert Gumede, a man born and bred in a humble family of seven children in Nelspruit, Mpumalanga where he once worked as a golf caddy and gardener at Nelspruit Golf Club. The information technology (IT) mogul's $3.6 million wedding in 2010, held in the same golf club where he once toiled as a candy and gardener, left thousands of tongues wagging across the country and continent.
The glamorous three-day event that took a whole year to plan featured 2500 high profile guests from the South Africa and abroad. Gumede shot to prominence in 2005 when his IT company Gijima acquired controlling stake at the JSE-listed firm AST to form GijimaAST where he is now the executive chairman.
But like many other BEE millionaires and billionaires, the gardener-turned tycoon's rapid rise to the economic pinnacle has been questioned, with many pointing a finger at his close connections to ANC Treasurer General Mathews Phosa. Apart from a multimillion-rand tender Gijima won in 2002 to produce phone cards for Telkom South Africa, the company was also awarded a $142.8 million contract in 2007 by the Department of Home Affairs.
But Kunene, Ngcobo and Gumede's financial empires fades into non-entities compared to Patrice Motsepe's, the tenth richest man in Africa worth $2.7 billion according to the Forbes magazine March 2012 edition.
Born to a school teacher father in the sprawling Soweto Township 50 years ago, Motsepe graduated with a law degree from the University of Witwatersrand in 1994, the same year that ANC came to power and implemented the black empowerment program.
After working briefly as a legal expert Motsepe established African Rainbow Minerals, since renamed ARMgold, of which he is the current executive chairman. But while acknowledging him as one of the wealthiest people on the planet, Forbes magazine 2008 edition noted that his achievements were "not through entrepreneurial zeal" but rather because of his close connections to the ruling party.
"A handful of politically connected individuals have grown enormously wealthy…from laws that require substantial black ownership in certain industries, including mining," Forbes noted. "One of Motsepe's sisters, Bridgette Radebe, who's married to current Minister in the Presidency Jeffrey Radebe, heads a mining company and is said to be among the wealthiest black women in the country".
The South African mining magnate also owns Mamelodi Sundowns football club besides being the chairman of Absa Group, Ubuntu-Botho Investments and Sanlam Ltd. He is also the current president of South Africa's Chamber of Commerce and Industry.
Apart from the BEE "Young Turks", there are other old guard billionaires who were in the heart of the fight against the white minority rule like Cyril Ramaphosa and Tokyo Sexwale.
Ramaphosa was apparently pushed to joining business in 1997 after losing the race to succeed Nelson Mandela to Thabo Mbeki. Worth around $227 million according to Forbes, the former trade unionist is among the richest South Africans with vast interests in energy, mining, real estate and banking sectors.
Although the blatant display of materialism by wealthy blacks is said to be a big motivator for young people in the townships and ghettos to embrace hard work, the failure of the BEE program to create equality and bring progress to the poor majority have been partly blamed for the huge rates of crime and corruption in the rainbow nation.
Class has replaced apartheid making South Africa one of the most economically unequal countries in the world today. Some observers have even gone on to say that the country needs another Nelson Mandela to lead the struggle against the oppression of economic inequalities.
"We are already sitting on a ticking time bomb. The poor are tired of watching and reading about the elite blacks or whites parading wealth," warned COSATU boss Zwelinzima Vavi during a press conference. "The more we delay intervening the more the risk that one day this poor majority will simply walk to the suburbs to demand the same living standards. No walls will be high enough and no electronic fences will be powerful enough to stop the overwhelming majority".
billionaires include Exxaro Resources CEO Sipho Nkosi and Phuthuma Nhleko, the Executive Chairman of Africa's largest mobile operator MTN.
REAL LIFE. REAL NEWS. REAL VOICES.
Help us tell more of the stories that matter from voices that too often remain unheard.
This post was published on the now-closed HuffPost Contributor platform. Contributors control their own work and posted freely to our site. If you need to flag this entry as abusive,
send us an email
.