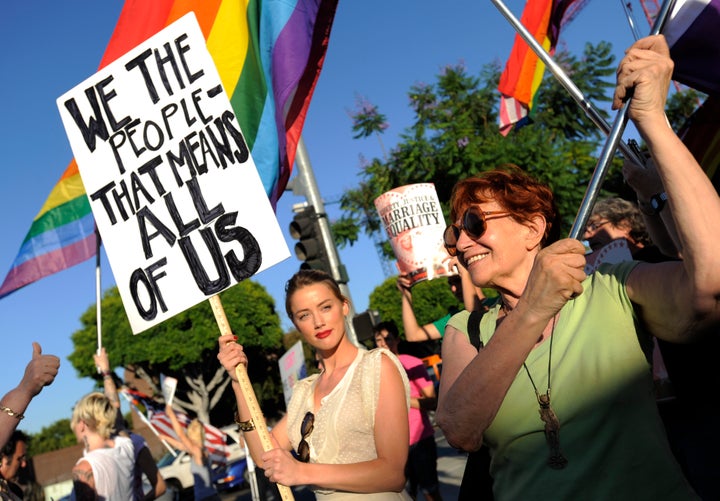 WASHINGTON -- Members of the LGBT legal community are seriously considering breaking ties with the firm King & Spalding in light of this week's news that one of its partners, former Bush Solicitor General Paul Clement, has signed on to defend the federal ban on same-sex marriage on behalf of House Republicans.
Despite the firm priding itself on creating a diverse and welcoming workplace, leaders of gay and lesbian legal groups already predict a backlash against the firm that is poised to rake in up to $500,000 in taxpayer dollars to support the Defense of Marriage Act (DOMA), which defines federal marriage as between one man and one woman.
Jon Davidson, legal director of Lambda Legal, the nation's oldest and largest legal organization working for LGBT equality, had one word on the firm's decision to take the case: "Depressing."
"I think it's going to hurt them in their recruiting of future lawyers," he told The Huffington Post.
King & Spalding has touted its ties to Lambda Legal in recent years. In 2006, the firm announced it was a national sponsor of the Lambda Legal Defense and Education Fund. In its 2007 "Achievements in Diversity" report, the firm boasted, "Among other programs aimed at diverse law students, King & Spalding is a national sponsor of Lambda Legal, provides pro bono work for Lambda, and sponsors the organization in New York and Atlanta."
Davidson said in light of the DOMA announcement, he is no longer comfortable working with King & Spalding on cases.
"As legal director, I would take the position that we should not use them as cooperating attorneys with us -- that is, people who work with us on a pro bono basis in cases," said Davidson. "I wouldn't want to team with them, so long as they're actively harming our community by defending DOMA."
D'Arcy Kemnitz, the executive director of the National LGBT Bar Association, an affiliate of the American Bar Association, said the group has been hosting a career fair for law students to connect with law firms and other potential employers for nearly a decade. King & Spalding has attended the event annually -- a fact it boasts on its "LGBT Lawyers" website.
But now, says Kemnitz, the association may evaluate whether to change that relationship moving forward.
"That would be a policy decision that would be coming from our board of directors," she said. "That would be something that decision-makers would decide between now and Sept. 8. That decision has not yet been made. If and when it is made, we will send out a note to everybody so they know."
What troubles Kemnitz the most, however, is not King & Spalding taking up the case, but a provision of the contract between the firm and the House Republicans that left sexual orientation and gender identity out of its nondiscrimination clause.
That provision sends a starkly different message than the language on the firm's website about its efforts to appeal to LGBT students:
King & Spalding actively recruits LGBT law students and seeks opportunities to partner with LGBT student organizations to help their members successfully navigate the process of moving from law student to lawyer. The firm annually attends Lavender Law, the National LGBT Bar Association's conference and career fair. Recently, an LGBT Summer Associate received the King & Spalding Diversity Fellowship, which provides $10,000 in recognition of outstanding academic achievement and leadership to candidates from a diverse background.
Administrators at some of Washington, D.C.'s top law schools said it is too early to tell whether King & Spalding's role in defending DOMA will sour students from potentially joining the firm; they also couldn't say whether anything could change with their university's recruitment practices. But they did say they take the concerns voiced by their student bodies very seriously.
Tedi Mason, the recruitment coordinator for American University's Washington School of Law, said the school's gay and lesbian student group Lambda Law Society is "very active" on campus and if they brought complaints, the administration "would certainly consider" what they had to say. She predicted protests and student groups "putting up a big to-do" if and when the firm comes to the campus to recruit students.
Gihan Fernando, Assistant Dean for Career Services at Georgetown Law, said King & Spalding has been recruiting at the university for years and said he expects more recruiting in the future. But if students are upset about their presence and want to air complaints to the administration, he said the school is welcome to hear them.
"We always try to be responsive to students," Fernando said. "It doesn't mean we always do what they want us to do. But there will clearly be a process through which we could go to listen to their concerns."
The George Washington University Law School's career services office declined to comment following repeated requests, citing an ongoing review of the matter.
Not that anyone at King & Spalding is coming forward to tout that record: The Huffington Post put out more than a dozen calls to attorneys at the firm—some of whom are openly gay, some of whom sit on the firm's Diversity Committee—and none were returned, save one, which ended abruptly when the lawyer learned whose call she was returning.
Popular in the Community