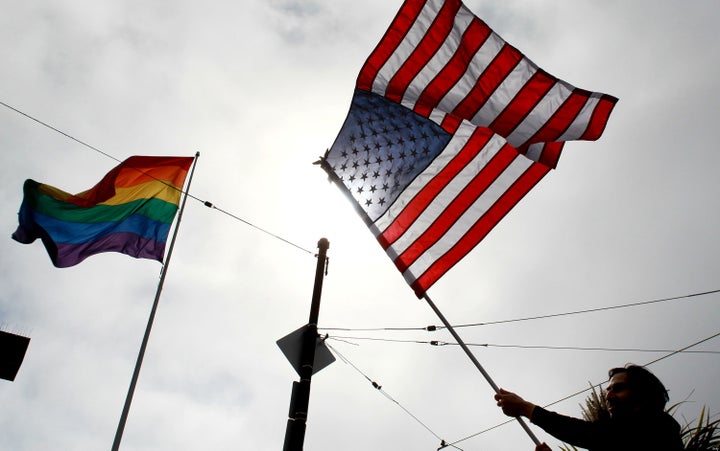 This story has been updated.
WASHINGTON -- Law firm King & Spalding announced Monday it will not defend the Defense of Marriage Act on behalf of the U.S. House of Representatives. Afterward, Paul Clement, the partner who had taken the case, announced he intends to defend the law with another firm.
"Today the firm filed a motion to withdraw from its engagement to represent the Bipartisan Legal Advisory Group of the House of Representatives on the constitutional issues regarding Section III of the 1996 Defense of Marriage Act," King & Spalding chairman Robert D. Hays, Jr. said in a statement. "Last week we worked diligently through the process required for withdrawal."
"In reviewing this assignment further, I determined that the process used for vetting this engagement was inadequate," he continued. "Ultimately I am responsible for any mistakes that occurred and apologize for the challenges this may have created."
Shortly after the firm announced that it would no longer take the case Paul Clement, former solicitor general under President George W. Bush and the partner charged with leading the firm's defense, submitted his letter of resignation to Hays, which was obtained by The Huffington Post.
Clement will be joining Bancroft PLLC, according to a press release from that firm, which is led by former Bush administration officials. Viet Dinh, who was an assistant attorney general from 2001-'03, is a founding partner, and H. Christopher Bartolomucci, who served as an associate counsel to President Bush between 2001-'03, is a partner.
"Paul has argued 53 Supreme Court cases and knocked them out of the park," Dinh said in a statement. "He earned the respect of all the Justices and wowed the bar. Clients trust Paul and Bancroft with their biggest cases and toughest problems. Paul is a perfect fit with Bancroft, where we are building the next great law firm."
In his resignation letter, Clement stated that he will continue to represent the House on the case while at Bancroft.
"My thoughts about the merits of DOMA are as irrelevant as my views about the dozens of federal statutes that I defended as Solicitor General," he wrote in the letter. "Instead, I resign out of the firmly-held belief that a representation should not be abandoned because the client's legal position is extremely unpopular in certain quarters. Defending unpopular positions is what lawyers do."
Brendan Buck, spokesman for House Speaker John Boehner (R-Ohio), said House leadership were pleased that Clement would still be representing the House. "The Speaker is disappointed in the firm's decision and its careless disregard for its responsibilities to the House in this constitutional matter," said Buck in a statement. "At the same time, Mr. Clement has demonstrated legal integrity, and we are grateful for his decision to continue representing the House. This move will ensure the constitutionality of this law is appropriately determined by the courts, rather than by the President unilaterally."
King & Spalding Director of Communications Les Zuke said of Clement's resignation: "We're sorry to see Paul Clement leave. He's been a good partner, and we wish him the best."
Clement said that he has known the Bancroft partners for more than 20 years.
"They put clients first and deliver results," he said in the statement. "Bancroft offers its clients premier talent, without all the baggage of a mega firm. We are shaking up the D.C. legal establishment."
King & Spalding came under intense criticism from LGBT rights advocates last week after Boehner announced that former Bush solicitor general Paul Clement, a partner in the firm, would be defending the law that defines federal marriage as between one man and one woman. The firm would receive as much as $500,000 for their work on the case, according to documents obtained earlier by The Huffington Post.
Jon Davidson, legal director of Lambda Legal, the nation's oldest and largest legal organization working for LGBT equality, told The Huffington Post that defending the law would likely hurt King & Spalding's effort to recruit lawyers. He added that he would also be no longer comfortable working with the firm on cases.
"As legal director, I would take the position that we should not use them as cooperating attorneys with us -- that is, people who work with us on a pro bono basis in cases," said Davidson. "I wouldn't want to team with them, so long as they're actively harming our community by defending DOMA."
For some gay rights advocates, the most troubling part of this situation was a clause in the contract signed between King & Spalding and the House that barred the firm's employees from engaging in any advocacy to "alter or amend" DOMA.
D'Arcy Kemnitz, the executive director of the National LGBT Bar Association, said that her group could potentially reevaluate whether King & Spalding would be welcome at its annual career fair -- an event that the firm bragged about participating in on its "LGBT Lawyers" website.
Boehner's decision to have the House intervene and defend DOMA came after Attorney General Eric Holder announced in February that the administration would no longer argue in support of the law after it concluded that the law is unconstitutional.
Last month, a five-person House Bipartisan Legal Advisory Group voted along party lines (3-2) to direct the House General Counsel to initiate a legal defense of DOMA.
Last week, Boehner requested the Justice Department hand over "the funds it would have otherwise expended defending the constitutionality of DOMA."
"Leader Pelosi shares Mr. Hays' apparent concerns with the lack of transparency and accountability in the way this contract was signed." Drew Hammill, spokesman for House Minority Leader Nancy Pelosi (D-Calif.), said in a statement. "She also vigorously opposes using half a million taxpayer dollars or any taxpayer resources to defend discrimination, at a time when Republicans in Congress are cutting critical initiatives like education and infrastructure. It is now more critical than ever that Speaker Boehner fully account for his decision to sign this half million dollar contract to defend this indefensible statue."
Before Clements announced he would switch firms to defend the law, Joe Solomnese, president of the Human Rights Campaign, praised King & Spalding for leaving the case. "King & Spalding has rightly chosen to put principle above politics in dropping its involvement in the defense of this discriminatory and patently unconstitutional law. We are pleased to see the firm has decided to stand on the right side of history and remain true to its core values," he said.
Richard Socarides, president of Equality Matters, responded to Mr. Clement's assertion that lawyers should defend unpopular opinions: "Mr. Clement's statement misses the point entirely. While it is sometimes appropriate for lawyers to represent unpopular clients when a important principle is at issue, here the only principle he wishes to defend is discrimination and second class citizenship for gay Americans."
Clement's resignation letter:
UPDATE -- 1:45 p.m.: The lead sponsors of the Respect for Marriage Act to repeal DOMA -- Reps. Jerrold Nadler (D-NY), Tammy Baldwin (D-WI), Jared Polis (D-CO) and John Conyers (D-MI) issued a statement on King & Spalding's announcement:
King & Spalding's withdrawal from their representation of the Bipartisan Legal Advisory Group of the House of Representatives is yet another blow to House Republican Leaders' efforts to defend DOMA in court. Whatever the firm's reasoning -- whether they now agree with the President and Attorney General that the law is legally and factually indefensible or have decided that defending DOMA is unacceptable to many of their partners and employees -- their withdrawal confirms what is increasingly obvious: it is patently wrong to defend this harmful law. Congress should pass the Respect for Marriage Act and repeal DOMA once and for all.
UPDATE -- 4:21 p.m.: The Stonewall Bar Association of Georgia, issued a statement today applauding King & Spalding's decision to drop the DOMA case. The situation was especially tricky for Stonewall, since the firm was a long-time sponsor of the group.
According to the statement, Stonewall's vice president/president-elect Robert Lewis wrote to the firm's chairman Robert Hayes and diversity committee chair Sam Matchett once news broke about King & Spalding's involvement. Lewis requested that the firm terminate its contract with the House and "recommended that King & Spalding take affirmative actions to demonstrate its commitment to diversity and the rights of LGBT individuals."
Stonewall confirmed to The Huffington Post that Lewis will be meeting with Matchett Monday afternoon to thank him for the firm's decision and discuss its commitment to diversity moving forward.
Popular in the Community