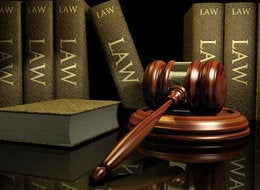 According to my calendar and an upcoming reunion, I graduated from law school five years ago. This means that half a decade has passed since I patted myself on the back for completing what was said to be one of life's biggest challenges. And it was... just not for any of the anticipated reasons.
People warned me about the Socratic method and final exams that would require months of intense study. My Dad even forced me to watch The Paper Chase, but the intellectual challenges I faced during law school were miniscule compared to unexpected social arrangements.
I felt so grown up when I turned up for day one of my J.D. It seemed as though I'd finally crossed the line into full-fledged adulthood. Then someone handed me a locker key.
The locker, I would soon discover, was the tip of the iceberg. My torts professor distributed candy at the start of each class. Others used age-appropriate forms of social coercion; one hosted an annual pool party at his house. There would be bar review -- weekly gatherings of our class at appointed watering holes -- and who can forget Casino Night, our school's version of law school prom. Worst of all were incestuous and juvenile social antics: When law students weren't poring over hornbooks, they were busy gossiping about one another. And nothing escapes the law school rumor mill.
I've often wondered about law school's propensity for drama. As is the case with most intensive grad school experiences, students find it difficult to maintain extracurricular obligations and relationships while juggling their degree work. They end up socializing almost exclusively with one another, which causes all types of trouble. Unlike other grad school students, who often work in groups, law school students fly solo, heightening competition.
Law school thrusts hundreds of type-A individuals accustomed to high performance into
classes that are graded on make-or-break-you curves. Throw some alcohol and candy at them, and it's no surprise that things go a little haywire. My most humiliating and entertaining moments occurred during law school, captured on Facebook during its fledgling year.
The only thing more amusing than reflecting on my law school antics is trying to remember how I felt upon graduation. I'd been in school for the better part of 26 years, slaving away towards a goal that seemed crystal clear, when the Board of Regents conferred on me the highest degree I'll ever receive and what is sure to be the last. I studied for and passed the bar exam and moved to London, where I joined the securities practice of a large international law firm with a salary that now makes me blush. Things couldn't get better, right?
Two years of billable hours and panic attacks passed, and the unthinkable happened. I'll never forget the day Lehman Brothers collapsed. I was in Manhattan getting sworn in to the New York Bar when it happened. My law firm promptly canceled a firm-wide capital markets retreat to Lisbon, and the expat exodus began. When I volunteered for redundancy, I happily exited private practice and relocated -- as the Brits call it -- to the U.S. where I'd do... what would I do?
Shit, I thought, I need a plan. I have to have a plan! All successful people have one, right? Wrong again. After networking with people in countless industries, I began to learn that the most successful people -- those who earn satisfaction from their careers -- don't arrive anywhere via plans. Arriving, as it turns out, doesn't even exist. There is no entryway to adulthood or happiness or success. The oft-spoken proverb, the journey is the reward, started to make sense.
The amount and variety of change I experienced in a few short years nearly did me in, but the constant shifts also taught me an invaluable lesson: there are no safe bets in life. You can't chart out your future the way I'd imagined as a young optimist bound for college, then law school. Contrary to predictions I made at the age of 15, sealed within a time capsule at my parents' house, I didn't work in Houston after law school or get married by 27. Things just happen, and even when they and their consequences seem unconquerable, life moves forward.
I didn't think I'd be living in the U.S. at the time of my five-year reunion, and I never imagined that I'd be a full-time writer. Lost ended and Facebook expanded. President Obama was elected and Osama bin Laden and Saddam Hussein were killed. People I never expected to remain in law are now on track to partnership; some of the most effusive gunners have since departed the field.
The only thing I know for sure about my forthcoming reunion is that expectations are useless.
Related
Popular in the Community