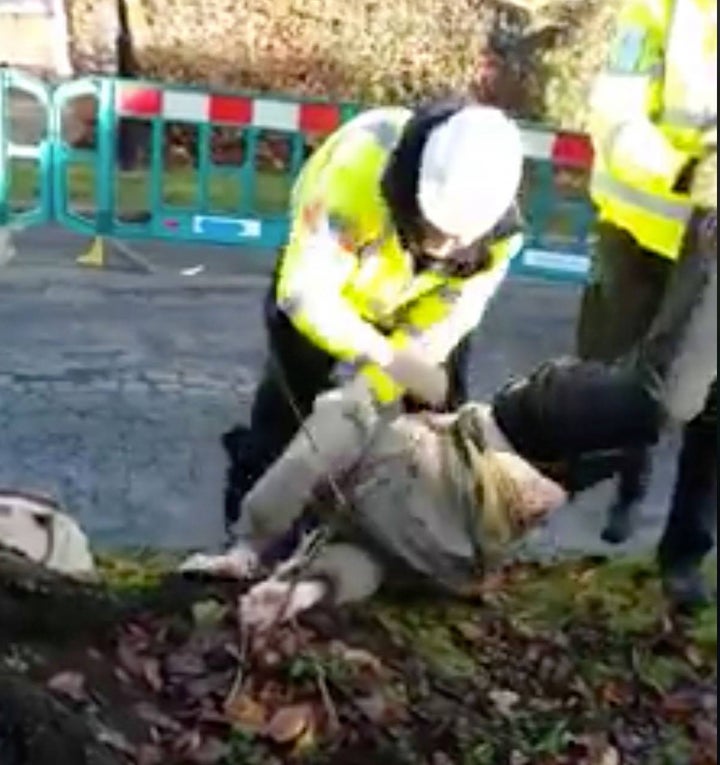 The long-running story of the Sheffield trees controversy has moved well beyond trees, and become a tale of private contractors run amok: violating the law, breaking health and safety regulations, and inflicting violence on peaceful protestors with impunity.
In 2012, Sheffield City Council signed the maintenance of Sheffield streets, pavements and trees over to a private company via a still-secret contract. When this company, Amey, insisted on felling thousands of perfectly healthy trees for the sake of minor pavement disruptions, local campaign groups sprang up around the city. At first they tried talking to the council, but after attempts at reasonable discussion failed, they resorted to peaceful direct action. For a long time, they succeeded in preventing many fellings.
The Council at first responded by recourse to the law. The police arrested 14 campaigners, including pensioners in their nightwear, for violating a Thatcher-era anti-union law, but all charges were dropped. After this, the police made a declaration that they would no longer involve themselves in the arrest of peaceful protestors.
Then the Council sought, and received, an injunction to prevent campaigners from entering safety barriers. However, they began propagating false versions of this injunction and attempted on this basis to imprison an innocent opposition councilor. The charges against her were thrown out of court. The judge made clear that the wording of the injunction must be respected, and by careful attention to that wording, fellings began to be legally blocked all over Sheffield. At protestors' request, the council met with them to discuss the possibility of mediated negotiations, and there seemed to be hope of a peaceful, reasonable resolution to the long-running saga.
Then, this week, everything changed. This week, private security showing no identification, with their faces concealed, began using force on tree protectors. This included not just people breaking the injunction (a form of civil disobedience some were practicing), but also people not breaking the injunction. They assaulted people on the public highway and on private property (where protestors were standing with owner's permission), using unreasonable force and shoving metal barriers into people. They refused to allow access to private property, which they are required by law to give. They even refused to allow access for a community minibus to drive a frail elderly man home. (The protestors stepped in to help him to his door on foot.) Amey erected barriers around parked cars, or had cars towed, with no notice of parking restrictions having been given in advance. They closed streets without any prior notice, in one case hastily erecting signs after the fact. They felled trees directly over the heads of citizens, a clear violation of health and safety regulations. They even drove a truck deliberately into a citizen, who fortunately was not harmed.
Through all of this, at every stage, the assaults, law breaking, and flouting of health and safety have been reported, over and over, to the proper authorities. But, to date, all have declined to intervene. A violent, private army of enforcers has been brought in and given free rein to do whatever they want to Sheffield and its citizens while a private, unaccountable company destroys £66 million worth of irreplaceable trees.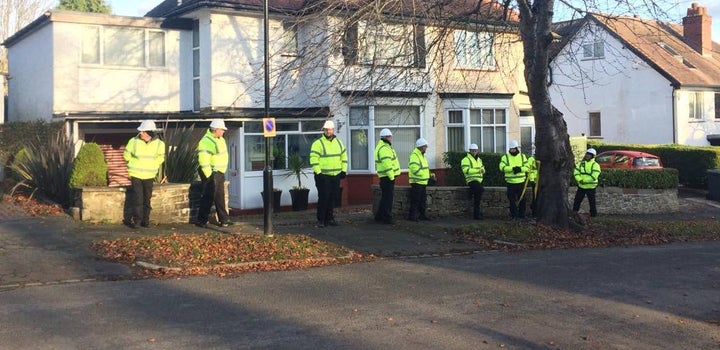 And this problem goes well beyond Sheffield. The privatisation of public services is happening on a massive scale, and it goes hand in hand with increasing use of private security firms without proper oversight. More and more, valued public services and assets are being destroyed—and the right to peaceful protest with them. We must all join the fight to preserve both.
If you're in Sheffield, email your councillors to let them know what you think of this. Or follow the public STAG facebook page and show up to lend support at a felling attempt— even just witnessing is vitally important. If you're not in Sheffield, you can still help. The issues are national, so contact your MP.
Related
Popular in the Community