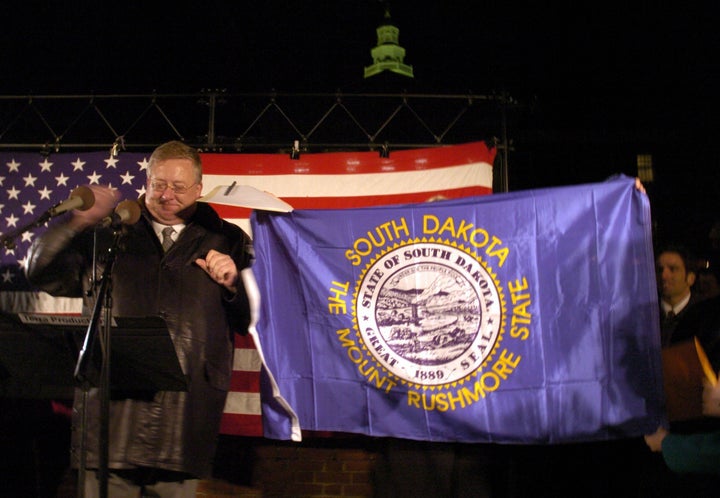 Homicide is justifiable if committed by any person while resisting any attempt to murder such person, or to harm the unborn child of such person in a manner and to a degree that is unlawful and likely to result in the death of the unborn child, or to commit any felony upon him or her, or upon or in any dwelling house in which such person is.
The bolded part would be the new part, and the upshot, per Sargent is this "would make it clear that 'justifiable homicide' can only apply in response to an unlawful act, which would obviously not include abortion, which is legal."
A law under consideration in South Dakota would expand the definition of "justifiable homicide" to include killings that are intended to prevent harm to a fetus -- a move that could make it legal to kill doctors who perform abortions. The Republican-backed legislation, House Bill 1171, has passed out of committee on a nine-to-three party-line vote, and is expected to face a floor vote in the state's GOP-dominated House of Representatives soon.

The bill, sponsored by state Rep. Phil Jensen, a committed foe of abortion rights, alters the state's legal definition of justifiable homicide by adding language stating that a homicide is permissible if committed by a person "while resisting an attempt to harm" that person's unborn child or the unborn child of that person's spouse, partner, parent, or child. If the bill passes, it could in theory allow a woman's father, mother, son, daughter, or husband to kill anyone who tried to provide that woman an abortion -- even if she wanted one.
Says Vicki Saporta, the head of the National Abortion Federation, "The bill in South Dakota is an invitation to murder abortion providers."
UPDATE: Sorry for the confusion, there was no change to the bill. The bill, in its current form, can be seen here.
So what does this law seek to do?
When I asked Jensen what the purpose of the law was, if its target isn't abortion providers, he provided the following example:

"Say an ex-boyfriend who happens to be father of a baby doesn't want to pay child support for the next 18 years, and he beats on his ex-girfriend's abdomen in trying to abort her baby. If she did kill him, it would be justified. She is resisting an effort to murder her unborn child."
Is there a localized outbreak of women having their abdomens beaten by people who want to avoid paying child support? Is it not already a crime in South Dakota to beat on your ex-girlfriend's abdomen? And is it not yet permissible in South Dakota to defend oneself, with deadly force if necessary, against the threat of immediate harm to your person? (Maybe South Dakota is simply lagging behind on legal protections for ex-girlfriends.)
Jensen was dismissive of the notion that this law could be seen as an invitation to kill abortion providers: "Never say never, but if some loony did what you're suggesting, then this law wouldn't apply to them. It wouldn't be justifiable homicide."
I guess I'm pretty hung up on that whole "never say never" part.
Popular in the Community