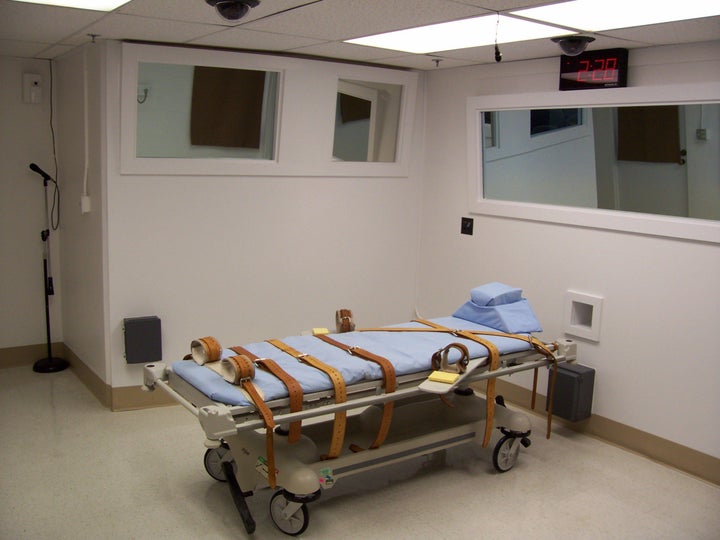 Florida has a broken death penalty system, delaying justice for killers and denying justice for victims. Of the 408 people currently on death row, 141 have been there longer than 20 years. Only California has more people on death row longer than Florida. A Florida death row inmate is statistically more likely to die of natural causes than be executed. The average stay on death row is nearly 14 years and on the rise . . .

Every death penalty defendant deserves a fair trial. In Florida, they even get a mandatory appeal to the Supreme Court. But after the Supreme Court has spoken all subsequent appeals should be limited.

Timely justice will also make us safer. The death penalty cannot possibly deter violence if executions only happen after memories of the crimes and victims have faded decades ago.
Rep. Gaetz's views on the death penalty carry extra weight, given that he chairs the Criminal Justice Subcommittee in the Florida House of Representatives. You'd think, then, that he'd be more concerned about this:
With this decision, Penalver becomes Florida's 24th exonerated Death Row prisoner. Florida has exonerated far more Death Row inmates than any other state.

Since Florida resumed executions in the 1970's, 24 wrong-fully convicted Death Row prisoners have been exonerated while 74 prisoners have been executed. "That's one exoneration for every three executions," said Mark Elliott, director of Floridians for Alternatives to the Death Penalty (FADP), "How many more innocent people will be sentenced to die in Florida before our state leaders realize that this is a fatal problem that cannot be fixed?"
By my count, at least six of Florida's death row exonorees spent more than 10 years in prison. That means at least six (and probably more) were likely saved by those lengthy appeals that Gaetz wants to eliminate. Just last month, a jury acquitted Seth Penalver of a 1994 triple murder for which he had at one point had been sentenced to death. He spent seven years on death row.
It seems like Gatez should first devote his attention to fixing the problems in the state's criminal justice system that have caused so many wrongful capital convictions before he starts looking for ways to execute people more swiftly. (He might start by looking at all the junk science that the state's judges have been allowing into criminal trials.)
But it isn't just Gaetz. Most of the rest of the state's legislators, prosecutors and public officials seem just as determined.
This year, Florida has 21 new death sentences out of 78 nationally—that's more than one quarter (26.9 percent) of all new death sentences in the U.S. One small corner of our state, the Jacksonville area, handed down one quarter of all new Florida death sentences. "The state picks up the tab, so areas like Duval County burden all Floridians with their extreme use of numerous, big-ticket death penalty prosecutions," said Elliott.

While death sentences have dropped dramatically in other states, Florida is expanding use of the death penalty. "It is both tragic and ironic that the state that has sent the highest number of wrongfully convicted people to Death Row is now condemning the most people to death," said Elliott.
Never mind all the caution lights on your dashboard, Florida. Just close your eyes and step on the gas.
Popular in the Community