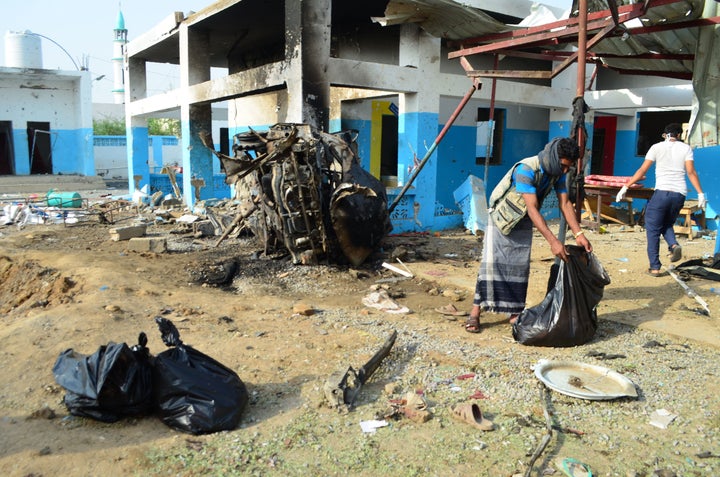 WASHINGTON ― A bipartisan group of senators thinks maybe it's not such a great idea for the United States to back Saudi Arabia's slaughter of civilians in war-torn Yemen, and are mounting a rare bid to block a $1.15 billion arms sale to the U.S. ally.
The White House notified lawmakers of its intent to replenish the Saudis' supply of machine guns, armored vehicles and tanks ― some of which have been destroyed in the conflict in Yemen ― in August, while members of Congress were back in their home districts on recess. Congress has 30 days to consider proposed arms sales, so the White House's timing meant that lawmakers had little time to act after returning to Washington this week.
The lawmakers, led by Sens. Rand Paul (R-Ky.) and Chris Murphy (D-Conn.), introduced a resolution of disapproval on Thursday to block the weapons sale. They argue that the Saudis' war against Houthi insurgents in Yemen harms U.S. national security by creating a chaotic environment that allows the al Qaeda unit there to strengthen. The Saudis have long been a U.S. ally in the war against al Qaeda and associated groups ― but in Yemen, their primary target is the Houthi insurgent group, which the Saudis see as closely aligned with Iran.
Paul and Murphy introduced legislation earlier this year that would place stricter conditions on U.S. military support to Saudi Arabia ― but GovTrack gives it a 2 percent chance of becoming law. This time, they are joined by Sens. Al Franken (D-Minn.) and Mike Lee (R-Utah) in offering the resolution under a seldom-exercised 1976 law that allows Congress to vote against such arms sales if individual lawmakers object.
"Selling $1.15 billion in tanks, guns, ammunition, and more to a country with a poor human rights record embroiled in a bitter war is a recipe for disaster and an escalation of an ongoing arms race in the region," Paul said in a statement.
"Saudi Arabia is an important partner, but their war in Yemen, funded by the U.S., has become a disaster that is making our country less safe every day," said Murphy. "Thousands of civilians are being killed, and terrorist groups inside the country, like al Qaeda and ISIS, are getting stronger. Until the Saudis conduct changes, the U.S. should put a pause on further arms sales."
Selling $1.15 billion in tanks, guns, ammunition, and more to a country with a poor human rights record embroiled in a bitter war is a recipe for disaster.

Sen. Rand Paul (R-Ky.)
Although the 1976 Arms Export Control Act gives lawmakers the ability to expedite votes against specific arms sales, it's a difficult route to take. In this case, many members of Congress see Saudi Arabia as a valuable ally they don't want to upset, so there may not be enough votes to pass in either chamber.
But there are mounting signs that lawmakers are growing frustrated with their Gulf ally. Sixty-four members in the House signed a bipartisan letter last month urging the Obama administration to postpone the planned weapons sale.
"Amnesty International has documented at least 33 unlawful airstrikes by the Saudi-Arabia-led coalition across Yemen that appear to have deliberately targeted civilians and civilian facilities, such as hospitals, schools, markets, and places of worship. These attacks may amount to war crimes," they wrote in the letter.
Another nonprofit human rights organization, Human Rights Watch, questioned the timing of the Obama administration's decision to restock the Saudis with weapons to use in Yemen. The same week the White House notified Congress of the sale, the Saudi-coalition bombed a factory, killing 10 civilians, the group noted in a statement. Shortly after, an airstrike partially destroyed a Doctors Without Borders-supported hospital, killing 19.
Even if there are enough votes to pass the disapproval resolution, Obama can still veto it. It would then take two-thirds of the votes in each chamber to stop the sale.
Still, the legislative gambit is another sign of Congress' growing discomfort with White House foreign policy, regardless of party. And the move may also force a debate that makes Americans think more deeply about the actions their nation supports around the world.
"I believe it is our responsibility as stewards of our constituents' interests to have a public discussion and debate on the merits ― or lack thereof ― of our involvement in this conflict and the broader Middle East," Lee said. "This presents Congress with an opportunity to prove we can do our jobs in a bipartisan manner and put the safety and security of the American people first."
Read the legislation here:
Calling all HuffPost superfans!
Sign up for membership to become a founding member and help shape HuffPost's next chapter
BEFORE YOU GO
PHOTO GALLERY
Saudi Airstrikes Yemen