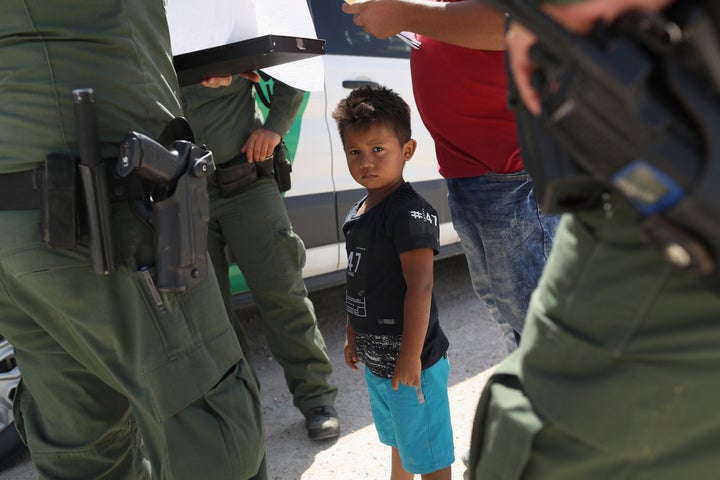 WASHINGTON ― Members of Congress who visit detention facilities at the border aren't allowed to talk to migrant children who have been taken from their parents and will be denied entry if they don't give two weeks' notice of a planned visit, per a new directive from the U.S. Department of Health and Human Services.
In an email sent to all congressional offices on Wednesday, a senior HHS official says lawmakers are allowed to visit federal facilities holding children who have been separated from their families but are not allowed to interact with them or take any pictures of them or the surrounding conditions.
"To protect the privacy and vulnerability of children in its care, we cannot allow visitors to record or photograph anything within the facility property, nor are visitors allowed to interact with the children," reads the email from Sara Morse, the deputy assistant secretary for legislation at HHS. "We appreciate your cooperation."
The email also says that lawmakers can only visit the facilities with at least two weeks' notice, that times and dates of visits are based on facility availability, and that unscheduled visits will not be accommodated. Giving two weeks' notice has been HHS' policy since 2015, but denying access to lawmakers who don't give that notice appears new.
"No exceptions will be made," says Morse.
Here's a screenshot of the email. Highlights are by HuffPost.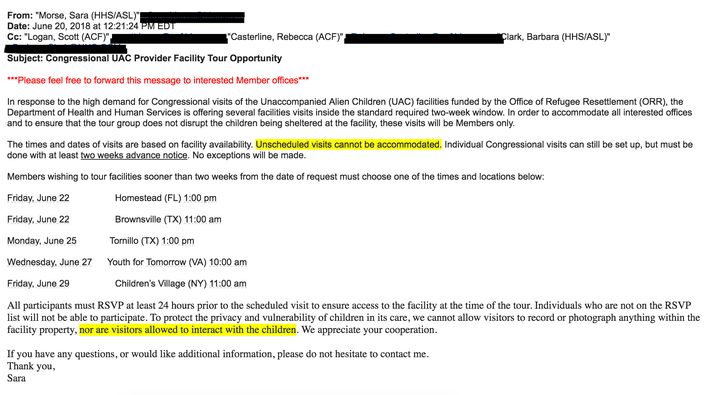 If lawmakers want to tour a facility sooner than two weeks from the date of a request, they can only visit a select number of facilities at certain times, which are listed in the email. They have to RSVP within 24 hours for access, too.
The Trump administration has separated nearly 2,000 children from their parents over a span of six weeks. Photos from detention facilities show kids being herded into cages and given foil blankets. Audio from one facility, obtained by ProPublica, features kids crying out for their parents as a U.S. Border Patrol agent jokes about an "orchestra" of wailing children.
This is all happening because of Attorney General Jeff Sessions' zero tolerance immigration policy, which separates children from their parents so the adults can be criminally prosecuted for crossing the border without documentation. Previously, authorities typically kept migrant families together and routed them to immigration courts.
An HHS spokesman did not respond to a request for comment about why lawmakers are being subject to such strict requirements for visiting federal detention centers.
This story has been updated with additional detail about how long HHS' notice policy has been in place.