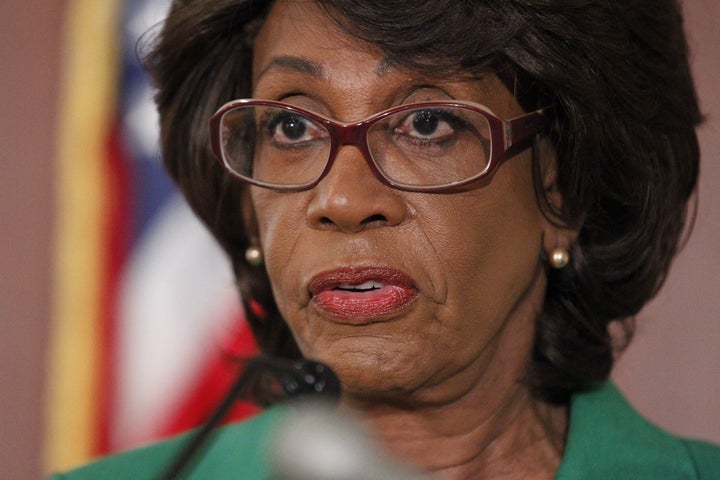 WASHINGTON -- As bank executives push back against the terms of a foreclosure settlement with fees that may be as high as $20 billion, progressive legislators, federal regulators and public interest watchdogs argue that securing appropriate relief to wronged homeowners is a critical step for restoring business confidence and reinvigorating the housing market.
Of particular concern to several lawmakers was an item from Friday's edition of Politico's Morning Money newsletter, in which bank executives targeted by the regulatory probe complained about the possible fines:
"The executives view the idea as a naked shakedown by regulators, especially at the [Consumer Financial Protection Bureau]. There is little enthusiasm for signing on to it. They also view it as a direct contradiction of the administration's attempt to take a 'pro-business' stance. 'How can they be business- friendly and sign-off on something like this?' one executive said."
"The idea that enforcing the law is anti-business, that the rule of law is anti-business, is outlandish," Rep. Brad Miller (D-N.C.) countered. Miller is one of the top mortgage market experts in Congress, and was closely involved with many of the predatory-lending rules included in last year's financial reform legislation.
"No person or company is above the law," Sen. Sherrod Brown (D-Ohio) said. "And that's good for capitalism, it's not anti-business, and it's not a minor inconvenience that can be ignored in pursuit of bigger profits. If you ask the Ohioans who write and call my office every day, they will tell you about their experiences with poorly maintained, lost, or forged documentation at the biggest mortgage servicers."
Brown, along with Sen. Jeff Merkley (D-Ore.), helped author several key sections of last year's financial overhaul. In an interview, Merkley said the need to help borrowers avoid foreclosure would be good for the housing market.
"With more than a million American families a year losing their homes, it is essential we do everything possible to prevent future foreclosures and bolster the housing market," Merkley said. "Poor underwriting standards from lenders and a lack of systemic responsiveness from servicers contributed to the collapse of the housing market and continue to plague families facing foreclosure."
A Capitol HIll staffer who requested anonymity noted that the settlement was conceived as a benefit for financial markets, giving investors and banks certainty about their total liability from wrongful foreclosures rather than thousands of individual court cases.
Consumers have complained of a wide array of mistreatment by major banks. Some have been foreclosed on without missing a payment, while others have been gouged with improper fees. Several military families have been illegally foreclosed on while parents were fighting in Iraq and Afghanistan. Banks have also encouraged other families to stop paying on their mortgage in order to qualify for relief, only to foreclose on those same families. The National Consumer Law Center claims that half of their foreclosure cases are driven by bank errors rather than borrower shortcomings.
Several federal regulatory agencies and all 50 state attorneys general are currently negotiating a settlement after conducting a major review of bank foreclosure practices. The results of that review have not been released, but earlier in February, Federal Reserve Governor Sarah Raskin suggested that banks have not been following the law, a rare step for a central bank official.
"Going forward, the servicing industry must foster an operational environment that reflects safe and sound banking principles and compliance with applicable state and federal law," Raskin said in a speech before bankers in Utah.
The $20 billion figure itself may be low relative to the scope of the abuses under investigation, some lawmakers say. Last year, JPMorgan Chase reported a profit of over $17 billion, setting aside over $9 billion for bonuses and salaries.
"It's laughable that some mortgage servicers would refer to this proposed deal as a 'shakedown,'" said Rep. Maxine Waters (D-Calif.), a top Democrat on the House Financial Services Committee. "Twenty billion dollars spread across 14 servicers, almost all of whom have engaged in some kind of fraud, ranging from robo-signing to improper chain of title to wrongful foreclosure, sounds more like a gift to me."
"I can tell you, $20 billion is the gap in Ohio alone between what was necessary to refinance the market and where the housing market is today," Rep. Marcy Kaptur (D-Ohio) said. "Home equity was the largest savings program of the American people and Wall Wtreet has just stolen it from them."
AFL-CIO General Counsel Damon Silvers, who served on the Congressional Oversight Panel for the Troubled Asset Relief Program, said policymakers have been considering that the average cost of a productive loan modification that keeps borrowers out of foreclosure would be about $20,000 per loan, meaning that a $20 billion settlement could be used to help about 1 million borrowers. But millions have already lost their homes, and foreclosures are currently running at a rate of roughly 1 million per year. It's not obvious that a number as low as $20 billion could both prevent an appropriate number of avoidable foreclosures and provide substantive restitution to wronged borrowers.
"I was flabbergasted," Silvers said, referring to the notion that exacting big fines is anti-business. "Are the banks saying that they've obeyed the law and they're being unfairly prosecuted, or are they saying that they've broken the law and ought to be let off the hook because they're businesses?"
"The Wall Street banks are saying that their mistakes are isolated and harmless, when they are part of a longstanding, ugly pattern of homeowner abuse -- $20 billion to help keep a million families in their homes is least that we can do to help American families who have been victimized by a crisis caused by the same Wall Street banks, with the added benefit of helping stabilize the declining housing market," Brown said.
Consumer watchdogs are also crying foul.
"The only thing these institutions understand short of a perp walk is monetary penalties," Consumer Federation of America Director of Housing Policy Barry Zigas said. "It's not just the CFPB pushing for this, it's the FDIC, which is deep in the guts of these institutions examining their activities. If the two of them agree there needs to be a penalty, it's an incredible stretch to say that's anti-business."
Most regulators are pushing for a large penalty, but the Office of the Comptroller of the Currency is arguing for a lower penalty, or none at all. Currently run by an an acting comptroller, the office's previous head was a former bank lobbyist who returned to the bank lobby in 2010. Waters was particularly critical of the OCC's efforts.
"I'm also very troubled to keep hearing about the OCC dragging its feet," Waters said. "I'm eagerly looking forward to the Consumer Financial Protection Bureau coming online soon so that we get some real protection and oversight that some of our regulators, for myriad reasons, haven't exercised."
Popular in the Community