Leave it to the innovative hive mind of Reddit to find creative ways to get results.
It started on Wednesday, when an article about a NASCAR-inspired White House petition to make congressional lawmakers wear the logos of their financial backers went viral on the social network. While it was an implausible proposal outside the powers of the White House, members of the Reddit community quickly took to the comment thread to note that the idea -- floated in the past by comedians such as Robin Williams and since adopted by political figures such as Libertarian presidential candidate Gary Johnson -- has experienced some pickup in the past and could be illustrated, if not actually implemented in Washington.
The GOOD community was perhaps the first to take the concept and visualize it, with the creation of a 2008 animated infographic that showed then-presidential candidates Barack Obama and John McCain wearing suits adorned with the emblems of their various financial backers.
In a thread posted in March of 2011, however, the idea hit Reddit when user BlankVerse suggested that the community's artists create photoshopped images of "politicians wearing suits covered with the logos from the corporations and organizations that have contributed the most money to their campaigns."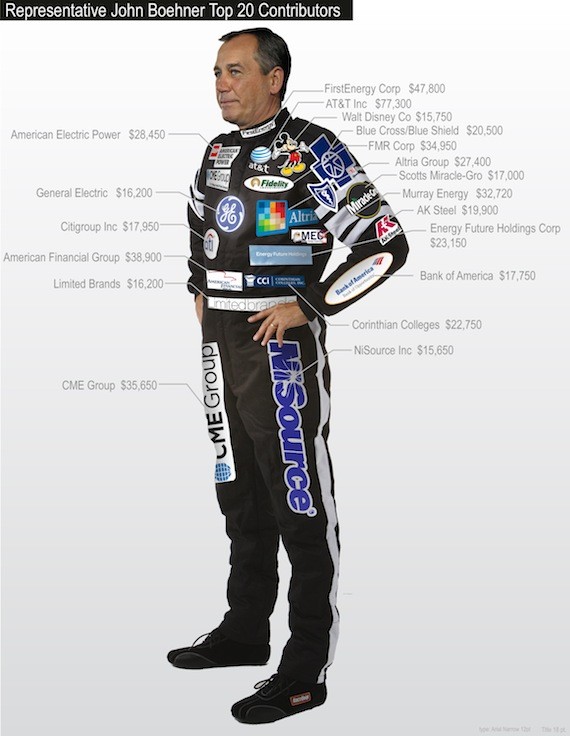 The user also provided templates of a high-resolution blank race suit and background, encouraging other users to grab a politician's head, photoshop it on the body, and start slapping logos on the jumpsuit. GOOD took note of the push in 2011, asking for user submissions, but so far, the idea appears to have fizzled out. With the idea of NASCAR-izing lawmakers again picking up traction, we'd like to give users a chance to make their own.
Calling all HuffPost superfans!
Sign up for membership to become a founding member and help shape HuffPost's next chapter
BEFORE YOU GO
PHOTO GALLERY
New House Members Of The 113th Congress