More than 70 members of Congress pushing for the Trump administration to throw oil a lifeline during the coronavirus pandemic have received a collective $35.7 million from the fossil fuel industry over their careers.
They're urging the reduction or elimination of royalties for drilling operations ― payments that oil and gas companies make to the federal government to extract oil and gas from public lands and waters. Drillers pay a percentage of the resource's value, with the money going to fund schools, roads, conservation projects and more.
"These members' choice to stand with Big Oil rather than the people suffering most from the COVID-19 outbreak is despicable," Collin Rees, a senior campaigner at the environmental group Oil Change USA, said in an email to HuffPost. He noted that the U.S. gives more than $20 billion in subsidies to oil, gas and coal companies each year and that fossil fuel interests spend millions to get ally politicians elected.
"This is yet another damning example of the dirty energy money cycle at play, and the solution has to be a clear rejection of dirty money by our elected leaders," Rees said.
Offshore drillers pay a 12.5% royalty rate for leases in water depths of less than 200 meters. The rate for all other offshore oil and gas leases is 18.75%, and onshore drillers pay 12.5% to extract from federal lands.
Both an overseas price battle between Saudi Arabia and Russia and a steep decline in global demand due to the coronavirus outbreak have pummeled U.S. producers, sending prices to an 18-year low last month.
Sixty-one House lawmakers — 60 Republicans and 1 Democrat — have signed on to at least one of three letters to date calling for the Trump administration to cut royalties on fossil fuel extraction.
"If this market does not stabilize soon, we risk rolling back the success of the U.S. energy industry over the past decade, which will have a disastrous effect on America's economy and jeopardize our energy security," reads one letter, sent to Trump on Thursday and signed by 42 members of the House.
Below are the signatories of the House letters and the amount each has fundraised from the fossil fuel industry over their careers:
Rep. Bill Flores (R-Texas) — $1,169,573

Rep. Garret Graves (R-La.) — $615,835

Rep. Michael C. Burgess (R-Texas) ― $455,152

Rep. Randy K. Weber (R-Texas) ― $326,650

Rep. Jeff Duncan (R-S.C.) ― $278,350

Rep. Brian Babin (R-Texas) ― $218,592

Rep. Dan Crenshaw (R-Texas) ― $210,755

Rep. Bruce Westerman (R-Ark.) ― $194,900

Rep. Mike Johnson (R-La.) ― $171,700

Rep. Lizzie Fletcher (D-Texas) ― $126,832

Rep. Chip Roy (R-Texas) ― $109,784

Rep. Clay Higgins (R-La.) ― $95,850

Rep. Ralph Abraham (R-La.) ― $67,253

Rep. Kevin Hern (R-Okla.) ― $64,125

Rep. Michael Cloud (R-Texas) ― $36,750

Rep. John Curtis (R-Utah) — $54,900

Rep. Kevin McCarthy (R-Calif.) — $1,955,325

Rep. Rob Bishop (R-Utah) — $501,254

Rep. Liz Cheney (R-Wyo.) — $398,125

Rep. Michael Conaway (R-Texas) — $1,507,142

Rep. Chris Stewart (R-Utah) — $296,100

Rep. Rick Crawford (R-Ariz.) — $115,572

Rep. Doug Lamborn (R-Colo.) — $321,439

Rep. Louie Gohmert (R-Texas) — $467,703

Rep. Pete Olson (R-Texas) — $1,217,801

Rep. Fred Keller (R-Penn.) — $18,550

Rep. Tom McClintock (R-Calif.) — $245,159

Rep. Paul Cook (R-Calif.) — $60,300

Rep. Doug LaMalfa (R-Calif.) — $127,789

Rep. Rick W. Allen (R-Ga.) — $68,050

Rep. Jodey C. Arrington (R-Texas) — $246,578

Rep. Steve Scalise (R-La.) — $1,571,434

Rep. Markwayne Mullin (R-Okla.) — $723,450

Rep. Tom Cole (R-Okla.) — $963,050

Rep. Scott Perry (R-Penn.) — $131,950

Rep. French Hill (R-Ark.) — $211,009

Rep. David Rouzer (R-N.C.) — $144,816

Rep. Roger Marshall (R-Kansas) — $73,007

Rep. Kelly Armstrong (R-N.D.)— $58,000

Rep. W. Gregory Steube (R-Fla.) — $5,000

Rep. Dan Newhouse (R-Wash.) — $63,000

Rep. David B. McKinley (R-W.Va.) — $399,325

Rep. Troy Balderson (R-Ohio) — $143,805

Rep. Ron Wright (R-Texas) — $27,859

Rep. Don Young (R-Alaska) — $1,492,347

Rep. Robert E. Latta (R-Ohio) — $417,333

Rep. Alex X. Mooney (R-W.Va.) — $117,226

Rep. Ron Estes (R-Kan.) — $194,575

Rep. Larry Bucshon (R-Ind.) — $105,900

Rep. Will Hurd (R-Texas) ― $949,302

Rep. Guy Reschenthaler (R-Penn.) ― $43,000

Rep. Paul A. Gosar (R-Ariz.) — $77,800

Rep. Phil Roe (R-Tenn.) — $47,900

Rep. Lance Gooden (R-Texas) — $63,750

Rep. Greg Pence (R-Ind.) — $34,516

Rep. Russ Fulcher (R-Idaho) — $0

Rep. Debbie Lesko (R-Ariz.) — $74,209

Rep. Bill Johnson (R-Ohio) — $618,723

Rep. Frank Lucas (R-Okla.) — $745,425

Rep. Carol D. Miller (R-W. Va.) — $14,500

Rep. Richard Hudson (R-N.C.) — $371,909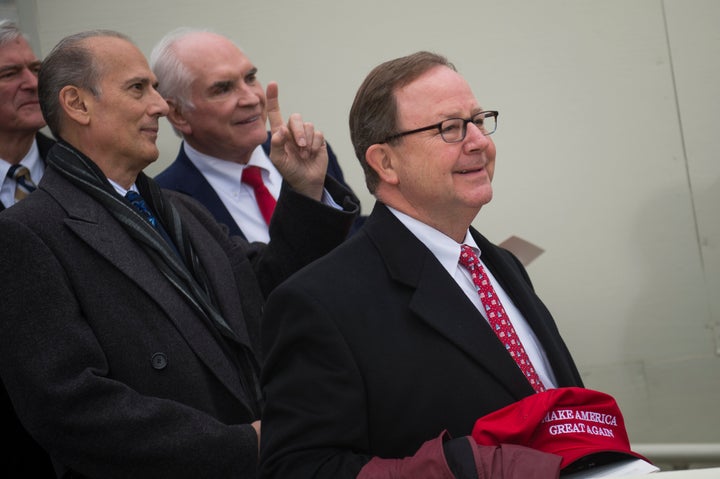 A dozen Republican senators sent their own letter to Interior Secretary David Bernhardt on Monday calling for the secretary to "reduce, delay or suspend" royalty payments for oil, gas and coal companies operating on public lands. "Without these measures," the group wrote, "it is likely that many of these companies will cease production, which could cost thousands of jobs and threaten American energy security."
Together, those senators have raked in more than $14 million from the fossil fuel industry over their careers, according to the Center for Responsive Politics data. Here is a breakdown:
Sen. John Cornyn of (R-Texas) — $4,067,906

Sen. Jim Inhofe (R-Okla.) — $2,139,220

Sen. Bill Cassidy (R-La.) — $1,554,805

Sen. Kevin Cramer (R-N.D.) — $1,174,330

Sen. John Barrasso (R-Wyo.) — $1,145,191

Sen. John Kennedy (R-La.) — $893,247

Sen. Steve Daines (R-Mont.) — $857,079

Sen. John Hoeven (R-N.D.) — $683,078

Sen. Dan Sullivan (R-Alaska) — $658,524

Sen. Mike Enzi (R-Wyo.) — $530,583

Sen. Mike Lee (R-Utah) — $357,295

Sen. Mitt Romney (R-Utah) — $111,818
The oil and gas sector is among the top five contributing industries to 52 of the 73 lawmakers listed above.
For the last three years, U.S. oil and gas producers have enjoyed an "energy dominance"-obsessed Trump administration that has propped up the industry at every turn by slashing environmental regulations, downplaying the threat of climate change and working to expand drilling on federal lands and in offshore waters. Now facing collapsing energy prices that risk bankrupting small producers, the industry has turned to the administration for financial relief to stay afloat.
The administration has barreled forward with oil and gas lease sales on federal lands during the pandemic. And during a coronavirus briefing Tuesday at the White House, Trump said he had "great" conversations with Russian President Vladimir Putin and Saudi Crown Prince Mohammed bin Salman about the oil price situation.
"We're going to see what we can do because you don't want to lose an industry," Trump said, adding that "the two countries are discussing it, and I am joining at the appropriate time if need be."
It is unclear if the Interior Department is considering lawmakers' request to cut royalties. The agency did not immediately respond to HuffPost's requests for comment.
Trump is slated to host executives of major oil and gas giants, including Exxon Mobil Corp. and Chevron Corporation, at the White House on Friday to discuss ways to protect their industry.
This article has been updated to include additional members of Congress who are calling for federal royalty cuts.
A HuffPost Guide To Coronavirus
Popular in the Community