A deer in Texas is showing support for GOP presidential nominee Mitt Romney by repeatedly attacking a sign supporting opponent President Barack Obama on an Austin couple's front lawn.
Tom and Beth Priem said concern over repeated tears in an Obama lawn sign in their front yard led to concern about vandals, KXAN.com reports. Beth Priem sat up one morning with a video camera hoping to catch the culprit and discovered the problem was actually something with four legs. (Video below)
Beth snapped the photo just as [the sign] landed, destroyed -- proof that it wasn't a dream.

"Apparently, we have a Republican deer in our neighborhood!" said Tom. "The funny thing is, I haven't seen any other signs damaged. The people directly across the street have four signs, the person across the street and to the left has two, and the next house to the left has one. We can't figure out why the deer is attacking our signs.
Republican lawn signs in the neighborhood were left untouched by the deer.
The deer lawn-sign attack is not the only lawn-sign news this presidential election. KMAL.com reported that Virginia police are investigating a series of recent thefts of Romney lawn signs in the Greenway Farms neighborhood of Leesburg.
In Woodbury, Minn., last week, state House candidates Andrea Kieffer and Ann Marie Metzger issued a joint statement calling for an end to lawn-sign left, the Woodbury Bulletin reports.
"Stealing a lawn sign is a theft," Metzger told the Bulletin. "And I join Andrea in condemning this behavior and urging any homeowner who has a lawn sign stolen to report it to the police immediately."
In Westfield, N.J., local police detained two teens in connection with lawn-sign theft last weekend prior to a contentious school bond referendum, Westfield Patch reports.
Before You Go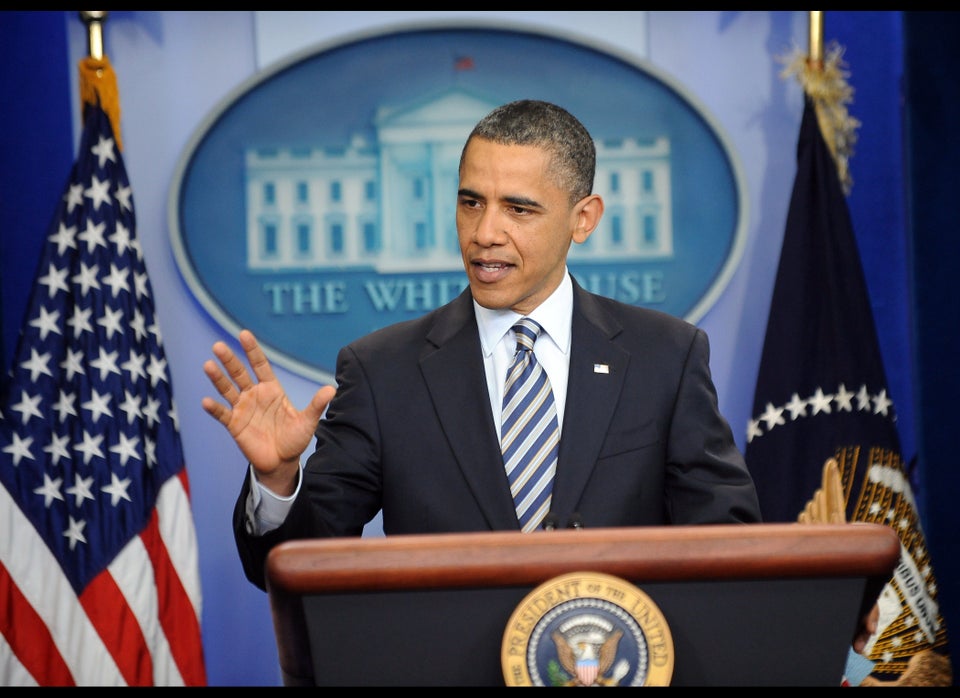 Barack Obama's Greatest Hits
Popular in the Community