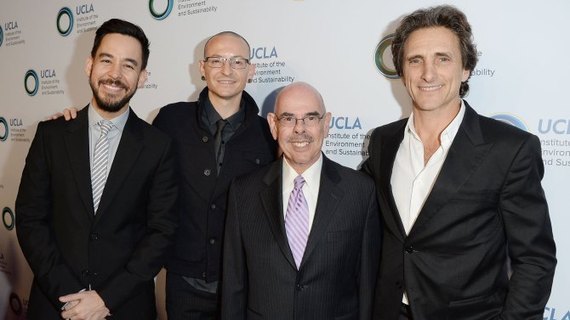 UCLA's Institute of the Environment and Sustainability honored movie producer Lawrence Bender, rock band Linkin Park, and Congressman Henry Waxman for their environmental excellence at a gala in Beverly Hills this weekend. Cheryl Hines, star of Curb Your Enthusiasm, was MC for the event Friday evening at the estate of Tony and Jeanne Pritzker. Other stars at the event included Courteney Cox, Johnny McDaid, Anjelica Huston, Scottie Thompson, Linda Benaddi, Alexandria Jackson and Lisa Sheldon.
"Our honorees exemplify passion for the environment," Tina Quinn, board chair of the Institute, told the sold out event, which is held annually to raise funds for environmental research and teaching at UCLA.
Lawrence Bender is a long-time IoES board member, an influential climate change activist and producer of many films, including 'An Inconvenient Truth'; Linkin Park are the talented musicians and founders of the disaster response organization Music for Relief; and Congressman Henry Waxman has been the most effective environmental legislator on the Hill for the past 40 years.
"Climate change is not a next century thing, it is not a theoretical thing, it is right here, right now -- fact," Lawrence Bender told Variety on the red carpet at the event. "My little boy right here, Misha, when he's my age the average temperature in L.A. is going to be four to five degrees warmer," Bender said, holding his son in his arms. "For me it's the number one issue facing us in a lifetime and it's my mission to help."
Linkin Park was honored for raising more than $6 million for disaster relief and environmental programs through Music for Relief, an organization the band created in the aftermath of the Indian Ocean tsunami in 2004. Band members Chester Bennington and Mike Shinoda treated guests to an acoustic performance of "Shadow Of The Day" and "What I've Done," and comedian Bryan Callen regaled them with a ribald green routine.
On a more serious note, Robert F. Kennedy Jr. presented the Institute's environmental excellence award to Henry Waxman. "If there was any justice he'd be on Mount Rushmore," Kennedy said of the congressman, who is retiring this year.
"As our honorees have demonstrated, dedication and passion can make a difference in the lives of millions," Tina Quinn told the crowd. "They serve as examples for our students, the next generation of environmental professionals. UCLA and our students give me hope for a more sustainable future."
Photo courtesy of Jason Merritt/Getty Images for UCLA.
REAL LIFE. REAL NEWS. REAL VOICES.
Help us tell more of the stories that matter from voices that too often remain unheard.