One of our operatives who scout this great nation for publishing talent alerted us to Lawrence Grobel, a wonderful writer who has lots to say about the strange celebrity culture our species created. Since his new book, You, Talking to Me, is out, we picked his brain about why our culture worships and reviles these people with these strange little talents.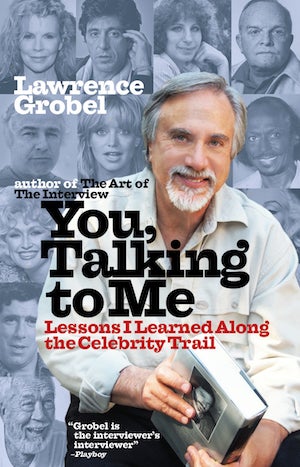 The Book Doctors: How did you get into the talking-to-celebrities business?
Lawrence Grobel: It wasn't intentional. After spending three years teaching at the Ghana Institute of Journalism (in the Peace Corps), I returned to the States and started freelancing for Newsday's Sunday magazine. I also wrote a few pieces for the New York Times and for True magazine. Then I decided to give up journalism, move to L.A. and write fiction. But as soon as I got to L.A. my Newsday editor asked if I would interview "Household Names" for them, starting with Mae West. I wound up doing dozens of interviews for them, with people like Warren Beatty, Jane Fonda, Ray Bradbury, Linus Pauling, J.P. Donleavy, Henry Moore, Cher, Lucille Ball….but since these were 3,000 word interviews, I could do them in two hours. However, the form interested me, and I wondered what it would be like to spend days, weeks, even months interviewing one person. The only outlet I knew that allowed that kind of depth was Playboy, so I managed to convince the editors there that I could do 30,000-word interviews with people like Barbra Streisand, Dolly Parton, Marlon Brando, Al Pacino, Henry Fonda, Patty Hearst, Robert De Niro, and Saul Bellow. It's taken me decades to finally get back to that fiction I wanted to write!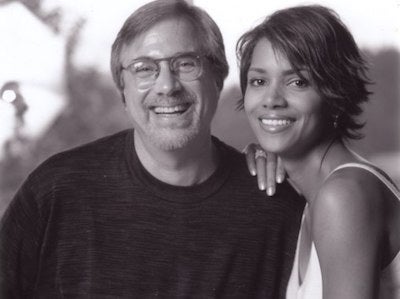 TBD: Why do you think our culture is so obsessed with celebrities, most of whom have jobs where they don't actually do anything useful, not like doctors, plumbers, or teachers?
LG: If you put celebs into the category of usefulness, then you're eliminating most athletes, actors, and the Kardashians. If celebs provide entertainment for people, then I suppose they serve a purpose. We elected a celebrity (albeit a minor one) president recently—and I've yet to believe anything he's done so far has been useful, and yet, whatever he does certainly affects a lot of people.
Celebrities seem to exist in most cultures—some for their prowess as being stronger or more agile than others, some for their sharp wit, some for their ability to mimic others. I don't know why we are so obsessed as a culture by celebrities, but I've seen how people react to seeing someone famous and all I can say is that I'm glad I'm not one. It can be frightening when a stranger approaches you in a restaurant or on a street with a demand for an autograph or a picture. I've been with Goldie Hawn when she was approached at a Japanese restaurant by a guy who acted like he knew her and saw how she handled it; with Al Pacino when a woman took him by surprise on the street where he lives in Beverly Hills and thrust a DVD at him, as he jumped away from her and tossed the DVD into a bush as if it might explode. I've been around celebs when paparazzi are waiting for them, and I can understand why they react the way they often do. A lot of it stems from when the Manson "Family" committed their crimes, making celebrities afraid. And after John Lennon got shot, it just magnified how vulnerable celebrities are. It's no fun being a target for the insane.
TBD: Who are some of your favorite celebrities and why?
LG: Having interviewed so many, I would prefer to rephrase the question: Who, among all the celebrities you've interviewed or known, would you miss if they were no longer around? Of those who have already passed, I'd say John Huston, because I appreciated our conversations and his interest in my work; Truman Capote, because he said so many hilarious and outrageous things; Luciano Pavarotti, because I enjoyed his company and looked forward to seeing him in Italy, which would have been the best reason to travel to Italy; Robin Williams, because he was so quick and so down-to-earth; Miles Davis, because he was Miles Davis!; and Farrah Fawcett, because I miss our paddle tennis games, and her being "one of the guys" whenever we got together.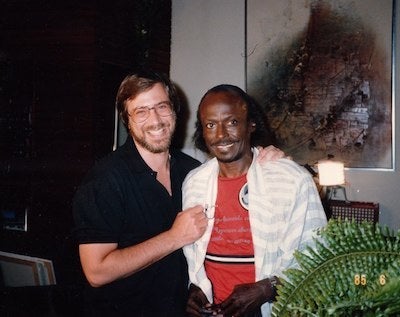 Of those still around, Elliott Gould, because he has become like family and is one of the truly special people I know; Christopher Walken, because he always responds to my calls, and when I send him a book of an author I think he might like, he sends me one back; Kim Basinger, because though she's so shy, we have long phone conversations that cover whatever's on our minds; Joyce Carol Oates, because even though she's a goddamn genius, she always makes time to get together whenever she's in town; and Lily Tomlin, because how can you not love Lily Tomlin?
TBD: Have you ever wanted to tell a celebrity to eff off? Who and why?
LG: The only celebrity I ever walked out on (though I didn't say "fuck off," it was implied) was Robert Mitchum. I went to see him while he was making That Championship Season, and during a break we went back to his trailer where he ate a sandwich and didn't contribute to our conversation (in other words, I did most of the talking), other than to compare me—when I said that I was there doing my job—to Adolph Eichmann. When I asked him if he was comparing doing a Playboy Interview with what Eichmann did to the Jews, he said it was the same thing. That's when I got up and told him that his publicist knew where to reach me, and walked out. Some years later, after my book on The Hustons came out, I was invited to watch Mitchum narrate a documentary about John Huston. There were 18 scenes, and for each one, after the first take Mitchum asked the director, "Too Jewish?" It was funny the first time. Not funny the second, and uncomfortable the next sixteen times.
TBD: What are some of your best interviews and why?
LG: I'd like to think that all of my work is the best that I can do at the time, but I guess that the ones that have turned into books are the ones that most people remember: Truman Capote, Marlon Brando, James A. Michener, John Huston, Al Pacino, Robert Evans, and Ava Gardner. Though I should also include the ones that got the most publicity: with Gov. Jesse Ventura, and with Coach Bob Knight. The Ventura one appeared during a slow news week because it wound up being covered by all the morning news and talk shows and put the Governor on the cover of Newsweek for his controversial remarks about religion, prostitution, sexual abuse in the Navy, fat people, and hoping to be reincarnated as a 38 DDD bra. As for Knight, he tried to throw me out of his car twice, fought with me over the tapes, punched me in the ribs, and I wound up putting that interview at the end of my Art of the Interview book to demonstrate how an interview is really like a three-act play.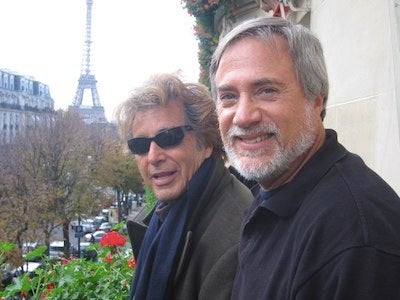 TBD: What were some of your most bizarre interviews?
LG: I'd have to say the Bob Knight interview was the most bizarre. I was actually contemplating how to jump out of his car onto the highway in Indiana without breaking any bones.
TBD: What were some of your worst interviews?
LG: One of the worst was with James Franco, because he had nothing to say, other than answering "Nah" to most of my questions. But this was before he became an academic, a writer, an artist, and did some interesting films. But I've yet to see a really good interview with the guy.
TBD: Your first dozen books were published by major publishers like Random House, Scribner, NAL, Hyperion, Simon & Schuster, Da Capo, and the University of Mississippi Press. Why have you self-published your last dozen books?
LG: It started when my agent refused to represent a satire on yoga I'd written (Yoga? No, Shmoga!). I couldn't understand his reaction, because he didn't even want to read it. Then I discovered that he had repped a book called Elvis, Shmelvis, which didn't do well and was somewhat of a nightmare for him. I told him my book was funny and he should reconsider, but he couldn't get past the title. So I left him and decided to publish it on my own after Larry Kirschbaum at Amazon (at the time) invited me into a program they had set up for professional writers. The experience was positive, so when I discovered that another writer had a contract to publish his secret conversations with Ava Gardner at the same time I had finished a similar book about Ava, I thought I'd self-publish that as well. And then when I got the rights back from some of my other books, like Conversations with Capote and Conversations with Brando, I put them up on Amazon.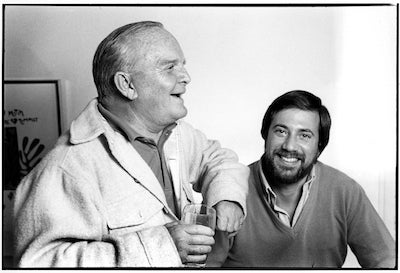 Suddenly, it became so much easier and quicker to publish what I wanted to write myself (a few novels, a memoir, a book of poetry, some collections of magazine work) rather than have to deal with satisfying a new agent, writing proposals, waiting to hear from publishers—that whole process takes months, sometimes years. Of course I don't get the advances I used to get, nor the distribution, but I can now look at the 25 books I've written knowing that I'd still be waiting to hear from publishers for probably ten of them had I not decided to self-publish.
Am I happy about it? Yes and no. Yes, that the books appear exactly as I have written them and I'm proud of all of them. No, because I would like to reach a much larger audience, and reviewers don't review self-published books. But hey, I've managed to do a few podcasts with Marc Maron and Adam Carolla about my work, and I'm still waiting to hear back from Terry Gross at NPR—so who knows? A writer should never give up hope.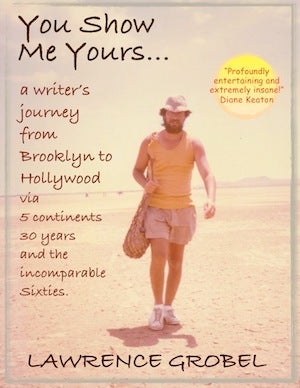 TBD: What advice do you have for people who want to be interviewers? And what advice do you have for writers?
LG: I don't separate being an interviewer from being a writer. A good interviewer is a good writer. Structuring a good interview involves many skills. One must be able to converse like a talk show host, think like a writer, understand subtext like a psychiatrist, have an ear like a musician, be able to select what's pertinent like a book editor, and know how to piece it together dramatically like a playwright. Writers today have more outlets than they realize, and it's more important than ever before to hone one's skills, to make sure what you put out into the world is miles above the mostly crap that passes for writing these days. It takes patience, talent, and the willingness to rewrite. It's a noble profession.
Lawrence Grobel (www.lawrencegrobel.com) is a novelist, journalist, biographer, poet and teacher. Five of his 25 books have been singled out as Best Books of the Year by Publisher's Weekly and many have appeared on best-seller lists. He is the recipient of a National Endowment for the Arts Fellowship for his fiction. PEN gave his Conversations with Capote a Special Achievement Award. The Syndicat Francais de la Critique de Cinema awarded his Al Pacino their Prix Litteraire as the Best International Book of 2008. Writer's Digest called him "a legend among journalists." Joyce Carol Oates dubbed him "The Mozart of Interviewers." He has written for dozens of magazines and has been a Contributing Editor for Playboy, Movieline, World (New Zealand), and Trendy (Poland).
His new work, You, Talking to Me, highlights the lessons he's learned from interviewing. He is married to the artist Hiromi Oda and they have two daughters.
Calling all HuffPost superfans!
Sign up for membership to become a founding member and help shape HuffPost's next chapter
This post was published on the now-closed HuffPost Contributor platform. Contributors control their own work and posted freely to our site. If you need to flag this entry as abusive,
send us an email
.