 WASHINGTON -- During a money-in-politics conference at UCLA on Saturday, Harvard professor Lawrence Lessig, a leading critic of privately funded elections, declared that the longtime Washington dean of the campaign finance reform community, Fred Wertheimer, was part of the problem.
Lessig, who also deplores insider politics, told The Huffington Post, "There's a similar inside and outside problem with reform organizations."
The split between two top campaign finance reformers comes as the public has grown increasingly irritated about big money in politics and Congress is rumbling again about taking action.
Polls show large percentages of Americans dislike the campaign finance system, particularly the unlimited money spent by independent groups like super PACs and shadowy nonprofits. Meanwhile, Democratic leaders have repeatedly stated that campaign finance reform would be part of their agenda in the coming Congress, and even some Republicans have stated their support for some kind of disclosure legislation.
This flurry of discussion has triggered jockeying among campaign finance groups for position in the legislative arena. Lessig wants more time for his ideas, enshrined in the draft American Anti-Corruption Act, to be sold to the public outside Washington. Wertheimer, the inside Washington hand, already has congressional cosponsors for his measure.
The main point of disagreement between the two men emerged, Lessig told HuffPost, after he came a visit to Washington in September for the unveiling of the proposed Empowering Citizens Act, the bill backed by Wertheimer and the Brennan Center for Justice and cosponsored by Reps. Chris Van Hollen (D-Md.) and David Price (D-N.C.). During this trip, Lessig said, he learned that other reform legislation would not be considered by Congress.
"The proposal that was going to be the proposal that Congress would take up was [Wertheimer's]," said Lessig.
Lessig argues that since Congress isn't going to pass campaign finance reform anytime soon, the reform community should not yet be coalescing around a single bill. Instead, reformers should take time to consider other legislative ideas, including the American Anti-Corruption Act. The Lessig-backed legislation, among other provisions, would provide a tax rebate to every citizen on the first $100 paid to the Internal Revenue Service, which could then be contributed to any candidate or candidates.
"My view is we're not going to get campaign finance right now in this Congress," Lessig said. "We need to build a very strong movement, and that movement is going to come largely from outside of Washington."
"It's not time to be settling for crumbs," he added. "It's certainly not time to be shutting down others who have been innovating and coming up with new proposals."
Wertheimer, the president of Democracy 21 and the former head of Common Cause, has been advocating for publicly financed elections since before the Nixon administration's law-breaking drove Congress to overhaul the nation's campaign finance laws in the early and mid-1970s. The bill he is currently backing, the Empowering Citizens Act, would provide a 5-to-1 public match for any campaign contribution up to $250. Any participating candidate, who would have to accept lower contribution limits, would therefore receive $1,250 in public funds for every $250 private contribution received.
Wertheimer disagreed with Lessig's critique.
"It's a little surprising because he was very complimentary about the Empowering Citizens Act when he and I appeared at a forum that was held by the Brennan Center," Wertheimer told HuffPost.
"We're not stopping anyone from advocating their own views. My sense is, he is upset a little by the fact that he supports a voucher approach, and we support and are advocating a multiple matching system that is based on the successful system in New York City," said Wertheimer, referencing the public funding system used by New York since 1988.
Before You Go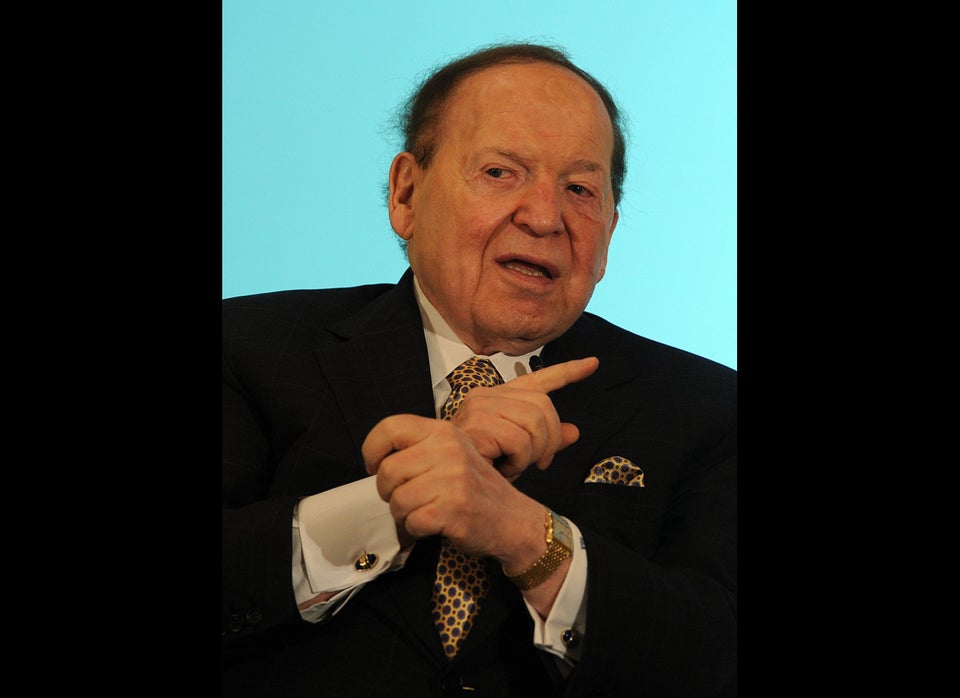 Donors Giving $500,000-Plus To Super PACs
Popular in the Community