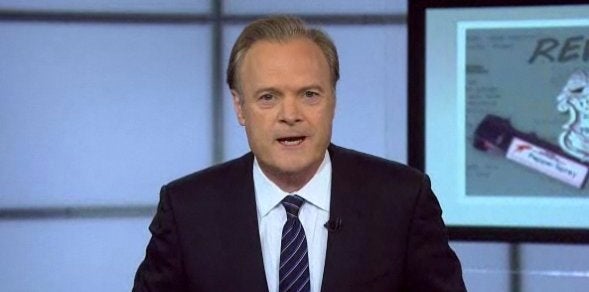 Lawrence O'Donnell Wednesday castigated the police officer who used pepper spray on demonstrators at the Occupy Wall Street protests and the New York Police Department's defense of the officer's controversial actions.
Two videos have surfaced showing Officer Anthony Bologna pepper-spraying on protesters on Sunday, apparently unprovoked. In his "Rewrite" segment, O'Donnell called Bologna "out of control" as part of his broader condemnation of police brutality.
After replaying the videos, O'Donnell said Bologna acted "for absolutely no reason." He lit into the New York Police Department, particularly Commissioner Ray Kelly, for defending Bologna's actions.
"He just indiscriminately sprays people as he marches down the sidewalk," O'Donnell said. "He's spraying people who are walking away from him, they are not resisting him in any way."
O'Donnell then took his attack on "routine abuse" by the police once step further, alleging that Bologna was only being investigated because of the video, and that the investigation would be a sham.
"The culture of the department will do every it possibly can to protect Inspector Bologna and it remains very very unlikely that the police department investigation will result in the disciplining of Officer Bologna or any other officer," O'Donnell predicted. "The spirit of these investigations is always a mix of investigation and instinctive institutional cover-up."
Related
Popular in the Community