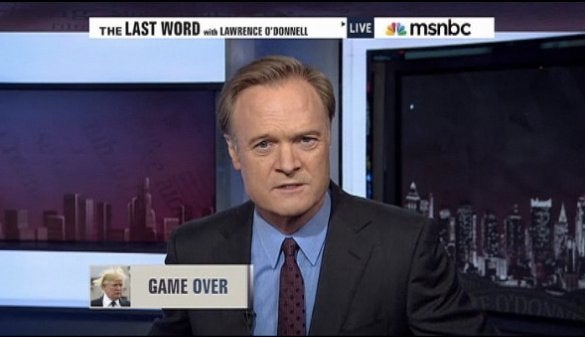 Lawrence O'Donnell crowed about his accurate prediction of when Donald Trump's campaign would come to an end--and he celebrated the end of what he dubbed "the most monstrous publicity stunt in the history of egomaniacal TV performer publicity stunts."
Trump "bowed out" of the presidential race on Monday, appearing at NBC's upfront presentation to announce that he would not be running and would instead continue as host of "The Celebrity Apprentice." This, of course, was not all that shocking. Yet O'Donnell was perhaps the least surprised, since he has predicted many times that Trump would announce he was not running during NBC's upfront presentation on May 16, 2011--which is exactly what happened.
"As I told you from the start, he would make that announcement on May 16, today," O'Donnell said on his Monday show. "And so he did, at a time and place not of his choosing, at a time and place of his employer's choosing."
O'Donnell turned to the political pundits who he criticized for seemingly taking Trump's candidacy seriously.
"Most of the people you see talking about football actually have to know something about football," he said. "...Unfortunately, there is no entrance exam for political pundits, so the inability to understand what is happening right in front of them is common."
O'Donnell wasn't done with his stinging criticism of Trump, though.
"Donald Trump has demonstrated every day of his fake campaign that he is not self-aware enough or smart enough to be humiliated," he said. "His spoiled rich kid constitution obviously lacks the elemental human sensitivity that would make him capable of being embarrassed."
WATCH:
Calling all HuffPost superfans!
Sign up for membership to become a founding member and help shape HuffPost's next chapter