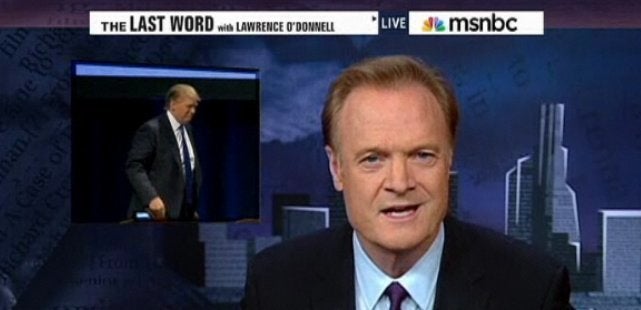 Lawrence O'Donnell had some heated words for Donald Trump on his show Monday night.
O'Donnell, who has been a longtime critic of Trump for, according to him, lying about running for president for publicity purposes, said Trump's upcoming debate will be "immoderately moderated by a reality show judge."
O'Donnell also revisited his longstanding criticism of what he believed was Trump's self-proclaimed wealth. O'Donnell said that Trump "lies about his modest wealth," and "simply plays [a billionaire] on TV." O'Donnell has taken to his show and his Twitter account to challenge Trump's net worth in the past.
O'Donnell also mocked Trump for telling his colleague Chuck Todd that he "studied polls at the Wharton School of Finance," in response to a new NBC News poll. The poll asked voters about Trump's endorsement, which O'Donnell likened to a "poisoned handshake."
Speaking to Trump directly, O'Donnell said, "Donald, I really do believe that somebody will be worse off if you endorse a Republican candidate for president. And I don't believe you studied polls at Wharton, and I don't believe you know a lot about polls. You were an undergraduate at Wharton for two years in the mid-1960s. That's practically before polls were invented."
O'Donnell finished his remarks by reminding Trump that "Wharton teaches business, not political science," and calling him a "reflexive liar."
WATCH:
Calling all HuffPost superfans!
Sign up for membership to become a founding member and help shape HuffPost's next chapter