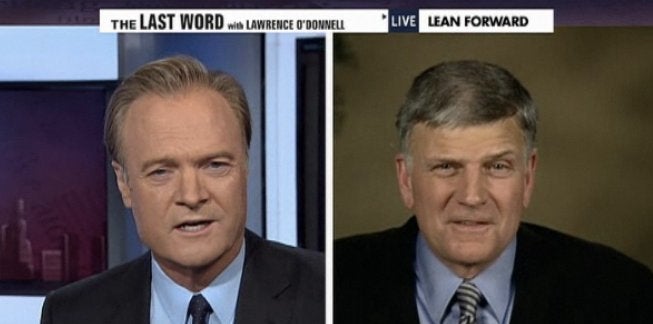 The interview came one day after Graham caused a stir by speaking favorably about a potential Trump campaign, and by raising doubts, as he has done in the past, about whether Obama is a Christian and a natural-born American citizen. Graham's remarks were condemned by the White House on Monday.
O'Donnell asked Graham how he could have come so close to endorsing a potential candidate for the presidency. He said he was just answering a question, and told O'Donnell, "maybe you could give me some advice" about how to answer in future.
"I would advise you if a reporter asks you who you're going to support for president, you say I don't discuss that," O'Donnell cut in. "That's how you do it." But Graham repeated his praise of Trump, saying, "he's got some interesting things to say."
The two then turned to Obama's religion. Graham told Christiane Amanpour that, though Obama had told him personally that he was a Christian, there was still a "debate" around what constitutes a true Christian, and he was not sure Obama was meeting the standard of having "given [his] life to Christ."
O'Donnell was incredulous that Obama's personal word was not apparently good enough for Graham. Graham replied, "nobody knows a man's heart except God." O'Donnell pointed out that this meant that Graham didn't really know if any of the people he preached to were really Christians.
WATCH:
Popular in the Community