Lawrence O'Donnell, host of MSNBC's "The Last Word," has just four weeks left in his contract, and the cable network does not appear to be interested in renewing his deal. Four well-placed sources tell HuffPost that MSNBC has not been in contact with O'Donnell's team of representatives to negotiate a new deal.
The absence of active negotiations weeks before a contract expires is highly unusual and often a sign that a contract won't be renewed. News networks normally don't risk letting the contract of a host who has a highly rated program expire or even come close to expiring before renegotiating. A short time-frame puts the network at a strategic disadvantage in talks, that's why cable networks often start negotiating renewals six to nine months in advance of a contract ending.
A spokesman for NBC News declined to comment on "ongoing negotiations." Although, multiple sources from inside and outside the network have told HuffPost that no negotiations have taken place.
O'Donnell, who has been appearing on the network since its inception, has hosted his highly rated program since the fall of 2010. "The Last Word" is the cable network's second-highest rated program, according to Nielsen figures, behind only "The Rachel Maddow Show."
O'Donnell has even been, on some nights, besting Sean Hannity's program on Fox News among viewers ages 18 to 49, the demographic that television advertisers care about the most.
If O'Donnell's contract is not renewed, that would not come as a surprise to many network insiders. Andy Lack, the chairman of NBC News, is no fan of O'Donnell's program, sources say. Some say it's because he doesn't appreciate the liberal nature of "The Last Word," but others say it's about the fact that O'Donnell rejected Lack's request to move his program from 10 p.m. to 6 p.m. Eastern time. This decision was O'Donnell's prerogative, two sources said, because his contract stipulates that his program must air in prime time.
O'Donnell's refusal to move his program could have led Lack, who is known to bristle at dissent, to sour on O'Donnell, sources said. A senior NBC News executive disagreed with the idea that Lack isn't a fan of O'Donnell's show saying, "He is proud of and enthusiastic about all the work that's being done across all of MSNBC's primetime slate, including Lawrence's program."
There does appear to be some evidence of Lack's distaste. O'Donnell has not had a face-to-face meeting with him since Lack returned to the network in 2015 after stints at Sony Music and Bloomberg Television, two sources said.
A senior NBC news executive said that Lack doesn't take a heavy-handed approach with the cable network's on-air talent and that frequent face-to-face meetings are often a sign that he isn't satisfied. Sources familiar with the production of "The Last Word" say that Lack doesn't interfere with the program's editorial direction. And in Lack's previous stint as NBC News president he was the one that pushed for O'Donnell to appear on the then nascent cable MSNBC network when it was founded in 1996.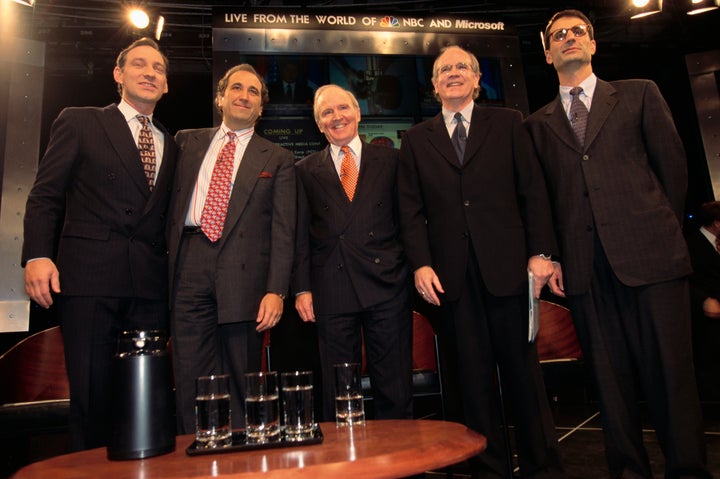 Lack's programming decisions and leadership style have caused tension internally at MSNBC leading staff members and on-air talent to express their displeasure internally and externally. For this story, HuffPost spoke to more than 10 sources inside and outside the network who asked to remain anonymous because they are not authorized to speak publicly about network business.
If O'Donnell's contract is not renewed, the news would certainly be welcome to President Donald Trump, who has had a long-running feud with O'Donnell.
In 2011, O'Donnell called on NBC to fire Trump, then the host and executive producer of "The Celebrity Apprentice," for pushing his racist and inaccurate "birther" conspiracy against President Barack Obama. In 2015, he also claimed that Trump was lying about his wealth. Trump threatened to sue O'Donnell for making false statements but never followed through on his threat (which O'Donnell had predicted).
According to three sources, Trump has pressured MSNBC President Phil Griffin to fire O'Donnell on multiple occasions. Griffin alluded to Trump's push for O'Donnell's ouster in an interview with the Hollywood Reporter last month, saying, "[Trump] started calling me all the time in 2011 to say Lawrence O'Donnell was a 'third-rate' anchor." Griffin and O'Donnell enjoy a cordial relationship but Griffin's power as the President of MSNBC has been diminished by Lack since he returned in 2015. As a result, Lack will be the one to decide whether O'Donnell stays and under what terms.
There is a fear, among some at MSNBC, that Lack is making programming decisions in an effort to appease the Trump administration (an accusation that has been made of CNN and Fox News), which may lead to more access to the White House and in turn, conservative viewers.
A senior NBC News executive pushed back on this claim. "Is he bringing in more voices from all over the political spectrum? Yes. But that's to make better programming and more informed analysis. We don't do things to appease people in power. We hold them accountable."
"If MSNBC failed to renew O'Donnell's contract, it would be unprecedented, given his high ratings."
It's unclear who would replace O'Donnell if MSNBC declines to renew his contract. Multiple sources have told HuffPost that Brian Williams, whose program, "The 11th Hour," is on MSNBC at 11 p.m. Eastern, has been eager to have an earlier start in the evening schedule.
If MSNBC failed to renew O'Donnell's contract, it would be unprecedented, given his high ratings, but multiple sources tell HuffPost that Lack attributes O'Donnell's high-ratings to heightened interest in Trump and the fact that his program's lead-in is the top-rated Rachel Maddow show, and doesn't credit O'Donnell's star power and fan base for the high-ratings. Despite this, Lack is said to dislike when people attribute his cable network's blockbuster ratings to Trump: He believes, according to multiple sources, that the high ratings are largely a product of his programming decisions.
A senior NBC News executive disputes both of these characterizations saying that Lack believes ratings success is more nuanced than attributing it to one or two factors. "He considers prime time to be the "op-ed section" of the cable news network, and believes MSNBC is on top right now because it has the smartest, most insightful and most dynamic opinion hosts in the business," the executive said.
O'Donnell is not giving up on what appears to be his quest to stay at MSNBC. On May 3, he tweeted about "The Last Word" program beating Hannity in the ratings. "We need audience support now more than ever," O'Donnell replied. "So thanks again."
Friday night, he sent another Twitter message about his rankings. "Last night @maddow was #1 rated show in all of cable tv, not just cable news. @TheLastWord was #2," he wrote. "Thanks for your support. We need it."
Popular in the Community