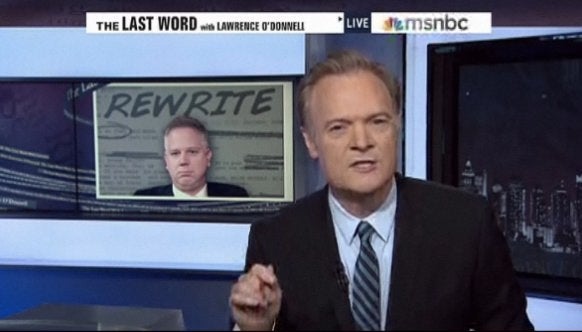 Lawrence O'Donnell said that his recent criticisms of Glenn Beck are "driving [him] crazy."
O'Donnell and Beck have been engaged in something of a war of words lately. On Thursday, O'Donnell played clips of Beck talking about the Book of Revelation, saying that it was written so "you would know...in these days, these things will happen." Beck was discussing the crisis in Japan. Referring to the catastrophe there, he said, "I don't know if it's these days."
This had seemed a tad doom-and-gloom for O'Donnell, and he mocked Beck for the comments. On Friday, Beck responded on his radio show. He played a clip of O'Donnell's Thursday show.
"Gosh, he's bad," Beck said, saying that he agreed that the world was not coming to an end. "That's not what the Book of Revelation talks about," he said.
O'Donnell took great pleasure in Beck's "agreement" with him, and played the clip three times.
"And there you have television history," O'Donnell said. "It came in an area where Beck feels safest: his religious beliefs." He said that Beck was falsely portraying himself as a Biblical literalist.
"The Bible, in its entirety...is not believed by any sane person," O'Donnell said, going on to dissect parts of the book that he said Beck must not believe, and thus implying that Beck was not being serious in his discussion of the Book of Revelation.
WATCH:
Calling all HuffPost superfans!
Sign up for membership to become a founding member and help shape HuffPost's next chapter