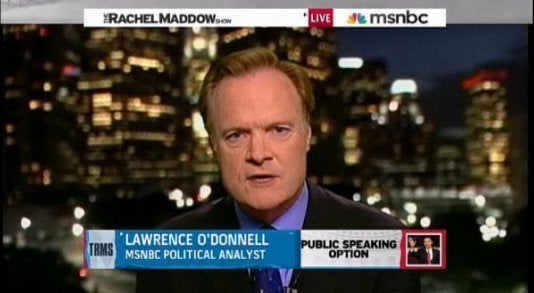 Lawrence O'Donnell will host the 10PM hour on MSNBC, the network announced Tuesday.
O'Donnell will develop a show to round-out the network's primetime lineup; currently, a repeat of the 8PM show, "Countdown with Keith Olbermann," airs in the 10PM timeslot, after "The Rachel Maddow Show."
"Lawrence O'Donnell is an incredible talent, who our audience has gotten to know throughout the years, most recently as Keith Olbermann's principal guest host on 'Countdown,'" MSNBC President Phil Griffin said in the announcement. "It's great to have another anchor of his caliber on the network," said Griffin. "This makes us a bigger and better network."
"I've had a part-time job at MSNBC for 14 years," O'Donnell, who has been an MSNBC political analyst since the network launched in 1996, added. "Now that the network and I have gotten to know each other, I'm thrilled to be going full time."
"We're not going to mess with it until we see where it levels off. It places the burden, if we are going to put a show there, (for it) to be a big show because the repeat of `Countdown' is doing so well."
He also pointed out the difference between cable news ratings and the ratings on network TV shows, such as "West Wing," which he produced and wrote:
At MSNBC, people treat with great seriousness ratings fluctuations roughly equal to "the number of people who would go to the bathroom during a 'West Wing' episode," as O'Donnell wryly puts it.
The new O'Donnell show will bump back the "Countdown" repeat to 11PM; Maddow will repeat at midnight, and O'Donnell will repeat at 1AM.
Popular in the Community