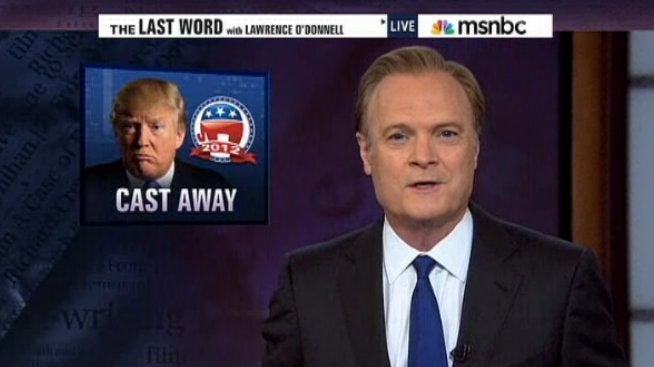 Lawrence O'Donnell gloated about the rise and fall of Donald Trump's debate dreams on his Tuesday show.
O'Donnell is one of Trump's most gleefully vicious critics, and he wasted no time roasting Trump for canceling his planned debate. Trump announced Tuesday that he would not be moderating a Dec. 27th Republican forum, claiming that, since he might still run for president as an independent, he could not grill the GOP contenders.
O'Donnell, of course, thought this a risible lie. He said Trump had "shocked no one" by pulling out and claimed that the real estate magnate had been "laughed off the air" by Bill O'Reilly the night before. He also mocked Trump's announcement of the change, which took place on the "always presidential-looking YouTube."
O'Donnell concluded by saying that the debate "was going to be as humiliating for Trump as it surely would have been for Newt Gingrich."
WATCH: