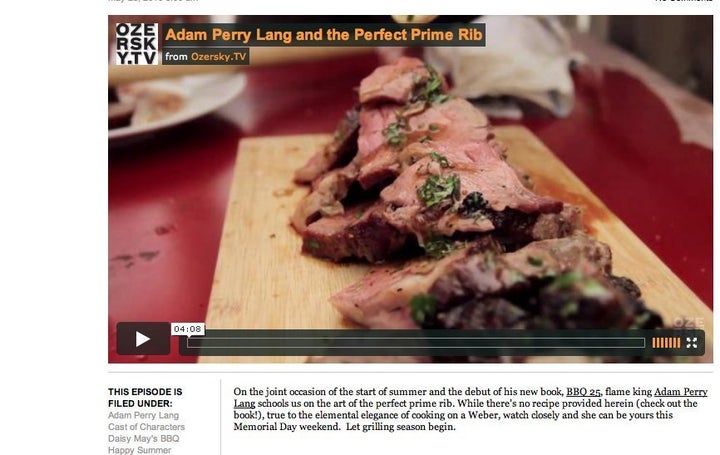 At the recent "Taste of Beverly Hills" charitable event, unquestionably the most popular food booth was that of Lawry's The Prime Rib (100 N. La Cienega Blvd. Bev Hills (310-652-2827), ½ bl. north of Wilshire). On several evenings, their stately white-toqued carvers served several thousand prime rib sandwiches to an eager audience... and I confess that I was one of the prime customers for their prime rib. And at the recent Concern Cancer event at the Paramount lot, the Lawry's booth manned by General Manager Todd Johnson and his staff was in the forefront dispensing delicious bite-sized sandwiches to the delighted hordes. Knowing how costly and time-consuming these charitable events are, I questioned Vice President Bryan Monfort as to why this 72-year old icon of fine dining was participating in these endeavors and he smilingly commented, "Our management believes in giving back to the communities which have been so good to us." Amen.

The fabulous 'Diamond Jim Brady' cut of roast beef-on-the bone, my favorite!
So, in need of further 'research' (although I have been dining here for more than fifty years), I was compelled to do a dinner this week with my stalwart reviewing team to make certain our facts were up to date and nothing in the restaurant had changed since my last visit. Entering the hallowed premises on La Cienega, I entertained my friends with my take on the new on-line game which food critics have been playing lately: What would you choose for your last meal on earth? As we settled into our booth, I recited mine... It would be at this restaurant, and it would be as follows: the Spinning Bowl Salad, then the Diamond Jim Brady Cut of prime rib, with a giant Baked Idaho Potato stuffed with butter, chives, sour cream and real bacon bits, sitting alongside a dollop of creamed spinach and creamed corn, finishing with a C.C. Brown's Chocolate Hot Fudge Sundae. While I didn't plan on it being my last meal (and it wasn't), that is exactly what I ordered.

Pouring the salad dressing from on high into the spinning bowl, a tradition.
Since Halloween will soon be upon us, I told of how my ex and I once borrowed a carver's tall white toque and jacket (for me) and a waitress uniform (for her) -- and won best prize at a costume party. When I commented that beef is back in favor, Rich Cope, Lawry's marketing director, told me, "Every night we have people from all over the world who say to us, 'We forgot how delicious a cut of juicy prime rib can be, topped with au jus, served with Yorkshire pudding and mashed potatoes.' I later learned that Lawry's is the most successful restaurant in Los Angeles, confirmed by a note in a trade journal that they did north of $12 million in volume last year, serving over 300,000 people a year. A little Google research provided the information that some 14 million people have enjoyed dinner here since they opened in 1938. Anyone who has seen the more than 300+ people waiting during the holidays at 4:00 pm for the doors to open knows what I mean.

General Manager Todd Johnson serving sandwiches at the Concern Cancer Benefit.
I know that my heart beats faster when I know that I am coming here, for even the thought of the 2 ½ inch thick Diamond Jim Brady cut of rare roasted beef on-the-bone ($46) sends my salivary glands into overdrive. In 1938, the two original owners, Lawrence L. Frank and Walter Van de Kamp, opened the doors at this location on the east side of La Cienega Boulevard, the first restaurant serving only one entree, the glorious standing rib roast beef dinner costing all of $1.25. Until then, prime rib was rarely served at home or in restaurants. By '47 they had outgrown the site and moved to the west side of the boulevard. After 46 years there, they tore the old building down, moved back to the original location where they had built an impressive $8 million structure. In '93, I watched the ceremony when, in a triumphant procession at high noon, they rolled their massive silver carts across the street to the new building. Here they have prospered mightily. There are 450 seats in this spacious emporium, and I have never been here when they weren't full, serving an average of 600 people a night. I once asked Bryan what percentage of diners were Asian, as it seems every other table has a party of happy visitors, and he told me, "It's about 22%, for we represent a truly great value for them."

The beef is cooked in the old English way upon a bed of rock salt, and not seasoned until served.
Is it heresy to serve fish at Lawry's? No, it's a convenience for the 4% of their customers who prefer it, and on this evening our server told us there were three seafood choices, including fresh Halibut ($37), fresh Salmon ($29), and Atlantic Lobster Tails (a trio for $44). Not for me, although when they introduced their Surf and Turf, with a combination of one or two broiled Lobster Tails added to your choice from the beef cart for an additional $14 for one or $21 for two, I've been tempted....I do like lobster.

The traditional California Cut, the most popular.
I love the cordiality of everyone associated with this place, from the valet parking guys (Lawry's was the first American restaurant to offer valet, thanks to the father of my long-time reader Herb Citron), to the charming waitress in the kitschy brown uniform with white apron who warmly greets you. This was also the first restaurant in the nation where waitresses encouraged guests to address them as "Miss so-and-so" corresponding to the their name tag. It even was the first restaurant to serve a salad before the main course; of course, it is the famous spinning one dressed from on high.

Another view of the cart.
But the moment has arrived, and with impressive solemnity, the serious-looking carver wearing the high white toque, glides the massive cart to our table. When Lawrence Frank and his brother-in-law first opened, they heard about the London eatery, Simpsons-in-the-Strand, which served "joints" (typically English term) of beef from a movable trolley. They adapted the idea, and silver serving carts (actually hammered stainless steel) became the vehicle of delivery, costing more than a Cadillac at that time. Today each costs over $30,000 and weighs over 600 pounds when loaded with three-to-five huge seven-bone standing rib roasts and their side dishes, all cradled in boiling water to keep the food hot. During the Second World War, when beef was unavailable, turkeys were served and today on Thanksgiving you can still get it here...I once had my holiday party in a private room. The white-gloved carver will go through more than 15 to 20 roasts, 150 pounds of prime beef, each evening, feeding at least sixty people. Each of the seven-bone USDA prime standing ribs is aged for a minimum of 28 days before being roasted in the old English way, on top of a bed of course rock salt. Founder Frank was in the meat business and knew that prime ribs should only be seasoned after they were carved.... so he created a special seasoning salt which is still on every table today. One of my companions ordered the traditional Lawry' Cut ($37), the same as offered here when they opened. Another ordered the English Cut ($34), three thin slices deftly carved to enhance the rich beef flavor and offer more surface for the au jus, (there's a California Cut, but I've never seen it ordered - although it's 25% of cuts sold). My Diamond Jim Brady is actually not the largest cut, there is a Beef Bowl Cut ($49), but only football players seem to order that. Did I mention that Lawry's was also the first restaurant to offer doggie bags? Never have gone home without one.
The cost of the dinner includes the salad and mashed potatoes whipped with milk and butter. Also, about now, the waitress arrived at the table with Yorkshire Pudding baked in small skillets, puffy and golden brown. The baked, monster Idaho Potato ($5) is de rigeur, the 15 oz. russet slow-baked at 500 degrees over a hearth for an hour. Lawry's was also the first place to offer butter, chives, and bacon with a baked potato, although the founder long thought that sour cream was an abomination with the spud, finally succumbing a few years ago. One ever-helpful server offered a whipped cream horseradish, but I asked for an addition of some of the real thing to heat up the prepared condiment. I always end the meal with a serving of the splendid English Trifle ($7), rum-and-sherry laced cake layered with vanilla custard cream, strawberries and fresh whipped cream (which is on the house if it is your birthday.) But since they have acquired the ownership of 100-year old C.C. Brown's Hot Fudge, inventor of the hot fudge sundae at their legendary Hollywood Blvd. location, I was able to get 'for the table' a sundae ($8), a memorable dish prepared with Haagen-Dazs vanilla ice cream, roasted almonds, whipped cream... and a small pitcher of hot fudge from their original formula. There's a deep and fairly priced wine and beer list, (although I still miss seeing my passion, the Laetitia Pinot Noir), as well as many coffee drinks.
I was delighted to hear that Lawry's Catering is now available for home parties and events, weddings and such. They'll tailor a menu to every need.
Rich Cope tells me Lawry's The Prime Rib is now located in Chicago, Dallas, Las Vegas, Tokyo, Singapore, Taipei, Hong Kong, and Osaka. They also have Crowns/SideDoor(Corona Del Mar), the Tam O'Shanter (L.A.) and the delightful Lawry's Carvery located in South Coast Plaza, Westfield's Century City food court and LA Live.
There are very few things in this world which never change, and if they do it's usually not for the better. So we can all relish the knowledge that as Lawry's The Prime Rib celebrates its 72nd anniversary, it has remained true to its tradition and will only get better, more satisfying and more fulfilling.
To subscribe to Jay Weston's Restaurant Newsletter ($70 for 12 monthly issues), email him at jayweston@sbcglobal.net.
Calling all HuffPost superfans!
Sign up for membership to become a founding member and help shape HuffPost's next chapter