I'm otaku for Japan's convenience store food.
In America, this would be cause for concern, but in Japan, people share the love for the store next door.
The Japanese landscape is draped in conbini (convenience) stores. If you aren't on a train, you are likely at a conbini. And you want to be there. There are ample healthy food options like bento, fresh produce, salads, as well as a junk food snack aisle with tastes that dazzle and sometimes perplex, like green tea-flavored potato chips.
So much attention is paid to those Michelin stars, but Japan's highfalutin cuisine isn't as accessible as the safety and security of comfort food.
Japanese conbini snacks are, like broadcast positions in New York City, to die for. The packaging alone beckons you to buy, but the Japanese maintain their weight and their willpower much better than this gaijin. I know. Portion control.
My favorite conbini is Lawson. Lawson is obviously not a Japanese name. It belongs to one J.J. Lawson of Ohio in the United States who advertised his milk store in 1939 with a white milk can against a blue background, the symbol still used today in Japan. Mr. Lawson's customers loved his "fresh and delicious milk" and would stop by every morning to buy.
Remember the Rolls Royce song, "Car Wash?" Well instead of an LA-based car wash where you might meet a movie star or even an Indian chief, at Lawson in Tokyo you might meet Anthony Bourdain or his wife, Ottavia.
Tokyo may well be the most amazing food city in the world. With a nearly unimaginable variety of places stacked one on top of the other, tucked away on every level of densely packed city streets.

At Lawson's, you can dig into their unnaturally fluffy, insanely delicious, incongruously addictive egg salad sandwiches. I love them. Layer after layer after layer of awesome. Proud eateries serving who knows what. But it all smells delicious and looks enticing.
Anthony Bourdain prefers the egg salad sandwich while his wife is jonesing for red chicken nuggets:
My husband introduces me to one of Japan's greatest delicacies: Lawson's red chicken nuggets. Lawson is a convenience store much like 7-Eleven. They sell an incongruous combination of snack foods and light porn. But their fried chicken and their egg salad sandwiches are truly special.
I know exactly how she feels. When I'm out of Japan, I have Lawson Withdrawal Syndrome. It is simply the everything aspect to it.
You can pay your utility bills, buy concert tickets, send mail, get money from the ATM, print, fax, order a freshly made latte, grab a bento meal or salad, and watch the free entertainment of men perusing the magazines featuring voluptuous Japanese models. I've even bought my airline ticket there.
Forget your iPod charger? The conbini has it. Need an adult beverage? Yup, the conbini has it.
My neighborhood conbini, the fierce Lawson competitor, 7-Eleven, cannot stop playing an elevator music version of The Monkees' "Daydream Believer." It's a quasi-carnival horror show track but with no serial killer. I often wonder if it bothers the employees, but the endless rhyme scores points for an upbeat theme.
The Japanese conbini is convenience like kudzu growing all over my native South...but with utilitarian value.
This is why I found myself on a cold and rainy Monday sitting at the Foreign Press Center briefing by the CEO of Lawson, Genichi ("Gen") TAMATSUKA. I had to let Mr. Gen-san know in person that I was representing all of the other Lawson Geeks who couldn't be there. We pine for Lawson installments like seasonal drinks. There is a certain green apple tea that I enjoy. It appears suddenly, and then, like a sakura blossom, disappears with the wind. My Lipton Matcha Latte seems to come and go at will. Some of the Lawson products are like a food version of a strip tease. They give me a little and leave me wanting more.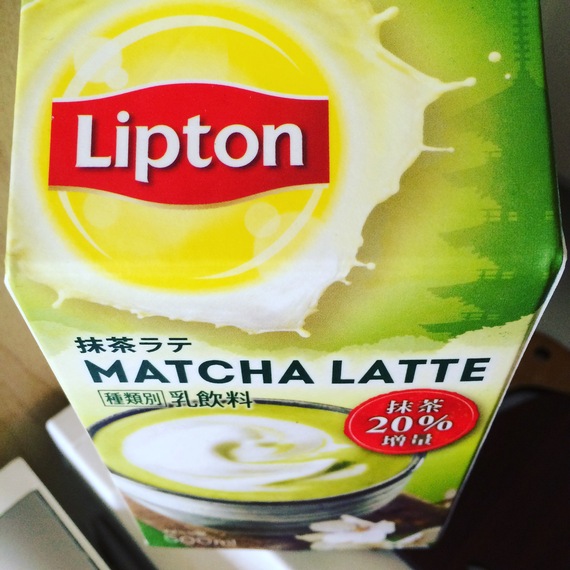 I finally get my chance to declare my geek love for Lawson. (Mr. Tamatsuka is a handsome CEO at that, which is a bit of a distraction.) Armed with MBAs from Case Western Reserve University Weatherhead School of Management and Thunderbird School of Global Management in Arizona, he's built up an impressive career that includes serving as President and COO of Fast Retailing Co., Ltd., whose primary subsidiary is the global brand Uniqlo. In May 2014 he became President and CEO of Lawson, Inc.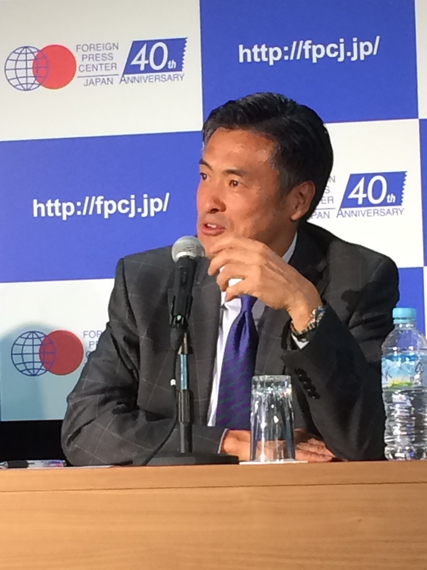 I frame it as a gaijin thing. I ask him if Lawson is aware of the enthusiasm that foreigners have for the Lawson store, noting the service, the quality of the food, the politeness of the employees. In my former Mita neighborhood, I used to look out for a favorite Lawson part-timer who would use a tea ceremony respectability to making my coffee--adding cream, putting it in a take-out tray and delivering it to me with both hands and a slight bow. It was a little bit of Christmas everyday.
In contrast, I come from a country where going to a convenience store is often a mindless ritual of putting gas in the car and grabbing a soda and snack for the road trip. When dashing in and out of an American conbini, customer service is the last thing on my mind, even if I encounter a particularly helpful employee. I want to grab and run.
Geninchi responds, "I receive friends from overseas and often I get asked, "How can you afford to provide bento, a lunchbox with such high quality at such low price?" An average lunch in the UK would be 8 to 10 British pounds or so; likewise, 8 to 10 dollars for a lunchbox in the U.S."
He explains that the competition for customers leads to an intense pressure to deliver such high quality at an affordable price.
There are 55,000 conbini in Japan. Going forward there will be the Big Three: 7-Eleven, Family Mart and Lawson, to account for 90% of the entire store network.
The franchise owner is a very important stakeholder. If the headquarters were to provide a lunchbox that wasn't tasty, complaints will pile up or the customer will turn to a competitor convenience store. The competition is so high that the customer is to be treated as king or queen on the receiving end of two outstretched hands holding my fried chicken with a spice bag taped to the top.
Lawson is part of nation brand Japan. Foreigners who visit Japan for the first time often comment about the convenience of the Japanese lifestyle, and what they mean are the ubiquitous conbini and vending machines.
"There is a very fierce and intense competition among 7-Eleven, Family Mart and Lawson," Tamatsuka notes. "You may not know this, but every Tuesday is the launch date for new products at convenience stores. So by Wednesday you would have a feel as to whether it's selling or not. If 7-Eleven were to launch a good new product, perhaps in a week or two other chains would follow suit, perhaps with much better products. That's the nature of the competition within the industry."
Lawson is hiring more foreign workers in the Tokyo-area, which presently is an exceptional case. Nationwide, foreign workers at Lawson account for just 1.5% of all employees, but they still receive training in the high standard, customer-first service for which Japan is noted. Multilanguage compliance is planned for the point-of-sale future Lawson experience to accommodate the foreign workers. A training kit explains the ABC's of how to do business in Japan, for instance, the two hands approach to handing over a product as opposed to one, and the bow when you say thank you.The basic customs of Japan are included in this training kit.
It's nice to know that my neighborhood store is making a positive contribution to Japan's country image in the world. Fierce competition is very good for customers far and wide. Now if I could only stay away from the snack aisles before my wide can't fit.
Popular in the Community