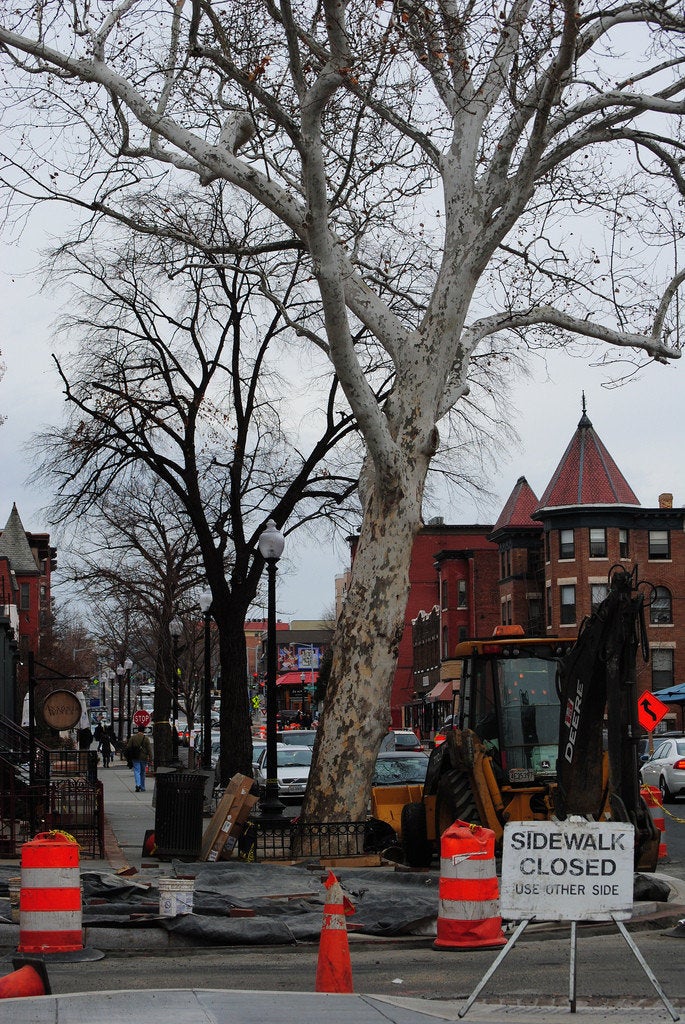 WASHINGTON -- Robert Clayton is not satisfied with the no-interest loan money being made available to Adams Morgan businesses affected by the streetscaping project that has been tearing up parts of 18th Street NW since March of this year.
Clayton is a lawyer who represents Crooked Beat Records -- he also buys a lot of jazz vinyl there. Crooked Beat's owner Bill Daly has complained of big drops in sales due to the streetscape construction and contends that customers can't find parking.
The city is in the midst of rebuilding 18th Street from Florida Avenue to Columbia Road, through the commercial heart of Adams Morgan. The roadway and sidewalks will be reconstructed and parking will be reconfigured in places.
Clayton told The Huffington Post that he's glad $3 million is finally available for Daly and other business owners affected by the construction, but he's not happy with the terms on which the money is being made available.
Thursday at 5 p.m., Clayton is encouraging other 18th Street business owners to come to his office, at 2305 Calvert St. NW, to talk about next steps.
Clayton would like to see the D.C. government to make some changes to the mitigation. For one, he says the $3 million in loans should be available to Adams Morgan businesses before becoming available to businesses affected by other city improvement projects. He'd also like the loans be made available as grants or as loans that ultimately are forgiven. Finally, he said, he'd like to see immediate improvements in parking, like a suspension of parking enforcement, for example.
Kristen Barden, executive director of the Adams Morgan Partnership BID, said in an email to HuffPost that "[a]ll of those suggestions sound terrific. I doubt the city will agree to them however."
The mayor's office did not immediately respond for comment on Clayton's looming lawsuit.
Ward 1 Councilmember Jim Graham, who represents Adams Morgan, told HuffPost that 18th Street businesses aren't likely to get what Clayton is asking for. There are now 18 streetscape projects in various stages of completion in the District, and whatever is done for 18th Street would have to be done all over the city, Graham said. And Clayton's proposals are expensive. Graham said that to lift parking restrictions even until 10 p.m. would mean having to find $6 million elsewhere in the budget.
"There have been streetscape constructions that have begun and finished," Graham said. "And somehow the problems were endured. I think we're doing comparatively a good job with 18th Street. The real answer to this is to be done with it, get it over. And then everyone will appreciate the beautiful new street. It will be very satisfying, if we can just get through it."
Asked if he is gearing up for a lawsuit against the city in case the city doesn't do more for 18th Street business owners, Clayton said: "You always plan ahead. If we don't get relief that is satisfactory to the bulk of the clients, then of course we'll have to seek other alternatives." But, he added, "I don't have a pool of clients demanding action."
Crooked Beat is in fact Clayton's only 18th Street client at the moment. So he's been canvassing other 18th Street businesses, encouraging them to come to Thursday's meeting.
"There's strength of numbers, and the city will take notice if there is a large enough group involved who are all actively pursuing the same goal," he said. "Individual businesses will get lip service, but no real change."
UPDATE, 5:33 p.m.: This post has been updated with comments from D.C. Councilmember Jim Graham (D-Ward 1).
Related
Popular in the Community