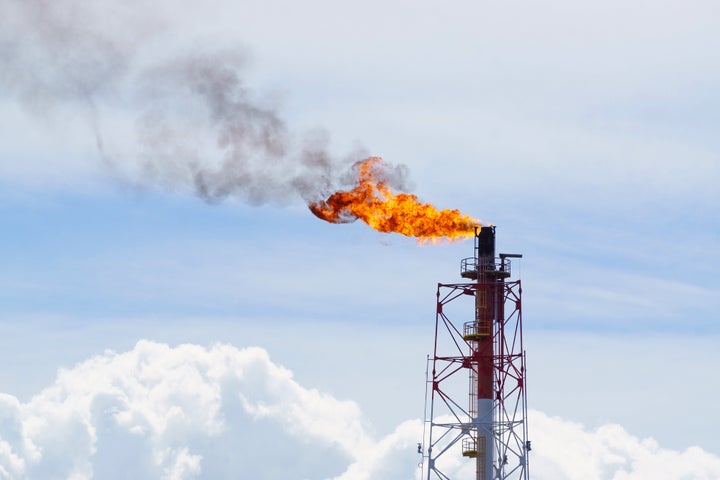 WASHINGTON — A group of environmental organizations has filed a lawsuit challenging the Trump administration for delaying an Obama-era rule that regulates the release of methane from drilling operations on federal and tribal land.
Delaying compliance has harmed the public because it has allowed for excessive air pollution in addition to reducing royalty payments for states, tribes and local governments, nonprofit Earthjustice and other groups argue in the complaint they filed Monday in U.S. District Court in California.
"Trump and his administration cannot blatantly ignore the law just to benefit polluters at the expense of everyone else," Earthjustice attorney Robin Cooley said in a statement. "Compliance with public health rules cannot be indefinitely delayed while the Trump Administration and bad actors within the industry try to undo them." 
The Interior Department's Bureau of Land Management finalized the rule in the final months of Barack Obama's presidency. It updated 30-year-old regulations and limited the amount of methane, a powerful greenhouse gas, that can be vented, burned and wasted from oil and gas operations on federal and Native American lands.
In a surprise move in May, the Senate narrowly rejected a resolution to scrap the rule, with Republican Sens. John McCain (Ariz.), Lindsey Graham (S.C.) and Susan Collins (Maine) voting against repeal.
Environmentalists' celebration, however, was short-lived. Kate MacGregor, the BLM's acting assistant secretary, released a statement hours after the vote and said the agency had flagged the methane rule as one it will "suspend, revise or rescind given its significant regulatory burden that encumbers American energy production, economic growth and job creation." In June, BLM postponed compliance dates for portions of the rule. 
Earthjustice is representing a number of environmental and tribal citizen groups, including the Sierra Club, Fort Berthold Protectors of Water & Earth Rights, Natural Resource Defense Council and The Wilderness Society. 
"There should be nothing controversial about protecting our public lands and our communities by limiting pollution from oil and gas development," Sierra Club staff attorney Elly Benson said in a statement. "We will fight to ensure that these commonsense protections that reduce waste remain in place."
The attorneys general of California and New Mexico have also sued the Trump administration over the delay. 
The BLM rule is similar to an Environmental Protection Agency regulation finalized in May that restricts the amount of methane that energy companies can emit from oil and gas wells. Last week, a federal appeals court blocked EPA Administrator Scott Pruitt's attempt to delay that Obama-era regulation. 
Calling all HuffPost superfans!
Sign up for membership to become a founding member and help shape HuffPost's next chapter
BEFORE YOU GO
PHOTO GALLERY
4 Surprising Places At Risk From Climate Change