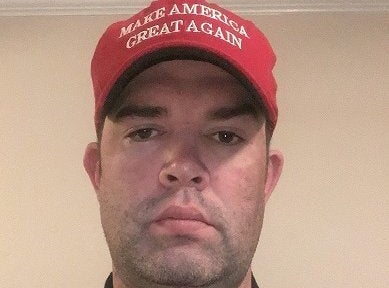 A Texas lawyer recently suspended from Twitter for threatening to kill a "f**king n****r" as well as an entire family is suing an anti-fascist journalist for a post referring to him and fellow members of a far-right group as neo-Nazis.
Attorney Jason Lee Van Dyke, who represents a far-right group with connections to white supremacy called the "Proud Boys," filed a libel suit against journalist Gerry Bello in October.
"What is happening is a neo-Nazi intimidation campaign, consisting of fliers on poles, fliers on porches, swastikas shoved into homes and an armed Nazi gang based in Columbus roaming the nation looking for a chance to shoot someone," Bello wrote.
Van Dyke took offense to those and other comments in Bello's article, claiming the remarks constituted defamation, and sent a "Notice of Intent to File Lawsuit" to Bello on behalf of the Proud Boys. Bello issued a response on the site, making a number of statements about Van Dyke, including calling him a Nazi. Van Dyke, in turn, filed a libel suit based on that response.
Late Monday night, Bello's attorney filed a response to Van Dyke's suit, denying libel and providing what he deems evidence that Van Dyke and the Proud Boys are, at the very least, violent racists.
The case pits a man with ties to white supremacists against an anti-fascist activist. For his part, Bello, who's based in Columbus, Ohio, has no problem calling the Proud Boys neo-Nazis. As he told HuffPost, "It's got feathers and it quacks."
Bello's lawyer, Randall Kallinen, hasn't had much trouble arguing in support of his client. In a court filing responding to the libel suit, Kallinen showed that Van Dyke has a history of posting targeted death threats and racist epithets online.
"Look good and hard at this picture you fucking n****r," Van Dyke tweeted in 2014, alongside a picture of a noose. "It's where I am going to put your neck."
"Your kiddies are quite a nuisance," he wrote in another tweet. "My advice: run and hide. If I find you, I WILL kill both you and your family."
Both comments were outlined in Bello's response to Van Dyke's lawsuit, which is ongoing and will be handled in a Denton County court in Texas.
The tweets resurfaced last week when rapper Talib Kweli shared them alongside Van Dyke's business address and phone number. The rapper says he also faces suspension from the social media platform.
On Tuesday, Van Dyke confirmed to HuffPost that he made the statements years ago after "hackers" posted his social security number online and threatened him, he said. He also noted that he plans to sue Kweli.
"I regret my choice of words, but I absolutely do not regret threatening those people," he said.
Van Dyke refused to address his libel suit against Bello specifically, but his past comments may very well dismantle his case ― that is, if he's not disbarred first. A spokesperson at the State Bar of Texas, where Van Dyke practices, confirmed to HuffPost on Tuesday that they'd forwarded the statements to their disciplinary arm.
"The statements attributed to this individual are reprehensible and contrary to the values we hold as Texas lawyers," State Bar of Texas president Tom Vick said in an email to HuffPost. "I condemn them in the strongest terms."
The agency doesn't comment on pending investigations, however, so it's unclear whether the State Bar has opened a case against Van Dyke.
Van Dyke seeks $100,000 in damages from Bello. In his lawsuit, he denies being a Nazi and calls Bello an associate of the "domestic terrorist group known as 'Antifa.'"
Kallinen told HuffPost that he'll seek to get the lawsuit dismissed based on Texas' anti-SLAPP (or "Strategic Lawsuits Against Public Participation") statute, which essentially allows judges to dismiss lawsuits early if they're deemed an attempt to silence a defendant's free speech.
CORRECTION: This article initially stated that Van Dyke sought a retraction of Bello's story in his lawsuit. Rather, he sought that retraction in a "Notice of Intent to File Lawsuit" letter sent to Bello. The article has been updated with details to differentiate between the notice of intent and the lawsuit itself, which focused on a second posting by Bello.
Popular in the Community