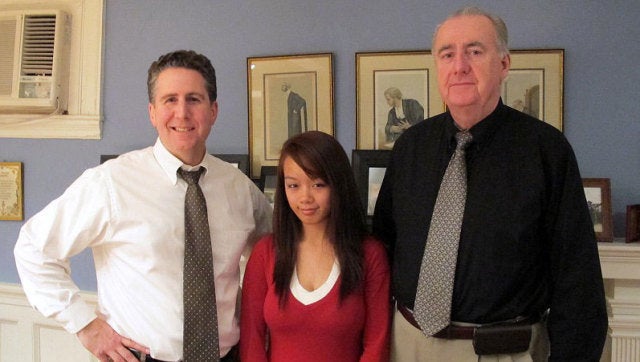 In a twist to an already outrageous story, Ed Ryan, the lawyer for a young woman who spent nearly three years in jail after it was determined she was coerced into saying that she smothered her infant child, is now being sued by the city that wrongfully imprisoned his client, the Worcester Telegram reported Wednesday.
Nga Truong, a 21-year-old Vietnamese-American from Worcester, Mass., was released from almost three years in jail in August 2011 after a judge threw out her "confession" in which she said she had smothered her 13-month-old child to death in 2008.
Although Truong was a juvenile -- just 16-years-old -- at the time of her interrogation, she had no lawyer or parent present during the long questioning process.
Video of the interrogation, which was originally broadcast on NPR affiliate WBUR and is now on YouTube, convinced the judge that Truong's supposed confession had been coerced out of her by police. Prosecutors eventually said they had no other evidence against her outside of her alleged confession.
Truong eventually hit back at the city with a federal lawsuit that said she was coerced into a wrongful confession and maliciously prosecuted, causing her to be unlawfully imprisoned for nearly three years.
"Ryan's breach of his duty was a direct and proximate cause of [Truong's] alleged injuries and damages," the city's claim says, according to the Telegram.
When contacted by The Huffington Post, the city of Worcester declined to comment on the lawsuit.
"Their complaint isᅡᅠabsurd," Ryan told WBUR in response to the claim.ᅡᅠ"This is a desperate attempt to apparently try to cast the blame for themselves onto me. And there is simply no factual basis for it and no legal basis for it."
The child died Nov. 30, 2008 in Truong's apartment. Her boyfriend, Edwin Vasquez, who said he was asleep in the same room and didn't hear anything, has said it's "impossible" that Truong killed the child and that he believes police "pressured" her into saying she did, the Boston Globe notes.
Calling all HuffPost superfans!
Sign up for membership to become a founding member and help shape HuffPost's next chapter