The alt-right had radicalized him.
That's the excuse lawyers crafted for Mark Feigin, a 40-year-old man arrested last month after threatening to kill members of the Islamic Center of Southern California.
"Mark Feigin is a good, decent man," they said in a statement last week, The Los Angeles Times reports. "He has no criminal record and he is not a danger to anyone. He has worked as a Chinese translator, as a screenwriter and as a real estate developer. If anything, Mr. Feigin was a victim of the toxic national discourse of this political season."
Feigin had been exposed to a lot of "alt-right" media stories that vilify Muslims, the lawyers added.
Feigin called the Islamic center twice in September, at one point threatening to murder parishioners there, according to police. The threats were based off his "hatred for Muslims and his belief that Muslims will destroy the United States," Los Angeles Police Department Cmdr. Horace Frank said.
Police later arrested Feigin, and a subsequent search of his home uncovered nine guns ― only some of them registered ― and 250 pounds of ammunition. He's currently free on $75,000 bail and is due in court on Thursday.
It's a clever tactic for Feigin's attorneys to suggest their client was the "victim" of a "toxic national discourse" and the "alt-right" media. But it has the ring of "the dog ate my homework."
Still, research suggests that anti-Muslim political speech and media coverage can have real ― and dangerous ― consequences.
"The report provides prima facie and empirical evidence to demonstrate that assailants of Muslims are invariably motivated by a negative view of Muslims they have acquired from either mainstream or extremist nationalist reports or commentaries in the media," the report says.
The anti-Muslim political speeches of Republican presidential candidates, namely GOP presidential nominee Donald Trump, could be partly responsible for a steep rise in anti-Muslim hate crimes, according to research published this year.
The Center for the Study of Hate and Extremism at California State University, San Bernardino, found at least 260 hate crimes targeting Muslims in 2015 ― nearly an 80 percent rise from 2014, and the greatest number of such crimes in any year since 2001.
Researchers in that report also found an 87.5 percent increase in hate crimes against Muslims in the days directly following Trump's proposal to ban Muslims from entering the U.S.
"During times of fear, particularly following highly charged terrorist attacks, leaders can either soothe fears, or enflame them," Brian Levin, the director of Center for the Study of Hate and Extremism, told The Huffington Post in September. "When they do the latter, a severe spike in violence can follow as individuals feel emboldened." Levin added that leaders need to understand that "words matter."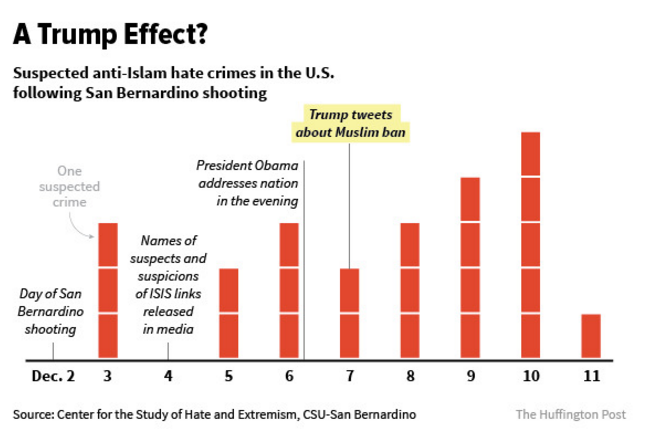 In addition to the ban pledge, Trump has called for the creation of a national database of Muslims and a surveillance on mosques. He has also said that Muslims should be profiled, told an apocryphal story about shooting Muslims with bullets dipped in pig's blood and and even declared, "Islam hates us."
So it's no wonder he's been embraced by the alternative right, a movement the Southern Poverty Law Center describes as "a set of far-right ideologies, groups and individuals whose core belief is that 'white identity' is under attack by multicultural forces using 'political correctness' and 'social justice' to undermine white people and 'their' civilization." It's also a movement defined in part by its paranoiac fear and hatred of Muslims.
In August, Trump named Steve Bannon as his campaign chief. Bannon was the chairman of Breitbart News, the alt-right's go-to website.
Feigin's social media history suggests his hatred of Muslims was emboldened over the past year by both Trump and the alt-right
Police said they were investigating a (since-deleted) Twitter account that appeared to belong to Feigin. The LAPD highlighted tweets describing Muslims as "filthy Islamic beasts" who should be "quarantined." As for Muslim refugees, "drowning them is best," Feigin tweeted, according to police.
Imraan Siddiqi, executive director of the Arizona chapter of the Council on American Islamic Relations, looked up Feigin's Twitter account after his arrest. It turned out Feigin, who uses the first name Milosz on social media accounts and on YouTube, had been one of Siddiqi's many anti-Muslim trolls.
In August, after Siddiqi wrote on Twitter about the 18,000 people who have reportedly died in Syria's state jails during the civil war, Feigin tweeted back "who cares - muslims have zero contribution to humanity ― 18,000 less terrorists ― fuck them."
Siddiqi said there's a whole contingent of alt-right accounts that are "infamous for trolling Muslims." "[Feigin] retweets all these alt-right accounts ― very famous trolls." he added.
Tweets from Feigin's since-deleted Twitter account expressed admiration for Trump, and conspiracy theories about Muslims, according to Siddiqi.
"KEEPING ILLEGALS OUT WILL RAISE WAGES, KEEPING MUSLIMS OUT AND GOOD RELATIONS WITH NUKE ARMED RUSSIA WILL MAKE AMERICA SAFER TRUMP 2016," reads a cached tweet preserved by US Uncut.
A separate, active Twitter account ― @FeiginMilosz ― contains similar anti-Muslim messages. (One of that account's few followers is a Victor Feigin. That same name is listed as a one-time fellow household member of Mark Feigin's in publicly available documents. A Victor Feigin on Facebook appears to be the same man, and among his Facebook friends are an Alice and Katherine Feigin, both also listed in documents as one-time fellow household members of Mark Feigin's.)
@FeiginMilosz's timeline shows multiple pro-Trump tweets, as well as vile anti-Muslim memes and links to articles by anti-Muslim publications, including Breitbart News.
"TRUMP IS RIGHT BAN ALL MUSLIMS," reads one tweet. "Islam should be banned from western civiliZation - american muslims should be all Registered," reads another. "ISLAM HAS NO PLACE IN WESTERN CIVILIZATION," reads another.
But perhaps most terrifying were a pair of tweets @FeiginMilosz sent on March 22:
The attack Breivik orchestrated targeted young members of Norway's liberal Labor party, which he blamed for allowing Muslim immigrants into the country.
The @FeiginMilosz account went silent on Oct. 18, the day before police say they arrested Feigin. Asked about the tweets last week, Perlman, Feigin's attorney, would only say, "We are not addressing the media further at this time."
The Huffington Post is documenting the rising wave of anti-Muslim bigotry and violence in America. Take a stand against hate.
Before You Go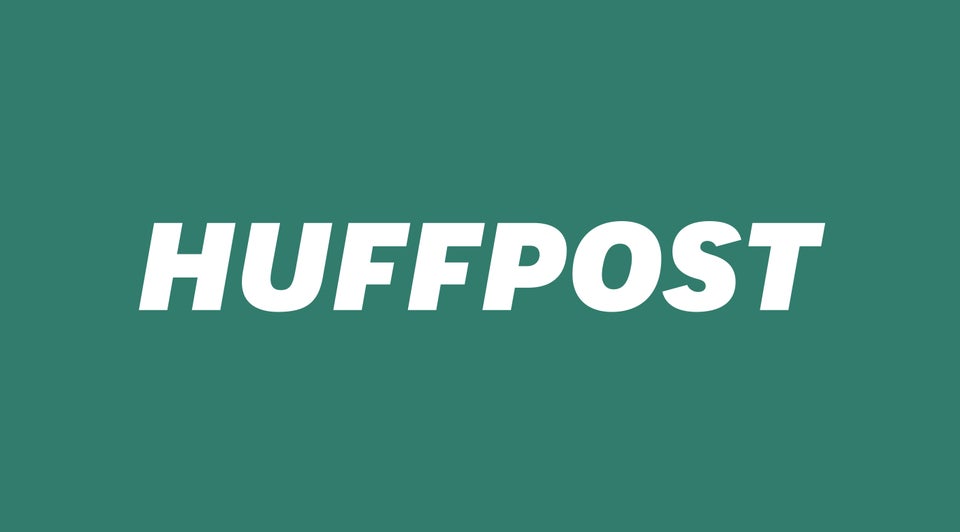 Muslims React To Trump's Islamophobic Comments
Popular in the Community