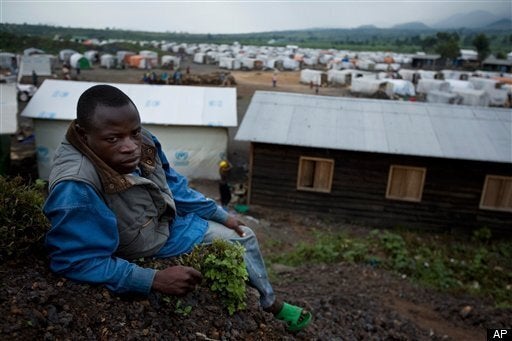 Congo is a staggeringly beautiful place. As I write this in Kinshasa, I can see a couple of orange-backed birds chase one another around banana and mango trees. The natural beauty is all the more striking in the eastern regions which are famous for their pleasant climate, rich wildlife, lush and fertile land. However, for over twelve years, men, women and children in the eastern provinces of North and South Kivu have undergone unimaginable violence. There have been waves of displacement from homes, killings, rape and widespread looting by rebel groups and, perhaps most commonly of all now, members of the national army. It seems almost paradoxical that such a beautiful place could be home to such violence and misery.
The trade in Congo's natural resources which lie beneath the ground has facilitated and funded, in large part, the recent years of fighting. The Kivu region is rich in resources which are much in demand overseas, including gold, tin ore and an array of minerals used to make mobile phones and computers, among other things.
The mining in the region is dangerous and dirty. Global Witness researchers have received reports of countless cases of deaths in the mines. Miners may work underground for days with little light and air. In addition, the resident rebel group or army brigade commonly use forced labour, extort money or minerals from the miners and impose so-called 'taxes' to make further gains from the population. The armed groups are able to buy arms as well as provisions with the proceeds of this trade.
I have worked on issues of human rights and governance in the Democratic Republic of Congo for several years and I am still baffled as to why more has not been done to tackle this issue as one of the main underlying causes of the fighting in the east. Some people argue that the trade shouldn't be meddled with because of the multitude of Congolese miners and their families who depend on in. Such arguments ignore the current atrocities. Hundreds of thousands of people in the region have been forced to flee from their homes - some many times - because men with guns have given them no choice. Others have been massacred, raped or tortured. The status quo should not be an option here.
Instead it must now be time for companies buying the minerals - all the way from the region's boom towns to the mineral trading and electronics companies in Europe and elsewhere - to control their supply chain and ask themselves and their suppliers tough questions as to where exactly their minerals are coming from. They should then decide to purchase minerals only where concrete and verifiable guarantees are provided that the trade has not benefited armed groups. For too long, companies, and governments of countries where they are based, have played a game of see-no-evil, hear-no-evil. They have chosen to ignore the blatant links between their trade and the atrocities in eastern DRC, allowing commercial interests to override the most basic human rights. It is time to challenge these attitudes and to start holding these companies to account.
Related
Popular in the Community