A gunman walked into LAX this morning, pulled an assault rifle out of his bag, and opened fire, killing a Transportation Security Administration agent and wounding several others at the airport.
He moved through a TSA screening area and into an airport terminal, where he continued firing shots. Chief of Airport Police Patrick Gannon said in a press conference that several other people were injured in the shooting, including another TSA employee.
"Officers tracked the individual through the airport and engaged him in gunfire in Terminal 3," Gannon said.
He confirmed that multiple people were transported to the hospital, and that the scene is safe. Fox News reports that the suspect is connected in some way to TSA.
"After the initial burst of gunfire and hiding, people started jumping over one another, jumping off chairs, pushing each other," Fox Sports reporter Bill Reiter said on Twitter. "Chaos & fear."
Live aerial footage of the scene previously showed hundreds of evacuated passengers crowded in and around the terminal. Emergency crews appeared to be working with patients on stretchers, and police armed with weapons swarmed the area.
"I heard popping and everybody dropped to the ground," evacuated passenger Robert Perez told CBS.
Tory Belleci of Discovery Channel's Mythbusters show was on his way to Philadelphia when the shooting occurred.
"I was in Terminal 3 when we heard the shots," he told HuffPost Crime. "At first it didn't register. Then, everybody started panicking and running. We ran toward terminal, but the gate was locked. We were trapped. It felt like an eternity ... We heard the shots coming from the elevator. One person near me said the shooting happened in the common area.
"A person told me he saw the shooter coming up the escalator. He was [allegedly] a white man in a white shirt."
Los Angeles Mayor Eric Garcetti said during a press conference that Terminals 4 through 8 are open and running at a slower pace. He urged those with afternoon flights out of LAX to reschedule, as the investigation is still ongoing.
Related
Before You Go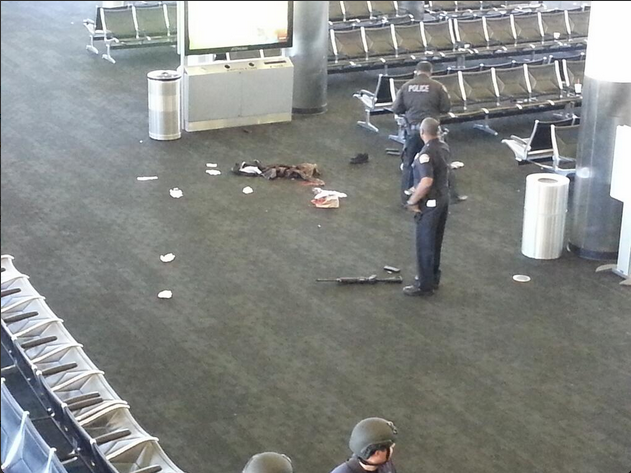 LAX Shooting
Popular in the Community