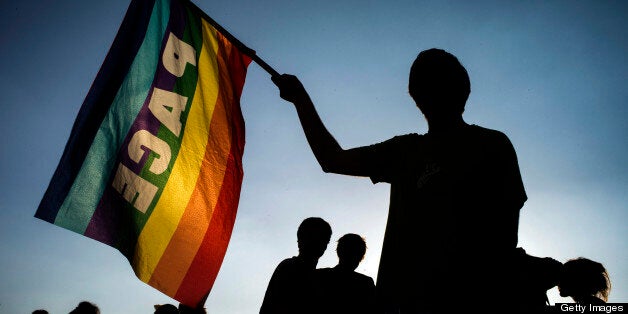 In 2003, Cardinal Joseph Ratzinger, who was then prefect of the Roman Catholic Church's Congregation for the Doctrine of the Faith, wrote that "respect for homosexual persons cannot lead in any way to approval of homosexual behavior or to legal recognition of homosexual unions."
Ten years later, the Catholic hierarchy may be in the process of repudiating the teaching of its former pope. In an interview with a Costa Rican newspaper recently, Archbishop Piero Marini, president of the Pontifical Committee for International Eucharistic Congresses, told a reporter that society should "recognize the union of persons of the same sex, because there are many couples that suffer because their civil rights aren't recognized."
His comments came on the heels of an interview in which Cardinal Christoph Schönborn, the Archbishop of Vienna and editor of The Catechism of the Catholic Church, said: "There can be same-sex partnerships and they need respect, and even civil law protection."
Members of the Catholic hierarchy are seldom so straightforward in contradicting the Vatican. Yet in the decade since Ratzinger issued "Considerations Regarding Proposals to Give Legal Recognition to Unions Between Homosexual Persons" countries in which Catholicism is the dominant religion -- Argentina, Portugal, Spain, Uruguay and now France -- have legalized same-sex marriage. Ireland and the United Kingdom seem likely to do the same. In the United States, Catholic politicians such as Andrew Cuomo of New York, Christine Gregoire of Washington and Martin O'Malley of Maryland, have led successful campaigns to establish marriage equality in their states.
Faced with mounting evidence that the hierarchy is rapidly losing influence in Europe and the Americas, and alienating the faithful in the process, some leading bishops are seeking to soften the hard line that Benedict XVI drew when he was still Cardinal Ratzinger. Their argument -- articulated by prelates from Colombia, France, Italy, Germany, the United Kingdom, the United States and within the Vatican itself -- is that marriage, even civil marriage, must be defined as a relationship between one man and one woman, but that legal recognition of same-sex relationships is permissible or even desirable.
This new position is not one that many lesbian, gay, bisexual and transgender Catholics, their friends and families will endorse because it falls short of full marriage equality. Nor is it clear that members of the hierarchy will maintain this stance if they determine that it is no longer useful to appear moderate on this issue. But this moment is worth studying and celebrating nonetheless.
Reform-minded Catholics are often told that the church is not a democracy. In the conventional political sense, that may be true. But the church ministers in democracies. And in country after country, Catholic voters have gone to the polls, ignored the often heavy-handed lobbying of their bishops, and voted in favor of marriage equality, or legislators who support marriage equality. They are changing the teachings of the church by changing the culture in which the church functions.
Pope Francis himself has participated in this trend. In 2010, with the Argentine government poised to write marriage equality into law, Cardinal Jorge Mario Bergoglio urged his fellow bishops to support civil unions as a compromise. His colleagues rejected this strategy, and the future pope led a futile campaign to persuade voters in that heavily Catholic country to discriminate against same-sex couples.
No one knows how Francis will behave now that he is pope. Progressive Catholics have learned through decades of bitter experience to live with high hopes but low expectations. We understand that a hierarchy that opposed marriage equality but tolerated civil unions would be a mixed blessing, but a blessing nonetheless.
If the pope adopted the position espoused by Schönborn and others, the Catholic hierarchy would have no reason to oppose including the same-sex partners of U. S. citizens among those who could be granted citizenship under the immigration bill about to come before the U. S. Senate. The hierarchy could support or remain neutral on legislation that extends to gay and lesbian couples legal protections and benefits that they are now denied in most states in this country. It could speak in less vitriolic terms about same-sex couples and their families, as the bishops of England and Wales did recently in acknowledging "that many same-sex couples raise children in loving and caring homes."
The Catholic hierarchy is by no means committed to this sort of conciliatory course, and bishops in the United States are among the most zealous in working against the interests of lesbian, gay, bisexual and transgender people and their families. But the demographic forces that inspired a future pope and several high profile European bishops to seek a compromise are clearly present in the United States.
Although the U.S. bishops and their allies, including the Knights of Columbus, have poured millions of dollars into opposing legal recognition of same-sex relationships, Catholic support for marriage equality has leapt from 40 percent to 59 percent in the last decade, according to a recent survey by ABC News and the Washington Post. Those numbers are even higher among younger Catholics, so the course of lay opinion on this issue seems well established.
The choice before our bishops now is whether to continue a divisive battle that will only diminish their own authority, or to follow where the laity has led.
Francis DeBernardo is executive director and Sister Jeannine Gramick, SL is co-founder of New Ways Ministry, a member of theEqually Blessed, coalition, which works for LGBT equality in the Catholic Church and the wider society.
Related
Popular in the Community