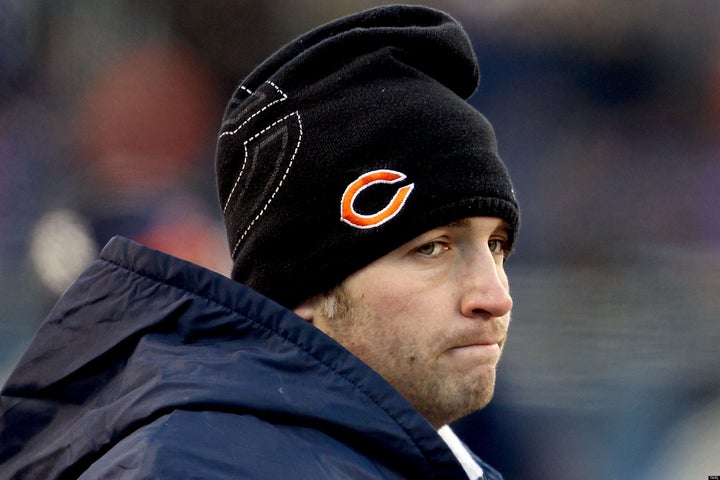 Jay Cutler is an easy target. He's sarcastic toward the media, aloof from his fans, and constantly smirking. In the movie Step Brothers, Rob Riggle's character says a rival "just has one of those faces you want to hit." That's Cutler. Still, the avalanche of abuse engulfing the pouty QB has been startling. Cutler not coming back for the 2nd half of the NFC championship game against the Packers because of a torn knee ligament has caused more criticism then any sports injury in recent memory.
First the heat came from current players. Jaguars running back Maurice Jones-Drew tweeted (and later retracted), "All I'm saying is he can finish the game on an injured knee, I played the whole season on one." Seahawks linebacker Aaron Curry, whose defense was torched by Cutler a week earlier, said, "The only way I'd come out is if my knee was shattered."
Then, came the analysts. Mark Schlereth of ESPN tweeted, "you'd have to drag me out on a stretcher to leave a championship game." Jason Whitlock, a Fox Sports columnist, chimed in, "I don't need an MRI to confirm King Cutler quit." By 7 p.m. Sunday, it seems everybody who's ever watched football had an opinion on Cutler, 99 percent of them hostile.
Hypocrite alert. With his team fighting to make the playoffs this year, Jones-Drew skipped the Jaguars' final two games. With what? A knee ailment. And Curry doesn't have the standing to trash Cutler. Since being selected 4th overall in the draft by the Seahawks two years ago, he's has had little impact. His reaction is like Joe Alexander criticizing Carlos Boozer for lack of heart.
I get that most NFL fans don't like Cutler. Hell, I've been watching him play for two years and he strikes me as a frat boy tool straight out of central casting. But it's just not fair to say that Cutler isn't tough. He was sacked 52 times in the regular season and if it wasn't for his underrated mobility it could have been 60. The next highest in the NFL was Joe Flacco with 40.
I was at Giants Stadium last fall when the ravenous Giants D sacked Cutler nine times in the first half. The guy had to be peeled off the field by his teammates but he kept playing until the team doctor forced him to quit. Not once did Cutler complain publicly or second-guess his offensive line, which played terribly that day. Perhaps this is why Brian Urlacher and the rest of Cutler's teammates were so adamant in their defense of him. More than any other quarterback, Cutler put his body on the line all year for his team. And unlike Brett Favre, he doesn't let you hear about his pain every step of the way.
It's ironic that Cutler is receiving so much heat for his injury in the same year that the NFL has tried to crack down on player injuries. The critics don't understand is that a quarterback with only one good knee is a sitting duck behind a porous offensive line. Schlereth, for instance, was a tough player in his day, but he was an offensive guard. He wasn't taking blindside hits while trying to throw the ball 40 yards.
The national media has had it in for Cutler since he forced his way out of Denver. While his talent is undeniable, they don't like his fundamentals, his decision-making on the field or his attitude. It's hard to argue with any of this. But to call him soft isn't just mean; it's false.
REAL LIFE. REAL NEWS. REAL VOICES.
Help us tell more of the stories that matter from voices that too often remain unheard.